Please select your dates to see prices:
---
Cascade Wellness & Lifestyle Resort in Lagos, Portugal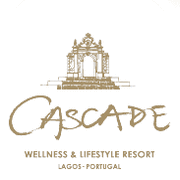 Overlooking the mysteriously enchanting cliffs of Ponta da Piedade, Portugal's Cascade Wellness & Lifestyle Resort is an unforgettable vacation experience steeped in nature, history, and beauty. Situated against the splendor and tranquility of the Algarve region, Cascade Resort pays homage to the region's heritage in every detail, from the gently flowing curves and lines characteristic of Moorish opulence, to the soft, complementary tones of terracotta, ochre, and ecru of the resort's décor. Cascade's unique design includes four wings that represent the continents visited by Portuguese explorer Henry the Navigator on his trade route: Africa, Asia, South America, and Europe. Proudly exhibiting Old World architecture with a focus on space, light, and luxury, Cascade Resort offers a glimpse into time where the pursuit of decadence was a pleasure all its own. Along with 86 lavish bedrooms, the 5-star resort includes luxuriant 4-bedroom villas as well as palatial one-and two-bedroom apartments. Each grand living space includes preferred amenities such as plush towels and bathrobes, underfloor heating, walk-in rainfall showers, and double vanity units with illuminated mirrors in the natural stone bathrooms.
An esteemed member of the renowned Kiwi Collection of Luxury Hotels & Resorts, Cascade Wellness & Lifestyle Resort exceeds expectation in every aspect, from the accommodating staff, to an unparalleled gastronomic experience. Cascade's two delectable eateries embrace exotic as well as local delicacies and take you on a journey of flavors. As you enter the breathtaking lobby, stop by Purpur for a casual cocktail. The bar's charming panache features an atmosphere that goes from relaxed and casual by day to trendy and sophisticated at night. For a more intimate vibe, take to Adega, the hotel's traditional Portuguese wine cellar with just the right tastes to please your palate and complement your mood. The hotel's holistic approach to your health does not stop at the luxurious on-site Tainai Spa, with its catalogue of treatments and programs to suit your needs; the Gym by Cascade as well as an on-site medical center ensure that you are in peak condition for work, play, and everything in between. With so much to see and do at Cascade Wellness & Lifestyle Resort you may just find that everything you need is right at your fingertips.
Location of Cascade Wellness & Lifestyle Resort
Cascade Wellness & Lifestyle Resort
Praia do Canavial
8600-282
Lagos, Portugal
Nearest Airport: FAO
Amenities for Cascade Wellness & Lifestyle Resort
General Information
86 Guest Rooms
Handicap Accessible Rooms
Dining
Outdoor Dining
Private Dining
2 Restaurants
Wine Cellar
Bar
Room Service
On-Site Amenities
Shoe Shine Service
Shuttle Service
Spa on Property
Laundry Service
Fitness Center
Sauna
Bicycle Rental
Live Entertainment
Terrace
Multilingual Staff
Valet Parking
Tennis Courts
24-Hour Front Desk
Gardens
Personal Trainers
Outdoor Whirlpool
Car Rental
Elevator
Outdoor Heated Pool
Lap Pool
Driving Range
Sun Deck
Golf Academy
Nutrition Programs
Jogging Path
24-Hour Concierge
Complimentary WiFi
Tennis Academy
Fitness Academy
Outdoor Hot Tub
In-Room Amenities
Turndown Service
Air Conditioning
Direct Dial Telephones
Hair Dryers
In-Room Safes
Mini Bar
Satellite Television
Flat-Screen Televisions
Pillow Menu
Luxury Bath Amenities
Heated Floors
Bottled Water
Rain Showers
En-Suite Bathrooms
Private Terraces
Work Desks
Bathrobes & Slippers
Activities
Bicycling
Excursions
Hiking
Tennis
Wine Tasting
Pilates
Mountain Biking
Cooking Demonstrations
Nature Walks
Tai Chi
Yoga
Golf Lessons
Basketball
Fitness Classes
Volleyball
Wellness Programs
Soccer
Nature Hikes
Business
Business Center/Services
Meeting Room
Family
Children's Programs
Cribs
Babysitting
Kids Pool
Playground
Play Area
Nearby
Historic Sites
Shopping
Golf
Nightlife
Beaches
Marina
Interests
Family
Honeymoons & Romance
Spa & Wellness
Reviews for Cascade Wellness & Lifestyle Resort
---
This gem is tucked on the cliffs of Lagos . Beautiful views along the nature trail located next to the property. Excellent staff, wonderful food at the resturant. Tried oxtail dumplings and had to have seconds. !!! Mmmm good....The villas were well maintained and very well furnished! More room than we needed. Even a rooftop balcony to see the ocean!! It's a short drive to town and restaurants. Pool Was large and well maintained. There's a driving range too!
dmhorner - Philadelphia, Pennsylvania
---
Nice hotel if you want to be away from the city where the restaurants and shopping are. The hotel had nice rooms that were large with a good size balcony. They did have a nice spa i used and golf too. Breakfast was great at restaurant. Outdoor seating available which was nice at restaurant
annettemarie1965 - Kansas City, Missouri
---
Despite the headline, I would like to start with saying this is not a bad hotel, It just didn't match our expectations in certain area's. Anyway on with my review. The Hotel: The resort is in a large plot in a secluded location outside of Lagos, at parts over looking a cliff facing the ocean. If your looking for a resort close to Lagos centre, this isn't for you. You can't walk it, it's about 15 minutes drive in a taxi. Considering the remote location of the resort, it really should a mini market within the complex. Arrival: We arrived by car, and the hotel was easy to find by sat nav (not that far off the motorway We parked in the hotel park, no assistance offered with luggage so had to drag them up the steep driveway up to the hotel entrance. Check In: Very good, polite staff, the process was good, and a map provided of the resort and it's facilities. The Room: We stayed in was a one bedroom villa / apartment. It was backing the childs pool, the villa was tired in places, and oddly was ill fitted, for example doors were hung on the wrong side, ie, the bathroom door could hit you in the face if it were opened whilst on the toilet, yet the door stops to prevent this were on the other side, again ie.the doorstop was just under the sink (so I used to stub my toe everytime I was brushing my teeth or washing my hands). Also the Villa I stayed in was pitch black at night (although there were external light fittings... I think it was just a case of not replacing broken bulbs, I had to use my torch on my phone to find my way back to the apartment). The villa had 2 sunbeds that looked tired & stained from sun cream lotion. As did the sofa in the lounge. I will say though, the cleanliness of the apartment was one of the best I've stayed in, and the kitchen has anything you would ever need, from oven / microwave / washer dryer, kettle, coffee pot / full range of pottery, cuttery etc.. .the list is endless. For this I would highly recommend it for a family. Food and Beverage: We didn't actually eat in the hotel, other than around the pool (the food was ok, not great, but not excellent either, service was slow, and the waitress had to return to ask for order again (as she took a mental note of our order as she forgot her note pad and pen). Although the restaurant looked nice in the evening. The resort doesn't have a mini bar, but does have a menu in the room, (similar to a takeaway menu) that you can choose from, but they do charge you a delivery charge on top of the food price. Pool: Cold and for some strange reason, they seem to have included large peeples around the pool (i presume for safety reasons, but it was very painful to walk on from the sun bed to the waters edge. Summary: Good if you don't want to explore surrounding areas, good if you have a kids (they have football pitches & tennis courts & sports clubs etc). Not so great if you want a bit of culture or to explore outside of the resort.
mattitouk33 - London, United Kingdom
---
We have stayed in Lagos many times and decided to try Cascade. It was everything and more. The staff were very tentative, the food and service was wonderful. The children loved the facilities and as time is precious as a busy family we all felt relaxed and spoilt for the week away. The suite was fantastic with plenty of space and beautifully decorated. We will be returning!
lisahardaker - Harrogate, United Kingdom
---
An hours drive from Faro Airport, we stayed here late September for a week leaving on 5th October. The weather was very hot during the day - up to over 30 degrees , higher than normal for the time of year, with a pleasant breeze most days. The hotel is efficiently air conditioned and immaculately spotlessly clean absolutely everywhere, the grounds and three pools also. Rooms are on the same level as the entrance reception foyer, which is ground floor at the hotel entrance, This area has an impressive feature double staircase and stairwell leading down to all pools and outside areas, the main restaurant and Spa facilities. (There are lifts of course) . Our spacious double room with balcony was very comfortable with a huge bed, spacious bathroom - walk in shower & also bath. L'Occitante toiletries, ample towels and bathrobes, Rooms serviced daily , bedding changed every three days unless request otherwise. We stayed on a bed and breakfast basis and while food in the two restaurants - especially the Senses - was excellent , we felt prices for food and drink were a tad high . We chose to eat out most nights in Lagos or the nearby Camilo Beach Restaurant. Can recommend there, also Dom Vinho in Lagos. Suppose was swings and roundabouts price wise though when adding 5 euros each way for a taxi into Lagos . The hotel is very relaxing and quiet and we enjoyed experiencing the busy night time in the maze of little streets, restaurants and bars in Lagos. The hotel, being on the outskirts is a few minutes drive into Lagos , maybe 20 minutes into Burgau. It provides a free taxi service for a limited period in a morning and again early evening. Outside of these allocated times, the hotel shuttle bus as they term it, unless sharing the journey with another couple, becomes a rather expensive private taxi, costing almost double the charge of the local taxi service . E.g. To Lagos in hotel transport 8 Euros each way, local firm 5 Euros. However the hotel transport is a swish large people carrier so if you are lucky enough to find someone else waiting to go the same destination at the same time, the cost remains the same and shared between you making it cheaper - just - than an independent taxi. One day we visited Burgau, had lunch in the Beach Bar there - was excellent . Burgau Beach is accessible down a steep street and slipway, lovely wide Bay and golden sands. With the exception of one, (the name escapes me ) the picturesque beaches we found within walking distance of the hotel tended to be accessed only by steep cliff paths or a never ending flights of steps. The staff at Cascade right through from Reception to the cleaners are all extremely friendly. pleasant and helpful. Breakfast periods however did seem a little short staffed and we found we had to stand waiting for up to 5/10 minutes before being allocated a table. Outside tables always being sought after. Everything you could wish for food wise is available for breakfast, but at peak periods kitchen staff seemed a little slow to spot when various items needed replenishing on the buffet. We did not actually use the spa facilities with the exception of spending the last hour or so of the days sunshine on loungers around the spas own pool area . This pool is much smaller than the main pool, is quite private & surrounded by decking. The last couple of days we were there a film crew and actors were shooting a commercial in and around the hotel. Quite interesting to see all the equipment etc . Imagine was three days work for them for a couple of minutes final footage ! Were told the commercial was something to do with VW cars. Maybe we shall spot the hotel in an advert sometime in the future ! It was a most pleasant comfortable restful stay would certainly recommend here and would return without hesitation. But for the apparent shortage of staff at times in the restaurant and bars would happily have awarded 5 stars.
Elaine O - Oswaldtwistle, United Kingdom
---