Please select your dates to see prices:
---
Cascade Wellness & Lifestyle Resort in Lagos, Portugal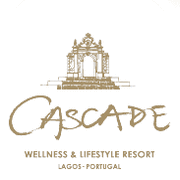 Overlooking the mysteriously enchanting cliffs of Ponta da Piedade, Portugal's Cascade Wellness & Lifestyle Resort is an unforgettable vacation experience steeped in nature, history, and beauty. Situated against the splendor and tranquility of the Algarve region, Cascade Resort pays homage to the region's heritage in every detail, from the gently flowing curves and lines characteristic of Moorish opulence, to the soft, complementary tones of terracotta, ochre, and ecru of the resort's décor. Cascade's unique design includes four wings that represent the continents visited by Portuguese explorer Henry the Navigator on his trade route: Africa, Asia, South America, and Europe. Proudly exhibiting Old World architecture with a focus on space, light, and luxury, Cascade Resort offers a glimpse into time where the pursuit of decadence was a pleasure all its own. Along with 86 lavish bedrooms, the 5-star resort includes luxuriant 4-bedroom villas as well as palatial one-and two-bedroom apartments. Each grand living space includes preferred amenities such as plush towels and bathrobes, underfloor heating, walk-in rainfall showers, and double vanity units with illuminated mirrors in the natural stone bathrooms.
An esteemed member of the renowned Kiwi Collection of Luxury Hotels & Resorts, Cascade Wellness & Lifestyle Resort exceeds expectation in every aspect, from the accommodating staff, to an unparalleled gastronomic experience. Cascade's two delectable eateries embrace exotic as well as local delicacies and take you on a journey of flavors. As you enter the breathtaking lobby, stop by Purpur for a casual cocktail. The bar's charming panache features an atmosphere that goes from relaxed and casual by day to trendy and sophisticated at night. For a more intimate vibe, take to Adega, the hotel's traditional Portuguese wine cellar with just the right tastes to please your palate and complement your mood. The hotel's holistic approach to your health does not stop at the luxurious on-site Tainai Spa, with its catalogue of treatments and programs to suit your needs; the Gym by Cascade as well as an on-site medical center ensure that you are in peak condition for work, play, and everything in between. With so much to see and do at Cascade Wellness & Lifestyle Resort you may just find that everything you need is right at your fingertips.
Location of Cascade Wellness & Lifestyle Resort
Cascade Wellness & Lifestyle Resort
Praia do Canavial
8600-282
Lagos, Portugal
Nearest Airport: FAO
Amenities for Cascade Wellness & Lifestyle Resort
General Information
86 Guest Rooms
Handicap Accessible Rooms
Dining
Outdoor Dining
Private Dining
2 Restaurants
Wine Cellar
Bar
Room Service
On-Site Amenities
Shoe Shine Service
Shuttle Service
Spa on Property
Laundry Service
Fitness Center
Sauna
Bicycle Rental
Live Entertainment
Terrace
Multilingual Staff
Valet Parking
Tennis Courts
24-Hour Front Desk
Gardens
Personal Trainers
Outdoor Whirlpool
Car Rental
Elevator
Outdoor Heated Pool
Lap Pool
Driving Range
Sun Deck
Golf Academy
Nutrition Programs
Jogging Path
24-Hour Concierge
Complimentary WiFi
Tennis Academy
Fitness Academy
Outdoor Hot Tub
In-Room Amenities
Turndown Service
Air Conditioning
Direct Dial Telephones
Hair Dryers
In-Room Safes
Mini Bar
Satellite Television
Flat-Screen Televisions
Pillow Menu
Luxury Bath Amenities
Heated Floors
Bottled Water
Rain Showers
En-Suite Bathrooms
Private Terraces
Work Desks
Bathrobes & Slippers
Activities
Bicycling
Excursions
Hiking
Tennis
Wine Tasting
Pilates
Mountain Biking
Cooking Demonstrations
Nature Walks
Tai Chi
Yoga
Golf Lessons
Basketball
Fitness Classes
Volleyball
Wellness Programs
Soccer
Nature Hikes
Business
Business Center/Services
Meeting Room
Family
Children's Programs
Cribs
Babysitting
Kids Pool
Playground
Play Area
Nearby
Historic Sites
Shopping
Golf
Nightlife
Beaches
Marina
Interests
Family
Honeymoons & Romance
Spa & Wellness
Reviews for Cascade Wellness & Lifestyle Resort
---
From the time upon our arrival till the time leaving, we have enjoyed all our 5 days' stay at the Cascade Resort. This hotel/resort has spacious and cozy apartment, fully equipped kitchen with washing machine, free parking space with underground garage too, nicely designed pools, golf and football, spa and trailing... Staff are all professional and friendly. Breakfast is full of choices, fresh and tasty. Room service is offered everyday including for apartment. And, they provide such high quality equipments inside and outside the room and facilites in all buildings! When you see how big their bathroom and toilet room are, you will realize: It is real five star. Location is perfect. Close to the sea, with 15 minutes walking distance to the most beautiful spot at Lagos - "Ponta de Piedade"; and on the other side again about 15 minutes to a beautiful beach Porto de Mos. It also worthes to mention: A nearby supermarket offers very delicious local foods. We enjoyed everyday their strawberries and others, the real nature fruits! With easy drive, we have explored well about Lagos and quite a few other spots next to Lagos. We are so impressed by Algarve and love it so much. Definitely worthy of a return back to this resort! :-)
---
Wonderful apartment and hotel facilities in a stunning location, great for walking and touring around the Algarve, but very disappointed by their restaurants (except for their breakfasts). For instance we did try the Senses restaurant one night, but when I explained to the head waiter that the rib-eye steak was gristly and had to leave half of the meagre 4-cube offering, I was told that this was what this cut of steak should be like. NO IT'S NOT! And at €33 for the main course alone I was expecting more. As it was our wedding anniversary we did not want to ruin the evening but we wouldn't eat here again. There are two other menus to eat from in the hotel, the Gastropub and the Lighthouse, but their available times in the evening are somewhat incomprehensible and again it is overpriced. If you like excessive performances by the waiters though, you'll love it... Reception and all other hotel staff are wonderful and our apartment was perfect. I would highly recommend eating at the local restaurants, especially O Camilo which is a 10 minute walk away as are some on the way into Lagos itself. Seafood is wonderful as you would expect in the Algarve.
Inky53 - Norfolk, United Kingdom
---
We had a 1 bedroom apartment with garden view (Room 1302) though it was more than that as we could see the sea and all the way to the lighthouse. We had a lovely relaxing time there making use of the gym and the spa facilities (pool, steam room, sauna). The PTs at the gym deserve a mention for their helpfulness. I didn't do any classes as 18euros is too expensive. We did not have a car and we managed okay by walking and using the shuttle bus. We didn't need taxis. Even walking around the resort added considerable to our daily step totals! Because of the location within the resort of our apartment we had quite a walk to the road at the entrance so how long it takes to walk into Lagos, Porto do Mos etc we found was more than suggested by other reviews. I timed it on my fitbit. It was 12 minutes to the little shop, 40 minutes into the centre of Lagos. The quality of the breakfast was excellent; both ingredients and selection. You can make coffee at the Nespresso machine if you don't like the pot on the table.
AnneL2346KG - Loughborough, United Kingdom
---
One of those places where you arrive, and completely relax. My partner and I loved our stay here and would highly recommend. We had an apartment looking onto the football pitches, which Sporting Lisbon were training on - a nice touch. Staff are super helpful and breakfast is very good. Couldn't speak more highly of Cascade.
---
We have been long time regulars of Cascade since it opened. We spend 14 - 15 weeks each year in Lagos. We have stayed in the hotel and in the apartments. We have dined in the restaurant and have had many wonderful evenings in the bar with friends. We visited there the other evening. Everything has changed. The lovely restaurant is now a glorified overpriced snack bar and the beautiful velvet clad furniture in a bar with great mood lighting and such a wonderful intimate atmosphere has been replaced with cream faux leather, cream curtains and bright lights. 5 star is now very much just 3 star. So very sad!! Incidentally prices have not been reduced to fleet this new reality. Please bring back the original designer or at least someone who understands the 5 star concept.
Derlin2017 - Lagos, Portugal
---