Please select your dates to see prices:
---
Surf & Sand Resort in Laguna Beach, California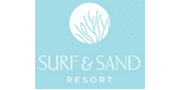 Orange County's well-bred Laguna Beach is the backdrop to Surf & Sand Resort, which feels secluded despite its central location. The Pacific Ocean glimmers in newly renovated rooms and suites – a palate of cool whites, beige and aquamarine blends with the view seen through floor-to-ceiling windows. Chic cabanas flank a beachside infinity pool, and original artwork supports Laguna's thriving art community.
Recline under a goose down comforter as dawn breaks over the ocean. Take a morning stroll to town – stop for coffee at a sidewalk café and browse the artwork on Gallery Row. Revive with a superfruit martini made with açai spirits and blueberry vodka on an oceanfront patio with glass walls. Finish the evening with Carlsbad black mussels in a vin jaune broth.
Location of Surf & Sand Resort
Surf & Sand Resort
1555 South Coast Highway
92651
Laguna Beach, California
Nearest Airport: SNA
Amenities for Surf & Sand Resort
General Information
180 Guest Rooms and Suites
Non-Smoking Property
On-Site Amenities
Concierge
Spa on Property
Housekeeping Service
Laundry Service
WiFi
Beach Access
In-Room Spa Services
In-Room Amenities
Bathrobes
Flat-Screen Televisions
Luxury Linens
Luxury Bath Amenities
Activities
Bicycling
Cultural Classes
Excursions
Nature Walks
Boogie Boarding
Bike Tours
Boat Excursions
Beach Volleyball
Cultural Tours
Boating
Business
Conference Facilities
Family
Children's Amenities
Nearby
Shopping
Zoo
Art Galleries
Restaurants
Golf
Beaches
Antique Shopping
Amusement Parks
Interests
Beach
Summer Getaways
Reviews for Surf & Sand Resort
---
My mother & I just returned from 4 wonderful days of staying at Surf & Sand Resort in Laguna Beach. The customer service was second to none. Everyone from the valet, front desk, concierge, housekeeping, restaurant, pool and bar were friendly and helpful. The view from the room was breathtaking. Although we could have just stayed on our balcony the entire trip, we did venture out, The Concierge recommended Uber and we used Uber daily. Visited some other area beach restaurants, a little shopping but the majority of our time was spent at Surf and Sand resting and relaxing. It was a perfect place for a little R&R. My only complaint is I wish we could have stayed longer
jkmc308 - Bettendorf, Iowa
---
For me, the most relaxing sound is the ocean. Having the door open to crashing surf was a treat for my entire stay at Surf & Sand and was so much better than a 'sound machine'. While I was concerned when we pulled into what looked to be a very old motel, which it is, though extensively redone with additions, we couldn't have been more pleasantly surprised. We were on the 8th floor of the Deluxe Tower Building, which would be my preference WHEN we return. These high rooms are directly over the narrow beach below and do not overlook the pool. Lower floors in this building, (the lobby is on 5) would not have been ones that I would have enjoyed as much. There is an adjacent building which does overlook the pool; some rooms are literally over the pool, which, again, I wouldn't have liked. But, pricing does vary significantly based on location. The restaurant, Splashes, is excellent, though a bit pricey if one wanted a casual meal. The entire team, from check-in, valets, and the concierges to those in the restaurants ... 5 Star +++ service and friendliness. A negative, though it was not a problem (and we enjoyed the ocean sounds) during our visit in April, is there is not air-conditioning. I did hear from locals that the only 'complaint' they have ever heard about the hotel is that if it is hot spell, the rooms could be uncomfortable. The pool area is very nice ... though we do not sit at the pool I did note that over the weekend it was crowded to claustrophobic. But, again, not my personal priority as if the weather permits I prefer the beach. Though there for 5 nights with the opportunity to drive around, and even see the Montage, I would definitely return to Surf & Sand!
eleanorKH - Marietta, Georgia
---
Stayed for 4 nights in April and all I can say is WOW!!!.....From check in to check out this was a fantastic experience...one of the nicest hotels we have stayed in....EVER!. The surprise welcome package for my wife was a beautiful touch, the room was superb, the staff always friendly and a credit to hotel..shout out to Alex and Trish ..Thank you. Absolutely stunning location right on the edge of the Pacific...gorgeous rooms and pool area...top class restaurants...I could go on and on..but I wont ..all I will say is "Thank you Surf and Sand for truly wonderful and memorable stay...we will back!"
Gaz21uk - Wigan, United Kingdom
---
If you love the sound of crashing waves, this is the place for you. The hotel sits right on the water and at high tide the waves reach the base of the hotel. The rooms are clean, decks are large, and the views are amazing. Valet and check-in was quick and efficient. Restaurant and bar service was solid, food was outstanding. Most people chose to sit by the small pool, I highly recommend the free beach chairs and umbrellas right on the beach. My wife and I can't wait to come back.
Conk99 - Chandler, Arizona
---
Got to the hotel. Valet was ok. Room was great. Check- in average. Coffee shop was awesome. Getting a massage was awesome. Loved the Jacuzzi. Staying at the pool was great. Housekeeping was horrible. Tried talking to the housekeepers. All they said was no speak english. Food in splashes was great by chef David Fune.
---