Please select your dates to see prices:
---
Hilton Lake Las Vegas Resort & Spa in Lake Las Vegas, Nevada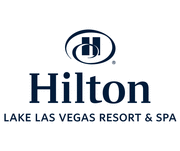 A lush oasis in the Nevada desert, with beautiful foothills and the shimmering shores of a cool lake, Hilton Lake Las Vegas Resort & Spa blends the highest standards of luxury with its dramatic setting. This Mediterranean-style resort, perfect for a romantic escape or fun for the whole family, provides a tranquil atmosphere and a classically elegant style. Spacious rooms are comfortably plush, crafted from cool colors, complete with beautiful marble bathrooms, and all the modern amenities. Large picture windows provide ample natural light as well as sweeping views of the lake and desert beyond. Immerse yourself in this gorgeous desert atmosphere - just 15 minutes away from the bright lights of the Las Vegas strip - and relax in luxury and style at Hilton Lake Las Vegas Resort & Spa.
Stretch out under a cabana next to the pool, and indulge in drinks, snacks and complete poolside wait service. Enjoy a relaxing morning being pampered at The Spa at Ravella then stroll down to the lagoon beach for a day of sunning and swimming. Dine on seasonal menus inspired by Italy at the hotel's Medici Café & Terrace as you relax by the fire pit and sip a glass of wine. Tee off at The Golf Club at Southshore, Rio Secco Golf Club, or one of many other courses in this top-rated golf destination. For a day on the water, charter a yacht or sailboat from the marina, glide through the glassy waters on a kayak or canoe, or spend an afternoon fly fishing from the shore. Further outdoor fun beckons with nearby hiking and horseback riding through verdant trails along the shores of nearby Lake Mead, or up into the mountains for a wonderful view of the lake and the city in the distance. Take a day trip into the city to play at the casinos, let loose at an amusement park, or watch an exciting show or concert. As the stars come out and the desert turns to beautiful purples and fiery reds, retire to your room for a peaceful night's sleep and prepare for another amazing day at Hilton Lake Las Vegas Resort & Spa.
Location of Hilton Lake Las Vegas Resort & Spa
Hilton Lake Las Vegas Resort & Spa
1610 Lake Las Vegas Pkwy
89011
Lake Las Vegas, Nevada
Nearest Airport: LAS
Amenities for Hilton Lake Las Vegas Resort & Spa
General Information
349 Guest Rooms and Suites
Dining
Poolside Dining
Restaurant
Bar & Lounge
Pool Wait Service
On-Site Amenities
Beauty Salon
Concierge
Shoe Shine Service
Shuttle Service
Spa on Property
Complimentary Newspaper
Hiking Trails
Laundry Service
Fitness Center
WiFi
Bicycle Rental
Complimentary Self-Parking
High-Speed Internet Access
Valet Parking
Outdoor Pool
Outdoor Whirlpool
Pool Cabanas
Jogging Path
In-Room Amenities
Air Conditioning
Bathrobes
Direct Dial Telephones
Hair Dryers
Satellite Television
Iron/Ironing Boards
Marble Bathrooms
Flat-Screen Televisions
Luxury Linens
Coffee & Tea Facilities
Luxury Bath Amenities
Activities
Bicycling
Hiking
Kayaking
Sailing
Canoeing
Fly Fishing
Yachting
Boating
Paddleboarding
Horseback Riding
Business
Business Center/Services
Meeting Rooms
Nearby
Shopping
Restaurants
Casinos
Golf
Nightlife
Marina
Reviews for Hilton Lake Las Vegas Resort & Spa
---
Check-in was interesting. Had to wait in line at the reception desk. More interested in chatting with the two fellows checking in than moving on to his next guest. Room was nice, long walk to reach to room. Toilet did not flush properly, had to take the lid off. It is a quiet location but too quiet. Nothing to do. Pool was closed and not heated anyway. The little village only had three things open, the grocery store and two pubs. Had to eat at one of the pubs as that is all that there was to choose from. No casino. And to top it all off we find out later that we were supposed to get a breakfast with our room. Not offered!!! On check-out we were hit with the "over $30.00" resort fee which was never mentioned. So this is what we got for our resort fee: two free bottles of water and WiFi in our room. Not going back!
AlbertaSassy - Alberta, Canada
---
I made a confirmed reservation with this Hilton. Five days before my trip, my credit card company said my card had been stolen. They issued a new card and overnighted it for my trip. But during my flight to Las Vegas, Hilton left a voicemail saying the card was declined, cancelling my reservation with no chance to give them the new card. The manager said basically ā€œWeā€™re full now. Call another hotel.ā€ Hilton customer support told me, ā€œSo, the card was declined. Anything else?ā€ Iā€™ve cancelled my accounts with Hilton and will never stay with one again.
drappleyea - Durham, North Carolina
---
Itā€™s 30 minutes from the main strip in Vegas. Stayed here for 2 nights. So peaceful and relaxing. Itā€™s got an amazing spa that has a private courtyard with a water fountain, and a man and womanā€™s own sauna, steam room and hot tub, and plunge pool. They call it ā€œHealing waterā€. Love it! Unless you are a gold member this costs an extra $20 per day. However the gym is free part of the room. The food was ok I wish it was more natural and local. I got the healthiest thing I could on the menu the salmon with a side salad of avocado, olive oil and lemon. Absolutely delicious! I got a lot of work done in the room with this epic view to finish my manuscript. And awesome gift shop that sells Australian crystal earrings. Would definitely stay here again!
---
We booked this property using the Hilton Honors app! Perfect! We were able to take advantage of the keyless entry that makes your iPhone your key for your room! We stayed at this wonderful Lake Las Vegas property for 7 days! The front desk staff have excellent customer service! Using the Hilton Honors app at checkin was a breeze! All our info for our stay is right on your phone...including your HH points! The resort does have a $29/per day resort fee! You can self-park for free, or valet for $20/per day. The self-parking is good because you can walk right into the hotel from the parking deck on the 4th floor! After pulling up and going inside to checkin we met Bret! Bret has excellent customer service he instructed us where to park while he grabbed a cart for us and loaded all our luggage and showed us to our room. The rooms are very clean and the bathrooms are luxurious. We had our dog Midnight with us so we got a very private pet-friendly room located on the second floor with double doors and a patio/balcony room #1282! You definitely want to get a room with a balcony! Our room also went out to the lake and surrounding restaurants threw a small gated fence. Many of the restaurants didnā€™t open until right before we checked out on March 15th. The rooms are very clean, but the pool is not heated. The jacuzzi was great! The pool does close very early at 7pm. We wish they would have it open until at least 10pm like other Hilton properties. Great Hotel with a awesome location! Lake Mead National Park and the Hoover Dam are right around the corner! The drive to the Vegas strip is only 30 minutes! We did get room service one morning the blueberry pancakes were good. Mostly we got our food from Whole Foods in Henderson..not far at all! The property has waterfalls and many walking trails around the lake! There is not a casino in walking distance located near the Hilton Lake Las Vegas. There used to be in the early 2000, but closed down due to the owner not being able to get a gaming license! Still a great location away from all the lights and crowds. When we checked out William took great care of us! William met me at the front of the hotel and got a cart went to the room loaded up our belongings and took them to our car. Excellent customer service with a smile! We enjoyed our 7 day stay at Hilton Lake Las Vegas! Thank you to all the employees of the Hilton that made our stay a great one!
Yehbut - Santa Monica, California
---
So we stayed for super bowl just one night an I got to say I will never go back one night was enough at first it was great check in went good they made us the guest of the day so we got a nice view with a little balcony an they gave us some fruit šŸ so I was happy so we left for the day mind you I have 2 kids one being a 18 month old so we got back in from the strip around midnight now called the desk for a pac an play but couldnā€™t get one then I asked for extra blankets an pillows an I couldnā€™t get them it was cold an me an my baby had to sleep on the floor šŸ˜" not good I was told after housekeeping leaves thereā€™s nothing they can do now really ??? Come on there maybe was a handful of people staying there didnā€™t see any other guest around I even asked the guy can u get a duvet from a vacant room ? An he said no now I work at a resort an sometimes until 1 am an if I have a request for extra items we will find a way to get the items. That left a very bad taste in my mouth an I stay at Hiltonā€™s being a HH member I will not recommend this Hilton again room was great
---