Please select your dates to see prices:
---
Sublime Samana in Las Terrenas, Dominican Republic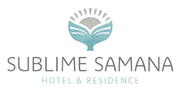 Sublime Samana, on the Dominican Republic's Samana Peninsula is a tropical paradise not known by many, which preserves its existence as an unspoiled treasure. Starfish mating near black coral in the crystal-clear water. Ocean breezes rustle palm trees expertly landscaped throughout the grounds. Elegant white linen cabanas dot the lawn. An open layout invites sunbeams and breezes into the hotel, suites and restaurants, ensuring a natural, beachside vibe every moment. Menus here focus on fish – like the red snapper of Samana – caught just off the beach.
Stumble out of your bed onto your private balcony for fresh breakfast delivered by the friendly staff. Head right out onto the sand with book, sunglasses and towel in hand – no need to do a thing aside from take in the pristine beach and waters. Navigate to the Beachside Grill for lunch, or stay put for the bar's "cocos frios." Taste a fresh mango daiquiri. After lunch, let the resort arrange a whale-watching excursion. Upon your return to the shore, motivate into Las Terrenas, the nearby town where the Pueblo de los Pescadores (Fishermen's Village) offers a collection of open-air seafood restaurants – like Comedor los Chicos, which doesn't have a phone but does have fish prepared the local way, "con coco," or with tomato, garlic and coconut milk.
Location of Sublime Samana
Sublime Samana
BahĂ­a de Coson 32000
Las Terrenas, Dominican Republic
Nearest Airport: AZS, SDQ
Amenities for Sublime Samana
Dining
Poolside Dining
Restaurant
Room Service
On-Site Amenities
Pool
Spa Services
Butler Service
Gardens
Private Whirlpools
Outdoor Spa Treatments
In-Room Amenities
Air Conditioning
CD Players
DVD Players
Hair Dryers
In-Room Safes
Fully-Equipped Kitchen
Flat-Screen Televisions
Radio & CD Players
Private Terraces
Activities
Hiking
Yachting
Bird Watching
Nearby
Shopping
Restaurants
Beaches
Reviews for Sublime Samana
---
Just check in today so far pretty disappointing. After a 3 hour drive check in was underwhelming. Was not even offered water or a welcome drink. If that was the only issue that would be ok but honesty this is not a 5 Star hotel. It is a 3 Star. The rooms are large but they are old and outdated. I even asked how old the hotel was and the woman said 7 years, looks more like 20. I am so surprised that this resort is listed on SLH and Five Star Alliance hotels. It is not even close. Freezer has rust in it, bed frame is dirty, and cracks in bathroom.
realfoodie23 - Totowa, New Jersey
---
Sublime Samana is a beautiful property. Setting is rather lush, picturesque and tropical. Many palms offer the opportunity for shade when desired. During our visit, the ocean was pretty rough (expected for the Atlantic) and did not allow for easy swimming. The pools are expansive and comfortable with plenty of space. Rooms are spacious and well appointed with nicely sized bedrooms and bathrooms, full porch complete with jacuzzi and spacious sitting and kitchen areas. Housekeeping did a great job. Maintenance was readily available for minor repairs that were needed. Concierge staff is excellent and deserves tremendous credit for so pleasantly offering assistance with any request or question. Assisted with many excursions and arrangements to make the trips' activities more comfortable. Restaurant staff was warm and eager to provide for the guests. Perhaps the only downside of our experience here was the quality of the food and the very limited menu. Being too far from town, our options for off site meals were rare. On site meals became very unexciting. Beach service was also well tended by several members quickly offer by help from towels to cushions. They deserve much credit. Sublime Samana is worthy of a visit if this area is of interest to the traveling family.
Edward B - Baltimore, Maryland
---
Great to meet so many so many guests from Europe, USA and Canada who enjoy mindful relaxation as part of their unique experience at Sublime Samana Hotel. I was fortunate to teach yoga classes through NRG2GO in a beautiful setting with great facilities and attentive staff who made for a wonderful vacation stay. Can't wait to visit beautiful Samana again. Thanks to the management of Sublime Samana and NRG2GO. To all the people who came to classes, you were enthusiastic and dedicated to yoga! Namaste Diana Macdonald
dimacdonald - Welland, Canada
---
We spent five nights at the Sublime. The majority of the units are owned and we came in just as the Holy Week - Semana Santa - was winding down. The combination of the two meant that it was very quiet and we felt like we had the place to ourselves. The casitas are spacious and well-equipped, the pool is clean and fun for adults and kids, the staff are super nice and accommodating and the beach is lovely - golden sands, crashing waves and swaying palm trees. Thanks to all the staff for making it such a pleasant and relaxing stay!
GaPNewYorkNY - New York NY
---
We stayed here as it's an SLH hotel. The area itself is very pleasant. Lovely long beach with palm trees- clean beach but unfortunately the water is quite dirty. The outlook from the hotel to the beach is like the photos. Rooms, service, food etc all 4 star. Great spa- Amazing massage in the spa. We were a couple and their were lots of families with small children.
TulipCP - Barnsley, United Kingdom
---