Please select your dates to see prices:
---
The Signature at MGM Grand in Las Vegas, Nevada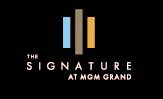 Come experience the world famous Las Vegas strip from the soaring heights of MGM Grand's premier venue, The Signature at MGM Grand. Perfection and privacy await in three sky-high all-suite towers adjacent to The Strip's bustling metropolis of entertainment and pleasure. The hotel's accommodations set new standards in personalized service in a unique non-smoking, non-gaming environment. Lavish suites promote relaxation with preferred amenities like private balconies, lush pillow-top beds, flat-screen televisions, and full kitchens with top-of-the- line appliances. In need of a little pampering? Sit back and enjoy the breathtaking view from the room's outdoor terrace as the attentive concierge staff organizes a sumptuous in-suite spread. When the time comes to explore The Strip, make your first stop the legendary MGM Grand. With direct access to the energy and excitement of the hotel and casino via connecting walkway, guests of The Signature experience the best of both worlds.
The Signature is your gateway to Vegas as you have never seen it. Venture outdoors for a swim in one of the hotel's three private heated pools, or work up a sweat in the fitness center before cooling off with a drink at The Lounge, an upscale gathering place for the jet-set, and a contemporary bar scene for the cool and casual. Sample simple gastronomy at its finest at the hotel's celebrated gourmet delicatessen Delights, located in Tower Two. For the finest in innovative spa therapies, visit the Grand Spa. Treatments like the Dreaming Ritual, a tribal-inspired treatment that includes exfoliation and Australian aboriginal massage combine the best aspects of traditional healing with contemporary flair. Just three miles from the McCarran International Airport, The Signature at MGM Grand is your ticket to leisure and luxury on the Las Vegas Strip.
Location of The Signature at MGM Grand
The Signature at MGM Grand
145 East Harmon Avenue
89109
Las Vegas, Nevada
Nearest Airport: LAS
Amenities for The Signature at MGM Grand
General Information
576 Guest Rooms
Dining
Bar
Room Service
Coffee Shop
Deli
Pool Wait Service
On-Site Amenities
Concierge
Fitness Center
WiFi
24-Hour Front Desk
Lounge
Pool Cabanas
Outdoor Heated Pool
In-Room Amenities
CD Players
DVD Players
iPod Docks
Marble Bathrooms
Flat-Screen Televisions
Whirlpool Bathtubs
Luxury Linens
Coffee & Tea Facilities
Kitchenettes
Business
Business Center/Services
Meeting Rooms
Nearby
Restaurants
Casinos
Nightlife
Reviews for The Signature at MGM Grand
---
When booking this stay at the Signature I reserved a 1 bedroom suite with breakfast included, as well as paid an additional fee for a room on floors 30-39 through the Signature website. Upon arriving to check in I was told I would be in tower 1 on the 31st floor but that the remainder of my group would be in a very nice two bedroom suite in tower 2. When I inquired about being closer to my friends the front desk moved my room to tower 2 on the 30th floor and stated that the view was exactly the same. Well this is where the negative experience starts. The view from tower 2 is obstructed by tower 1, so I went from an unobstructed view looking south east to a spectacular view of tower 1. I shrugged this off since it meant being closer to the rest of my party. Two hours later when they attempt to check in they are told their room had been reassigned to someone else and after at least an hour and a half of discussion they were downgraded to a pair of basic rooms on the 22nd floor in, wait for, tower 1! At this point I head back down to the desk to inquire about moving back over to tower 1 as well at which time the staff at the desk tells me that all they can do for me is downgrade me to the 17th floor in tower 1 in a basic room. Clearly since I've already lost the better view from the first room I forgo this option and stay in tower 2. Now on to breakfast. On my way back to my room on the first night I stop by the front desk to inquire about the breakfast that was supposed to be included in my stay, only to be told that they have no record of an included breakfast. The front desk staff makes a phone call to someone else to ask them how to handle it before telling me that I should stop by the M-life desk over at the MGM Grand, and possibly they would help. If you've ever been to both of these places you'll understand that these are not exactly close to each other. In general I would have to describe most of the staff as very polite but completely unhelpful with the exception of the gentleman that conducted my original check in, who was very helpful. My general impression of the room was that it was well appointed and laid out however it is impossible to overlook the amount of use these rooms have seen. The cleaning of the room was decent with only few really noticeable things overlooked like not cleaning both sides of the glass coffee table ( the underside which is visible from the top was pretty gross). There is significant wear and tear to the entry carpeting as well as several spots in the bathroom that should have been addressed as well. I had intended to speak to management during my stay about these issues but in the end since no single thing was a deal breaker I decided to just enjoy my stay and include all of this in the review provided by the hotel. Unfortunately that review option expires within a week of checking out. On the positive side the location of the Signature and the fact that it isn't directly over a casino is a real plus as it makes for a much quieter stay and in general the grounds are very well kept and clean. Also it requires access by key card or the front gate to the grounds which definitely adds a secure feeling.
TimDog77 - New York City, New York
---
In room Jacuzzi, balcony, counfortable firm bed, impeccable housekeeping. In Fact Housekeeping was so phemlnominal, i felt like i was on a cruise. The only thing missing was a mint on my pillow! OUTSTANDING FROM BEGINNIBG TO END!
Tre91169 - Atlanta, Georgia
---
Just what I want is someone's timeshare to spend the night in....not!!!!! Dated, felt dirty and unclean. Sofa had butt imprints of prior guests, looked rather market. Would I go back, how do you spell never?
---
Third stay in a row and again excellent. This time we had a one bedroom balcony suite and were very pleased with the extra space and facilities including the better kitchen as compared with the balcony suite. Airport and desert views were fine but the noise from Wet Republic was a bit annoying when trying to grab a could of hours sleep in the afternoon. Great location, comfort, staff, including check-in, guest relations and the best cleaning service we have had for years.
HerefordshireGoose - Herefordshire
---
Just off the strip but connected and close enough to everything. Quiet and comfortable, could not ask for anything better. Very clean, extra private, friendly staff, gorgeous bathroom with all the amenities. Highly recommended!
---