Please select your dates to see prices:
---
SLS Las Vegas in Las Vegas, Nevada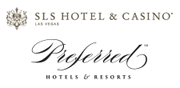 Out of the dust of the Sahara Hotel & Casino, where Frank Sinatra reigned and the Fab Four held court at the height of Beatlemania, rises the behemoth SLS Las Vegas – a property ready to add its own chapter to the northern end of the Strip. Its sister property in Miami Beach is notorious for its pool parties – but this is Vegas, so abandon all expectations. Three towers house 1,600 rooms, attracting a hip, Hollywood crowd that keeps the hotel and casino throbbing day and night.
A midday mimosa by the pool on the rooftop extension of LiFE Nightclub eases the transition from nocturnal revelry as the party gets started with cool, rhythmic beats from a guest DJ. By the second song you're up dancing, and by the third you're ready to hit the tables at the casino downstairs. Snag a table at James Beard award-winning chef José Andrés's carnivorous hotspot before assuming your throne in the VIP area of a club that fuses LED lights and elaborate chandeliers to blur the lines of morning.
Location of SLS Las Vegas
SLS Las Vegas
2535 Las Vegas Boulevard South
89109
Las Vegas, Nevada
Nearest Airport: LAS
Amenities for SLS Las Vegas
General Information
1600 Guest Rooms
Dining
Pool Bar
Cafe
Bar
Coffee Shop
7 Restaurants
Bar & Lounge
On-Site Amenities
Beauty Salon
Spa on Property
Laundry Service
Fitness Center
WiFi
Boutiques
Nightclub
Valet Parking
2 Outdoor Pools
In-Room Amenities
Flat-Screen Televisions
Luxury Linens
Luxury Bath Amenities
Activities
Helicopter Tours
Sightseeing
Business
Meeting Rooms
Business Center
Interests
City
Cool Pools
Food & Wine
Spring Getaways
Reviews for SLS Las Vegas
---
Check in is listed at 3:00 I prepaid my rooms over a month in advance to visit my son. I am an elderly widow. When I got to the from desk they could not find my reservation then rudely asked if I was sure I had the right place. I copied my reservation to my phone and showed them my conformation. Then I was today at 3:30 the rooms were not ready. I booked and paid for two. Then they told me that 3:00 was a suggested time not an actual time. I asked if they could estimate when it would be ready I was told by the front desk person it would be ready when it was ready. Speaking with my son we decided to leave to get something to eat. I wheeled my suitcase back to my car and we left. Within a half an hour they called and asked to speak to my son which I thought was odd beings I paid for the rooms and listed them under each of our names. They said the room was ready and it was very difficult to hear him as he whispered. We returned later that evening and and again spent 20 plus minutes as they again could not find the reservation for several minutes and again asked if we were sure our reservation was there. Now I'm angry. Disgusted with there service. No offer to make things be right or niceness at all. I do not recommend this hotel as they are rude and inconsiderate. Unless you prefer being treated as a second class person,.
Sherry C - Ridgecrest, United States
---
This was a special trip as this was my first time back to Vegas since 2006 and when researching hotels and the SLS seemed like a nice new location closer to downtown and exactly what I was looking for as far as location and the pool. The pros: very elegant, great customer service as far as bartenders and floor staff. What I was very surprised to find was there while I was gambling there were NO servers around, in which I spent most of my gambling at the bar to take advantage of the free cocktails while gambling. For 4 days I never was served by an actual waitress. 2nd issue was the pool closed at 6pm. It was 90 degrees and didn't even get dark out until 9pm. I was very disappointed that due to great weather and there was people at the pool they could have kept it open seeing there was business. People were basically getting kicked out at about 530. Also, I there was a bug on my shower door handle the 1st night I got there. Other than that was a 3 stars from me.
---
The hotel was overpriced. No coffee machine. No refrigerator. They charged me an extra 50.00 daily and 32.90 for resorts fee. Whatever! So, at the end of my trip It cost me an extra 600.00. For what?? The hotel is not at five stars hotel. Very disappointed.
peteve208 - Kissimmee, Florida
---
This is the old sahara. loved the location, last stop on the monorail, very convenient to the strip activities, but not the noise and congestion. The staff is very friendly and love the style. Only smokey if you go to the casino side.
PZ2018 - Sacramento, California
---
We stayed in the hotel for 3nights. The hotel was clean with moden design. Love the room. The kids love the pool there. Great location and great value for money. The hotel offers free parking and 24hrs restaurant.
---