Please select your dates to see prices:
---
The Venetian in Las Vegas, Nevada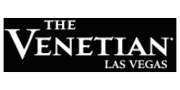 Find all of the beauty and drama of Venice in a most unlikely place when you check into The Venetian Resort Hotel Casino on the Strip in Las Vegas. With soaring marble pillars, works of art and entire facades painstakingly recreated, not to mention actual canals with singing gondoliers gliding past, The Venetian captures the magic of Italy perfectly. The Grand Canal Shoppes, including some of the most sought-after designer names, and restaurants run by some of most highly regarded chefs, line the canals beneath vaulted, hand-painted ceilings. An 112,000 square foot casino awaits those ready to try their luck at the famed tables, while a variety of activities offer additional diversity. The Venetian is a chance to walk through halls of history, explore the beauty of one of Italy's most famous cities, and to experience the wonders that Las Vegas has to offer - in one spectacular resort.
Rooms and suites are lavish with stately furniture, including painted armoires, thickly draped half-canopies over the beds, and crown moldings on ceilings - not to mention plasma screen televisions. The marbled bathrooms feature glassed-in showers, deep soaking tubs, double sinks, and lots of space. Three pools and whirlpools await those wishing to soak in the sun, while the Canyon Ranch SpaClub is for those seeking even more relaxation. In addition to nutritionists, acupuncturists, physical therapists, masseuses, facialists and pedicure/manicurists, Canyon Ranch offers classes in yoga, Pilates, and rock climbing. Art aficionados will love the Guggenheim Heritage Museum, and gamers will find ample to do in the casino. Top off your day in one of nineteen restaurants, including Bouchon, run by Thomas Keller, who was named "America's Best Chef" by Time magazine. It's Italy in Vegas, and so much more.
Location of The Venetian
The Venetian
3355 Las Vegas Boulevard South
89109
Las Vegas, Nevada
Nearest Airport: LAS
Amenities for The Venetian
General Information
4027 Guest Rooms
Dining
Poolside Dining
24-Hour Room Service
20 Restaurants
On-Site Amenities
Beauty Salon
Concierge
Shuttle Service
Spa on Property
Casino
WiFi
Live Entertainment
24-Hour Front Desk
3 Pools
Car Rental
Pool Cabanas
4 Nightclubs
In-Room Amenities
Bathrobes
CD Players
DVD Players
In-Room Safes
Mini Bar
Business
Business Center/Services
Meeting Rooms
Nearby
Casinos
Golf
Shopping Mall
Interests
City
Honeymoons & Romance
Spa & Wellness
Reviews for The Venetian
---
We were sorry when we tried the Paris last year. We couldn't wait to get back to the Venetian. Suites are very nice, staff is great. Shopping and restaurants are awesome. Casino has great ventilation for those of us who don't smoke
---
Beautiful hotel in the middle of a lot of shopping and entertainment. The rooms are large; very clean and staff was very nice. Be aware of resort fees but worth it for the beauty of this location. Walking distance to most everything you will want to see on the Strip. I was traveling with family for a conference and it was a first time in Vegas. Vegas is definitely a town that never sleeps so a little over the top for a family venture.
shogsed - Murphy, North Carolina
---
I sought opinion on where to stay in Las Vegas from friends and colleagues. From this I almost booked Planet Hollywood. I put this to the other half who insisted it wasn't glitzy enough so back to the drawing board it was a toss up between the Venetian and the Wynn. I chose the Venetian because I had walked through the Venetian in Macau and thought it might be nice to stay there. That said, anyone can walk through the Venetian casino, public areas and of course the shops on the canal. So in essence I was only paying a hefty price for the experience of being a guest. We arrived around 21:30 and there was a slight queue to check-in, not too bad. We were asked if we would like to pay extra to upgrade to a pool view room which I declined. I had emailed to say I was staying as part of my 40th celebrations, due to illness in my family all travel around my actual birthday has been postponed until we see how that plays out sadly. So that kind of set my tone of the place, they'd rather take money over doing something nice to make the trip a little more special. So we were issued a room on the 22nd floor which faced onto another building and and the back side of the strip. The ferris wheel and airport in the distance could be seen. I actually didn't mind the view. The other money maker is the additional resort fee. Yes this was made clear to me before reserving, but there seems to be no option to get out of it. What if I didn't want to avail myself of the resort and just have the room. I'd be paying for something I didn't want or use. That said I sat on a lounge chair by the noisy thump, thump, thump pool twice, in total for around six hours. The quiet pool had no space. I just think if you have this ridiculous extra fee which is charged to everyone, then just include it in the rate, however of they did the room rate might not look as appealing as first thought. I know a lot of hotels on the strip do this. However you could actually take the moral high ground and not... How about that. A great selling point and transparency, customers like a bit of that, not piracy. They are the main gripes, the rest is stunning, but like I said, you don't need to be a guest to appreciate how stunning the place is, it is an attraction in itself. Lots of photo opportunities. You must however show your room key if you want to use the guest lifts and see the stunning rooms and that is exactly what they are. They are massive. Located off elegantly quiet corridors you are welcomed into a palatial suite. The bathroom alone was huge. Separate bath and shower cubicle, separate toilet and a double sink/vanity unit. All superbly decorated and immaculately clean. The next section of the room was the bedroom which had two queen sized bed, extremely comfortable. Bedside unit separating them, various lighting options, large flat screen TV and built in wardrobe with safety deposit box, iron and board. There was lots of cloth storage in the wardrobe and drawers by the TV. Then the next section was the lounge area which is down a couple of steps and section from the bedroom area by a rail. This area had another flat screen TV, sofa, two armchairs a mini bar (which charges automatically when items are moved. A table and chairs as well as a desk. The curtains operate automatically by a switch by the TV in the bedroom area. The WiFi connected better in the room on tablets as opposed to mobile phones. I thought the air conditioning was very good. Housekeeping knocked at 9am on our first day which I think is too early. We left do not disturb on after that and the room was cleaned later. Lift access is quick for the size of the hotel and no issues getting around. The actual hotel site is huge and you could easily get lost. It is located very close the Fashion Mall, which has a food court upstairs for cheaper eats, but even on the strip there are fairly cheap options nearby. The mall located at planet Hollywood also seemed more reasonable. If you want to visit and say you have stated at the Venetian then go and do it. I have and I probably wouldn't stay there again. No fault of the hotel really, but if all you need is a bed for the night then you can do so more reasonably elsewhere.
TandWtraveller - Newcastle
---
We stayed at the Venetian for our 1st trip to Vegas. The hotel was beautiful and the staff was very helpful. I won 600 on the slots. It was close enough to walk just about every where. There are so many restaurants that we ended up eating all of our meals there. The food was spectacular. I highly recommend staying here.
kmstclair2000 - Boerne, Texas
---
It was a beautiful hotel and of course with every room being a suite, everyone was made to feel special. The only negatives were the resort charges that I felt were a little cheeky however for the luxury you are getting it is a minor fault and also there were no tea making facilities in the room which I felt for the money was a little strange however it was pretty spectacular and resort on the whole was clean and generally breath taking down to every last little detail. Would highly recommend!
ella_snookelle123 - London, United Kingdom
---