Please select your dates to see prices:
---
Risorgimento Resort in Lecce, Puglia, Italy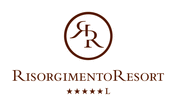 Prepare for a thoroughly modern, yet timelessly refined approach to luxury at Risorgimento Resort. Located in Lecce, a historic city in scenic southern Italy, this contemporary retreat is juxtaposed against remnants and relics of ancient life. Sun-soaked stone and Roman architecture dot this Salento region village, while the natural landscape simultaneously provides brilliant sport and leisure, including beaches, golf and more. Risorgimento Resort welcomes enchanted visitors with its 47 remarkable rooms and suites, each boasting spectacular interior design and the finest amenities. Striking color palettes and elegant furnishings are immediately pleasing, and attention to the most minute of details makes the comfort of these personal oases extraordinary. Original artwork and marble baths complete the opulent ambiance, so relax and settle in to this beautiful resort. For a world-class wellness experience, visit Risorgimento Resort's SPA Salus per Aquam, a place to be pampered and delighted in sensory experiences. From calidarium hammams with atmospheric lighting and aromatherapy, to fantastic massage and treatment offerings to soothe head to toe, this is a sanctuary you won't want to miss.
Risorgimento Resort's three delectable restaurants offer a variety of cuisine and enticing dining venues on site. The executive chef at Le Quattro Speziere brings exceptional culinary creations to your table for a full gourmet experience, while The Altavilla Roof Garden Restaurant provides a relaxed open-air environment to dine overlooking the city sites. Away from the hotel, the Salento area offers additional food and wine pleasures, seeded in rich traditions and strong ties to the peoples who dominated the region historically. Continue to explore by visiting Leece's churches, aristocratic palaces, and tucked-away cloisters and gardens, then venture further to see the coast, where breathtaking blues of sky and water create an unforgettable sight. The Ioanian Sea meets the Adriatic to form a swirl of colorful hues, and the towering cliffs of Santa Maria di Leuca loom over the ocean below. Inland, a world of fragrant countryside beckons for horseback riding, bicycling, and picnics in the sun. Uncover a unique part of Italy that most travelers miss, and allow Risorgimento Resort to be your home on the Salentine Peninsula.
Location of Risorgimento Resort
Risorgimento Resort
Via Augusto Imperatore, 19
73100
Lecce, Puglia, Italy
Nearest Airport: BDS
Amenities for Risorgimento Resort
On-Site Amenities
Concierge
Spa on Property
Spa Services
Fitness Center
Bicycle Rental
Hamam
In-Room Amenities
Air Conditioning
Direct Dial Telephones
Hair Dryers
In-Room Safes
Mini Bar
Televisions
Marble Bathrooms
Radio & CD Players
Private Terraces
Business
Meeting Rooms
Conference Facilities
Nearby
Historic Sites
Shopping
Train Station
Restaurants
Golf
Nightlife
Beaches
Parks
Theatres
Public Transportation
Monuments
Market
Colleges/Universities
Interests
Holiday Hotel Deals
Hotels
Reviews for Risorgimento Resort
---
The Hotel is dated and, to my opinion the level of services provided is more of an average 4 stars hotel than the stated 5 stars Luxury. Staff is kind and provided a good welcome and a smooth check in but unfortunately, despite the fact that the rooms are of a large size, the walls, carpets, the fitness centre, the spa, the quality and presentation of the breakfast contributed to a very disappointing experience. We have choose this hotel attracted by the pictures of the Spa and the fitness and as got ready to sport and relax in the spa we found no more than a tiny room tucked away with 2 cardio and 1 machine, we decided to make use of the spa, the door was closed, a lady opened the door and did not let us in since the spa was busy and in use, she offered to verbally list the spa menu but we could not visit nor use the facilities as she kept talking squeezed in between the door ... sort of funny scene. The walls in the public areas, the staircase and in the rooms are stained and require maintenance and painting work. the furniture is dated, the interiors are bad taste mix of some design pieces, bamboo and orchids asian decoration mixed with local tacky art. The breakfast buffet looked shabby already upon opening doors at 7:30, old fruit, few dry bread in a basket, lowest quality of ingredients. Parking at this hotel costs 15,00€/day, valet drives car away, apparently outside of the old walls and it involves some waiting when wanting to collect the car... I question how this hotel has got and can keep 5 stars L. forget about turndown service, personalized wake-up call , fresh flower or fruit in the room, forget about anything that is luxury or attentive service what you surely get is the room rate which is overpriced for the hospitality experience this hotel can offer
Giancarlo A - Amsterdam, The Netherlands
---
Very nice hotel with lots of interesting artwork. Perfect location in centre of old town and helpful staff. Valet parking was useful. We had large balcony with city view which nice. Good Italian breakfast
elainem719 - London, United Kingdom
---
Frankly at the price of the hotel you also expect everything to be perfect. Nevertheless we have been very positively surprised. The service (specially at the reception) was very attentive and friendly. The lack of parking is compensated by a very helpful valet service. Further we have been very lucky as our room has been upgraded to a presidential suite with a wonderful terrace. We would definitely come back to this hotel (even without the upgrade......;-)
Robert H - Munich, Germany
---
When we arrived at the hotel they took the car and parked it in the garage which was an extra cost but worth it. At our request they brought it back. Our room was quite spacious and the bathroom had an enclosed shower rather than just a tub/shower. We had requested a shower so I do not know if all rooms have one. The room had a balcony to sit on although it was too chilly to do so while we were there. The bed was comfortable and had USB and outlets near to it. WiFi worked well. Breakfast was good. Bar seemed to sometimes be on the top floor and sometimes on the ground floor. Personnel were very nice. Centrally located right off the main square which made it easy to walk to sights and restaurants. Altogether a very enjoyable stay.
Mmarymomm - Pleasanton, California
---
LARGE room, GOOD breakfast, HELPFUL staff, small (although strangely "viewless") rooftop terrace, GOOD "central" location, etc. etc.....it "delivers" for the money, etc. However, for MY taste, I found it bland and strangely charmless. We were placed here by the people organizing our tour--It is not somewhere I would CHOOSE to stay, otherwise. But NO COMPLAINTS!
barbararitchie - Lisbon, Portugal
---