Please select your dates to see prices:
---
Risorgimento Resort in Lecce, Puglia, Italy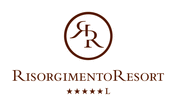 Prepare for a thoroughly modern, yet timelessly refined approach to luxury at Risorgimento Resort. Located in Lecce, a historic city in scenic southern Italy, this contemporary retreat is juxtaposed against remnants and relics of ancient life. Sun-soaked stone and Roman architecture dot this Salento region village, while the natural landscape simultaneously provides brilliant sport and leisure, including beaches, golf and more. Risorgimento Resort welcomes enchanted visitors with its 47 remarkable rooms and suites, each boasting spectacular interior design and the finest amenities. Striking color palettes and elegant furnishings are immediately pleasing, and attention to the most minute of details makes the comfort of these personal oases extraordinary. Original artwork and marble baths complete the opulent ambiance, so relax and settle in to this beautiful resort. For a world-class wellness experience, visit Risorgimento Resort's SPA Salus per Aquam, a place to be pampered and delighted in sensory experiences. From calidarium hammams with atmospheric lighting and aromatherapy, to fantastic massage and treatment offerings to soothe head to toe, this is a sanctuary you won't want to miss.
Risorgimento Resort's three delectable restaurants offer a variety of cuisine and enticing dining venues on site. The executive chef at Le Quattro Speziere brings exceptional culinary creations to your table for a full gourmet experience, while The Altavilla Roof Garden Restaurant provides a relaxed open-air environment to dine overlooking the city sites. Away from the hotel, the Salento area offers additional food and wine pleasures, seeded in rich traditions and strong ties to the peoples who dominated the region historically. Continue to explore by visiting Leece's churches, aristocratic palaces, and tucked-away cloisters and gardens, then venture further to see the coast, where breathtaking blues of sky and water create an unforgettable sight. The Ioanian Sea meets the Adriatic to form a swirl of colorful hues, and the towering cliffs of Santa Maria di Leuca loom over the ocean below. Inland, a world of fragrant countryside beckons for horseback riding, bicycling, and picnics in the sun. Uncover a unique part of Italy that most travelers miss, and allow Risorgimento Resort to be your home on the Salentine Peninsula.
Location of Risorgimento Resort
Risorgimento Resort
Via Augusto Imperatore, 19
73100
Lecce, Puglia, Italy
Nearest Airport: BDS
Amenities for Risorgimento Resort
On-Site Amenities
Concierge
Spa on Property
Spa Services
Fitness Center
Bicycle Rental
Hamam
In-Room Amenities
Air Conditioning
Direct Dial Telephones
Hair Dryers
In-Room Safes
Mini Bar
Televisions
Marble Bathrooms
Radio & CD Players
Private Terraces
Business
Meeting Rooms
Conference Facilities
Nearby
Historic Sites
Shopping
Train Station
Restaurants
Golf
Nightlife
Beaches
Parks
Theatres
Public Transportation
Monuments
Market
Colleges/Universities
Interests
Holiday Hotel Deals
Hotels
Reviews for Risorgimento Resort
---
We had three nights here in a spacious room with a balcony. Hotel staff were very helpful and the location in old town was excellent. If you are driving, you need directions to get you there as it is quite difficult with one way and restricted zones. Took us a few go's to get there. GPS not very helpful. The valet parking was a must and at E15 per day - totally worth it. Breakfast was plentiful.
---
This is a great little hotel in a very good location of the city close to everything. We drove into Lecce and found the hotel easily enough. The porters quickly looked after us and the car and the valet service was not very expensive. The rooms are comfortable and have everything you need. The mini bar is also exceptionally well stocked. There is a cute roof top bar where you get lots of snacks with your drinks. Breakfast is amazing with so many different choices available. There were at least 4 or 5 cake options with lots of healthy options as well. Hotel even has a small gym to burn all the cakes off when you finish. Lecce is an underrated destination in Italy and if you ever go, this is where you should stay.
---
This was a fantastic hotel in Lecce. We enjoyed every second of our stay. From the beautiful views from our room to the friendly and courteous front desk staff - so willing to help. Here is my rating.... Cleanliness - 10 Bed - 7 - Bed was short for a tall guy and the pillows weren't great. Quite flat. Shower - 10 Quiet - 9 - All quiet except for a crying baby in the next room. Desk Staff - 10 - Bonus point - +1 Location - 10 - In the middle of EVERYTHING! Safety of Area - 10 Heat or A/C - 10 Spaciousness of Room - 8 - Really nice Food / Breakfast - 8 - Great breakfast. Good variety. No omelet/eggs. TOTAL GRADE - 93 A I would go back to Lecce just to stay at this hotel again. Loved it!
Alex A - San Diego, California
---
My wife and I stayed in Lecce for a few days and decided to stay at the Risorgimento Resort. We were impressed with the location and the hotel itself. However, on the first night we returned to the hotel round midnight and while on the way to the room, asked the front desk if they had tea and coffee making facilities. The man at the front desk told us they can bring one up to our room, only to find our at checkout that they had charged us for this tea 4 euros plus 8 euros for delivery, they had not informed us of this when ordered. That 12 euros for a tea bag and a pot of hot water, they didn't even bring the milk. On the second night we need to iron some shirts, we called front desk to request an iron, we were told that one would be send up. After 30 minutes of waiting we called front desk again only to be informed that they are unable to send an iron up but instead can send housekeeping around to iron the shirt, for a charge. Breakfast was included in our package and was a small buffet. My wife asked if they are able to do fried eggs, the chef informed us that they could but it was an extra charge. On the second day we decided to go to the beach and there was a sign at reception about using the hotels towels and beach bag. When requested we were informed that we would have to rent these items even though it did not state this on the poster. In the end it became a joke between my wife and I that everything we wanted to do would cost extra (water for the shower, air the breath, etc). Overall nice hotel but next time we visit Lecce we'll find somewhere else to stay.
---
A great hotel, in the best location right in the centre of Lecce. Very spacious and well equipped rooms, excellent breakfast and very attentive service from the friendly staff. Well done Risorgimento, we will be back soon.
tripdreamer1975 - New York City, New York
---