Please select your dates to see prices:
---
Grand Hotel Lienz in Lienz, Austria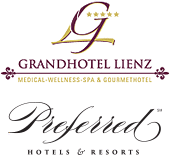 Surrounded by majestic snow-capped mountains, from the Alps Grossglockner to the beautiful Dolomites, is Austria's Grandhotel Lienz. This Preferred Boutique property, part of the Preferred Hotel Group, boasts a seamless blend of traditional and modern styles, and is a gem of southern Austria and the inviting town of Lienz. Large suites are open and spacious, flowing with rich warm tones and deep wood accents. A soothing, tranquil ambiance envelops you the moment you set foot inside, while plush comforts ensure your comfort. Enjoy the elegance of your bathroom, or step out onto your private balcony to gaze out over the picturesque southern side of the Alps. Immerse yourself in the beauty of Austria, breathe in the refreshing mountain air, and sink into the lap of luxury with your stay at Grandhotel Lienz.
After a perfect breakfast, venture out into the mountains to experience Lienz. Visit Bruck Castle, constructed in 1252 and now home to the Museum of Lienz, or see all of the city from high above on an adventurous paragliding excursion. In the warm summer months, hike and climb in the Dolomites to the south, or mountain bike on over 300 kilometers of trails at the Lienz Dolomites Bike Arena. Go whitewater rafting down the Isel River and fish at Tristach Lake, or spend a day at Dolomite Golf East Tyrol Golf Club hitting the links over three different courses. During the pristine white winters, experience the world-renowned slopes of the Alps. Take a cable car up to the Zettersfeld and Hochstein for fabulous ski and snowboard runs, and visit all eight ski areas for over 300 kilometers of hills. Return to the hotel to warm yourself after a day in the snow, and enjoy a hearty meal as the sun sets behind the mountains. With five different restaurants, there is something for everyone - including traditional and modern cuisines from Austria to the Mediterranean. Sip a nightcap after a wonderful day in the mountains, and watch the moon reflect magically of the sparkling peaks of the Alps. At Grandhotel Lienz, a true wonderland is yours to explore.
Location of Grand Hotel Lienz
Grand Hotel Lienz
Fany-Wibmer Peditstrasse 2
A-9900
Lienz, Austria
Nearest Airport: KLU
Amenities for Grand Hotel Lienz
Dining
Outdoor Dining
5 Restaurants
On-Site Amenities
Spa on Property
Fitness Center
WiFi
Terrace
Indoor Pool
Gardens
Outdoor Pools
In-Room Amenities
Bathrobes
Direct Dial Telephones
Hair Dryers
In-Room Safes
Mini Bar
Satellite Television
Flat-Screen Televisions
Mini Refrigerators
Soundproofed Rooms
Activities
Bicycling
Hiking
Mountain Biking
Ecological Excursions
AlpineSki
Bike Tours
Ice Skating
Cross Country Skiing
Snowboarding
Nearby
Historic Sites
Art Galleries
Golf
Interests
Active & Adventure
Family
Food & Wine
Golf
Holiday
Hotels
Ski & Snow
Summer Getaways
Winter Getaways
Reviews for Grand Hotel Lienz
---
We spent a weekend at the GHL, it was ono of the most relaxing weekend of the year. The hotel is amazing, the swimming pool a dream, warm water in the cold of the mountains. But the most important point was our dog welcome kit. They are the most amazing dog friendly hotel we ever went!
frankieeffe - Milan, Italy
---
Right up there with some of the best hotels we have have stayed. Shame it was only for one night. Quality through and through. Excellent staff, wonderful wellness area with such an array of facilities all beautifully decorated and a brilliant breakfast. Parking underneath with direct access to the hotel. Wonderful experience.
Macca6178 - Pacific Coast Australia, Australia
---
Overall, this hotel and location were an unexpected surprise. We spent the night here, to break up travel during our vacation. We were pleased to find Lienz such a lovely town, and this hotel on the river is a beautiful, peaceful setting with the town square and restaurants within walking distance. The lobby and exterior of the hotel are beautiful. Parking is easily available, either on the street or in the underground garage. The hotel - restaurant serves excellent food, and we enjoyed both breakfast and dinner here. The bathroom is enormous. Our room had a tub, separate toilet/bidet room. Shower was on the small size for a bathroom of this size, approximately 3ft x 3 ft. The double room had an oversized king bed. Sheets were coarse, and not what I would expect from a 5-star hotel. Paint on the walls can easily see where patching has been done, and not always neatly done. The room was very clean. Towel heater was not working in our room, which maintenance arrived to fix as we were leaving. The mountain view room has views over the adjacent town toward mountains, and was very quiet. Overall very pleased with this hotel and would stay here again, although this hotel would rate 4-star in the US based on overall quality.
48Julie789 - Columbia, Missouri
---
The hotel is first class and very well decorated with great staff. Breakfast and Dinner at the hotel are delicious and elegant. One chef, staff member, Jozsef, was particularly attentive and remembered my egg white omelet selections from the day before and prepared great crepes to go along with it for breakfast. Overall, worth going to Lienz just to stay a few nights at this hotel.
Daniel C - Fort Worth, Texas
---
Such a beautiful hotel. Our room was spacious, comfortable, and clean, with amazing mountain views. The parking was convenient, as there was an on-site garage. They don't have air conditioning, but did provide an oscillating fan. We could open the balcony doors, which provided a cool breeze. It's also walking distance to the town square. Such a lovely facility. I would definitely stay there again.
---