Please select your dates to see prices:
---
Corinthia Hotel Lisbon in Lisbon, Portugal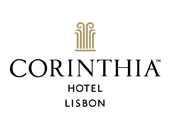 In the 15th century, Portuguese explorer Vasco de Gama sailed the seven seas on a voyage that took him to India by way of the African coastline. If he were around today, de Gama might tell you that while his adventures were fascinating, there is no place like home. Welcome to Corinthia Hotel Lisbon, where 800 years of history merge with modern elegance and flair in Lisbon's premier boutique hotel. With nearly 600 spacious guestrooms including ultra sleek executive rooms and suites, Corinthia Hotel meticulously attends to every detail of your travel whether business or play is the reason for your stay.
Situated in a vibrant urban center of creativity, culture, and business, traces of Lisbon's rich heritage are evident in Corinthia's contemporary design from the natural solarium in the spa to the stunning views of an 18th century aqueduct and Monsanto National Park. Corinthia's location in the heart Portugal's capital makes it ideal for sightseeing on foot, but many forms of public transportation from taxi to train are also available. So whether you hope to spend the day wandering through Colombo, one of the largest malls in Europe, or visiting the many museums scattered throughout Lisbon, you may devour every inch of the delicious city. Back at the hotel, enjoy a casual dinner at Típico Restaurant, which serves up international fare with panache, offering Portuguese tapas, and other culinary delights such as sushi, sashimi, and salad. Or, set an amorous ambiance at Terrace Lounge as you enjoy dinner in Corinthia Hotel's enchanting gardens on a balmy evening. Boasting a multilingual staff, first-rate accommodations, and built on a city with nearly 1000 years of history, Corinthia Hotel at Lisbon is the ideal blend of the past and the future. No matter where your travels may lead you, Corinthia Hotel Lisbon is your five-star home away from home.
Location of Corinthia Hotel Lisbon
Corinthia Hotel Lisbon
Av Columbano Bordalo Pinheiro
1099 031
Lisbon, Portugal
Nearest Airport: LIS
Amenities for Corinthia Hotel Lisbon
General Information
518 Guest Rooms and Suites
Dining
2 Restaurants
24-Hour Room Service
Bar
Room Service
Bar & Lounge
On-Site Amenities
Beauty Salon
Concierge
Spa on Property
Laundry Service
Gift Shop
Fitness Center
WiFi
Solarium
Indoor Heated Pool
Live Entertainment
Garden
Terrace
Multilingual Staff
Valet Parking
Lounge
Private Garage
In-Room Amenities
Air Conditioning
Direct Dial Telephones
Hair Dryers
In-Room Safes
Mini Bar
Televisions
Coffee & Tea Facilities
Work Desks
Activities
Excursions
Sailing
Cultural Tours
City Tours
Horseback Riding
Business
Business Center/Services
Meeting Room
Meeting Rooms
Business Center
Conference Facilities
Nearby
Historic Sites
Shopping
Train Station
Zoo
Art Galleries
Museums
Restaurants
Nightlife
Antique Shopping
Parks
Theatres
Public Transportation
Monuments
National Park
Interests
City
Culture & Arts
Educational
Holiday Hotel Deals
Hotels
Reviews for Corinthia Hotel Lisbon
---
The Corinthia Hotel is not located centrally but has good access to the centre via the Metro. It is also walkable but a 40 minute walk. The facilities are good and the rooms well appointed. The breakfasts were a bit chaotic and less than relaxing. The evening meal was ok but service was ordinary. Having said that our waitress did a great job trying to pull things together and in service recovery. There was also a long wait to check out.
---
When we arrived at around 15.00, there was a problem with the hotel system, so we could not check in or get a room to settle us down. It was a bit disappointed that the receiptionist just asked us if we would like to visit the city or grab a drink at the bar, or use hotel facility. It wouldn't be too much to get a complimentary drink at the bar or something small in the restaurant since it's the problem from the hotel side. Anyways, we went to the city, came home after dinner at around 21.00, but we did not receive any update from the hotel regarding check-in, at least we got our room. The room was nice, the bed and pillows are comfortable, but the noise cancellation was improvable. It's very clear to hear the neighbor close the door, even someone caughs in front of the room. As a 5-star property, we expected turn-down service, this could be improved in the future. Overall, the hotel itself is beautiful with a lot of frsh flowers, friendly staff.
Landscape C - Zurich, Switzerland
---
First of all, the good. The breakfast that is included is a buffet and it's wonderful. Just top drawer. The cafe on the ground floor is also good, albeit a little pricey. Now, the bad. It started with the reception. Seems our TA made a little error and we got booked twice. Instead of just dropping one of the reservations, the person at the desk started talking about me having to pay for "both rooms" because they could not take a cancellation so close to check-in. This took several conversations including calling my TA at home in Calif. 2 or 3 times. She (our TA) was finally able to reach someone at the hotel and the extra room got cancelled. This took about 1/2 an hour after flying from SFO. Seems the "Manager" hides out and is not reachable for this sort of thing. The room had a/c that would shut off completely. We asked for and were promised a space heater 3 times over a 3 day period. Never happened; instead just promises. The rooms were lovely and plenty clean but there were things like lights by the bed that didn't work, broken glass on the floor, VERY long time for hot water, and a freezing cold bathroom floor with a napkin sized bathmat. They call it 5 star. 5 star it's not. Might be a weak 4. Pretty disappointing.
bruce_santarosa - Santa Rosa, CA
---
I chose the Corinthia after a great deal of research when I attended a meeting in Lisbon. I booked an executive club room and was upgraded to a small suite upon arrival. The room, furnishings, and hotel ambiance were first rate. Catarina at check in and the Executive club staff were excellent and friendly yet professional. the only negative experience I had was at the bar when I ordered tapas but the order wasn't processed for quite a while. This was at lunch when the place was fairly empty, and eventually the two bartenders started talking about my order and it did get placed. Once it arrived, the food was excellent. The location, while not perfect , is close to the Metro and train service and cabs are readily available. I used the Metro for touring the city and cabs to get to my meeting which was not near a Metro stop. .All in all, this is an excellent property and I would be happy to stay there again if I return to Lisbon.
---
Stayed here for 5days. The place was lovely with a very distinct welcoming fragrance. The rooms are big by European standards, clean and well kept at all times. Breakfast buffet spread was equally good except that they offered the same food everyday. Since there were lots of Asians during our stay..the hotel's restaurant was kind enough to include white rice upon request on our 3rd day...just walking distance to the Sete Rios bus station as well as the metro. There is a mini grocery and fruit shop nearby. Would definitely recommend to others as well.
---