Please select your dates to see prices:
---
Corinthia Hotel Lisbon in Lisbon, Portugal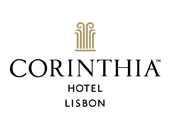 In the 15th century, Portuguese explorer Vasco de Gama sailed the seven seas on a voyage that took him to India by way of the African coastline. If he were around today, de Gama might tell you that while his adventures were fascinating, there is no place like home. Welcome to Corinthia Hotel Lisbon, where 800 years of history merge with modern elegance and flair in Lisbon's premier boutique hotel. With nearly 600 spacious guestrooms including ultra sleek executive rooms and suites, Corinthia Hotel meticulously attends to every detail of your travel whether business or play is the reason for your stay.
Situated in a vibrant urban center of creativity, culture, and business, traces of Lisbon's rich heritage are evident in Corinthia's contemporary design from the natural solarium in the spa to the stunning views of an 18th century aqueduct and Monsanto National Park. Corinthia's location in the heart Portugal's capital makes it ideal for sightseeing on foot, but many forms of public transportation from taxi to train are also available. So whether you hope to spend the day wandering through Colombo, one of the largest malls in Europe, or visiting the many museums scattered throughout Lisbon, you may devour every inch of the delicious city. Back at the hotel, enjoy a casual dinner at Típico Restaurant, which serves up international fare with panache, offering Portuguese tapas, and other culinary delights such as sushi, sashimi, and salad. Or, set an amorous ambiance at Terrace Lounge as you enjoy dinner in Corinthia Hotel's enchanting gardens on a balmy evening. Boasting a multilingual staff, first-rate accommodations, and built on a city with nearly 1000 years of history, Corinthia Hotel at Lisbon is the ideal blend of the past and the future. No matter where your travels may lead you, Corinthia Hotel Lisbon is your five-star home away from home.
Location of Corinthia Hotel Lisbon
Corinthia Hotel Lisbon
Av Columbano Bordalo Pinheiro
1099 031
Lisbon, Portugal
Nearest Airport: LIS
Amenities for Corinthia Hotel Lisbon
General Information
518 Guest Rooms and Suites
Dining
2 Restaurants
24-Hour Room Service
Bar
Room Service
Bar & Lounge
On-Site Amenities
Beauty Salon
Concierge
Spa on Property
Laundry Service
Gift Shop
Fitness Center
WiFi
Solarium
Indoor Heated Pool
Live Entertainment
Garden
Terrace
Multilingual Staff
Valet Parking
Lounge
Private Garage
In-Room Amenities
Air Conditioning
Direct Dial Telephones
Hair Dryers
In-Room Safes
Mini Bar
Televisions
Coffee & Tea Facilities
Work Desks
Activities
Excursions
Sailing
Cultural Tours
City Tours
Horseback Riding
Business
Business Center/Services
Meeting Room
Meeting Rooms
Business Center
Conference Facilities
Nearby
Historic Sites
Shopping
Train Station
Zoo
Art Galleries
Museums
Restaurants
Nightlife
Antique Shopping
Parks
Theatres
Public Transportation
Monuments
National Park
Interests
City
Culture & Arts
Educational
Holiday Hotel Deals
Hotels
Reviews for Corinthia Hotel Lisbon
---
Overall this hotel is very good. They have helpful friendly staff, clean pretty rooms, quiet, and one of the only hotels in Portugal where we found a true king size bed. Some things that we didn't like: 1- The food for dinner is not great and service is extremely slow, 2- Our room was VERY HOT and this didn't change no matter how much we adjusted the thermostat. The staff did not provide great solutions for this and gave us a fan, 3- breakfast is overpriced for what it is. This seems to be a European thing, but the controls for lights in the room were very confusing. I would suggest that you ask the staff to go over this with you. Also, getting in and out of the garage is a bit ridiculous in that you have 15 minutes after your pass is validated to go out otherwise you are trapped and have to call for help. This happened to us once and it wasn't fun as you are sitting there in your rental car on a steep narrow hill trying to make sure your manual stick shift car doesn't stall out while you are waiting. I wish that they could change their system so that perhaps you just use your room key card for the garage at any time.
---
For those of you who vastly prefer King sized beds, this is your place. It was a real king sized bed. Very comfortable too. Great pillows and very good blackout drapes. Nice and quiet. Overall, there are many positives about the Corinthia Lisbon. A few issues: 1). Even though there is an in room thermostat, it only gives you limited control. Apparently the hotel is divided into blocks. As our neighbors were all "hot" we were too. Our room was constantly 22-23.7 C. We wanted to adjust it down to 20 C. We could not. They offered to move us, but we had completely settled in and didn't want to lose the time. It was cool outside, so we cracked the window. But, just a weird and unfortunate issue. 2). Having to validate parking each time we left was a pain. Why not just a ticket that worked, or our hotel key? 3) Breakfast is pretty good. But over priced at 20 euros. 4). Just a warning, but this is outside historic Lisbon. Just a short car ride. Overall great hotel and I'd stay there again.
---
There is absolutely nothing bad I can say about this hotel. The staff are genuinely friendly, from the doorman to the breakfast staff. The rooms are simply divine. Beautifully decorated, and with everything you can wish for. Exceptionally clean, amenities galore. The hotel has also a lovely Spa including a good sized indoor swimming pool. The breakfast buffet is so very complete, including a guy cutting Serrano ham off the leg for you! I love this hotel :)
Juan141171 - Bristol, United Kingdom
---
My wife and I recently visited Lisbon. We stayed at this hotel for 3 days. The stay was fantastic. The room was a great size and very comfy. The service by the staff was excellent and they were very helpful with finding places to see and trip to do. The hotel is well located. The bar is good and easy to relax in. I recommend this hotel for anyone. It was a great experience for both my wife and myself.
Bruce R - London, United Kingdom
---
Surely, it's not easy to find a good hotel at a reasonable price in Lisbon, a city which has its difficulties with handling such a great number of tourists nowadays, and which, ad a consequence, quickly becomes overpriced. The Corinthia exceeded my expectations by far, and that's because of its service. Sure, the rest is also pretty good. A location very close to the metro and suburban train station, but don't expect a view onto the sea. A comfortable room with smart TV, coffee facilities, a bathroom with bidet, bathtub and small extras like a mirror where no condensation forms upon when you shower, and a button for listening to the radio while you're sitting on the toilet. I honestly didn't try the spa, neither breakfast (18€ extra), neither the restaurant (spaghetti 18€, pizza margherita 16,50€), so can't say much about that. The service, as already mentioned, distinguishes the excellent hotel from other good hotels. Always friendly and professional, they fulfilled mt request for a room on a higher floor and upgraded me even to a Superior Room without extra costs. Turndown service, small presents on check-in and check-out, a concierge service, a professional way of storing my luggage, all these small things made the difference. I would definitely book this hotel again. Highly recommended !
Perho2014 - Munich, Germany
---