Please select your dates to see prices:
---
COMO Metropolitan London in London, England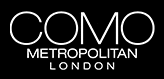 Our boutique hotel in London puts careful emphasis on providing perfectly curated experiences of the city. A cool, contemporary central London luxury hotel, COMO Metropolitan London combines meticulous service, sophisticated design and a vibrant Park Lane location.
Our hotel offers 144 rooms and suites, as well as 19 long-stay apartments. Whether you are enjoying the Met Bar's music or the precision of Nobu's Japanese-Peruvian menu. our restaurants will immerse you in London's energy. Let our concierge team assist you in accessing much of what our area has to offer, such as: orchestrating a customized shopping trip, designing a program of treatments at COMO Shambhala Urban Escape, arranging family-friendly activities or securing theatre tickets.
Location of COMO Metropolitan London
COMO Metropolitan London
Old Park Lane
W1K 1LB
London, England
Nearest Airport: LGW
Amenities for COMO Metropolitan London
Dining
Private Dining
Bar
Restaurants
On-Site Amenities
Spa on Property
Spa Services
24-Hour Fitness Center
Interests
City
Hotels
Spa & Wellness
Reviews for COMO Metropolitan London
---
We recently had an amazing stay at the COMO Metropolitan hotel for my husbands birthday. We were checked in (and out) by the lovely, polite and friendly Anisha who upgraded us to a Junior suite with views of Hyde park. The room was just WOW! Exceptionally clean and spacious with a separate living area and a bathroom which actually had a bath in it instead of just a shower! When we returned to the hotel later in the day, a birthday cake was delivered to the room. Another lovely touch. We had booked Nobu (which is situated in the hotel) for a meal at night and unbeknown to us, the hotel must of informed them of my husbands birthday and he was given a candle with his pudding with "happy birthday" written on the plate in chocolate sauce. Yet another lovely touch which just added to our wonderful stay. We had a drink in the hotels Met Bar before leaving for the airport and chatted to the lovely Anastasia. We found the staff in the hotel to be second to none and we have stayed in many 5 star hotels around the world. Thank you so much to everyone for making my husbands birthday night away so memorable. We'd highly recommend a stay here when choosing a hotel in London and we can't wait to come back to stay again.
---
Perfect in all ways, service, location, great breakfast and very friendly staff. Special thank you to Lonny Hunt and Concierge team for all your help with bookings, advise and recommendations. Your kindness and going above and beyond, truly appreciated. Thank you to Massoud who works at the front door for your kindness and help. We had very spacious, serviced, 2 bedroom apartment and was perfect for family with kids. Located across the street from Hyde Park and many wonderful restaurants and attractions near by. Would definitely stay there again.
taurikh2016 - Amman, Jordan
---
For the record, this TripAdvisor account will review dog-friendly establishments only! We stayed at COMO Metropolitan Park Lane for an overnight stay and we were blown away! The suite we had was huge and was effortlessly chic and minimalist. From the moment we checked in we felt completely at home. The Met Bar was THE hottest place for a period in the 1990s and is now a lovely bar to enjoy a bottle of wine with complimentary nibbles. The service was fantastic. Breakfast was fantastic and served in the serene white room. Great service and a very extensive menu of options. During our stay, the staff could not do enough for us and it is one of the most dog-friendly luxury hotels in London. Highly recommended and we cannot wait to return!
---
Stayed in the hotel just one night The hotel have charged me for the room twice 250ÂŁŃ…2. After long conversations with reception they apologized and promised to return one payment. But instead they again trying to charge me for absolutely new amount in 46,50 ÂŁ whole the day today. I checked out from the hotel today morning. I didn't take anything from the room, neither from minibar, never was in the spa of the hotel, never in the bar of the hotel. So really don't understand what is going on. The hotel is situating far away from main shopping streets, but close to parks. I won't recommend to stay in it at all. And be aware with the credit card! They use it after the customer check out!!!
Kostromina - Moscow, Russia
---
They go out of their way to make your stay the best possible one! James (the manager) is perfect: - kind, nice sense of humour and interested in providing you with the best experience! We highly recommend this hotel!
marinalibe - Sao Paulo, SP
---