Please select your dates to see prices:
---
Hotel Xenia, Autograph Collection in London, England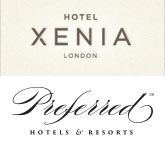 The name of Xenia London – part of the collection of – is derived from the ancient Greek concept of hospitality shown to travelers from faraway lands. Travelers who arrive on the whitewashed and pillared doorstep of this elegant estate will find homey touches in modern surroundings – cheeky rustic fowl pillows bring a hint of English countryside to the big city.
Spend the morning at the Victoria and Albert, the world's largest museum of arts and design, then stroll down the magnificent tree-lined avenues of Kensington Garden, one of eight royal parks in London. Take afternoon tea amid the manicured gardens of The Orangery, sipping on a delicate teacup of black tea with Cornish clotted cream. Michelin-starred Chef Andrea Angeletti oversees dinner at back at the hotel.
Location of Hotel Xenia, Autograph Collection
Hotel Xenia, Autograph Collection
160 Cromwell Road
SW5 OTL
London, England
Nearest Airport: LHR
Amenities for Hotel Xenia, Autograph Collection
99 Rooms & Suites
Individually Appointed Rooms
Private Terraces
Champagne Bar
Kensington Gardens
Hyde Park
Natural History Museum
Royal Albert Hall
Reviews for Hotel Xenia, Autograph Collection
---
The classical look is everything. I loved especially the lounge for breakfast that you will be sitting and watching the passers by walk along the Cromwell road. Closest tube station is Earl's Court and Gloucester Road. Kensington Park is a delight to take a long stroll. Shopping at Knightsbridge is fun. And museums are also some walking distance. Recommended for people looking for cozy stay.
---
I've stayed at Xenia twice now recently for business. The location is great, Kensington is a cute part of town with a lot of restaurants, sites and easy tube access. You are very close to 2 tube stations here. It's fairly easy from Heathrow as well as you can take the express to Paddington. The hotel staff is very friendly and helpful. The rooms are nice. Quite small but it's London so that's fairly standard. The restaurant has amazing food and the small bites in the bar can be a nice meal as well. I enjoy staying here and will be back again soon I am sure!
bryandshan - Thousand Oaks, CA
---
We absolutely loved staying at the beautiful Xenia! The staff were absolutely amazing! Super friendly, kind and helpful. The room was extremely clean and the bed was very comfortable. We also loved the location...could not have been more perfect. Thank you for a most wonderful stay!
laurafritz - Spartanburg, South Carolina
---
Perfectly located between two key Underground stops (Earl's Court and Gloucester), Hotel Xenia is a boutique hotel worth visiting. As with every hotel in London, the rooms are small, but the tasteful design and light colors prevent it from feeling cramped. The staff is particularly attentive, and seem to truly care that you enjoy your stay. Manuel was the concierge we leaned on daily for advice on where to go, what to do, and what to eat, and he rewarded us with perfect recommendations every time. We chose the included breakfast option, and I would highly recommend that as well. We also dined there our first night, and the restaurant was outstanding. The hotel is on a busy street, but the sound insulation is great. Worth considering for your stay in London.
Steve21217 - Baltimore, Maryland
---
We arrived very early and were welcomed. They let us check in in the morning which was a great for us - we were in London for only 3 days. The hotel is lovely with very friendly and helpful staff and a great location with walking distance to Gloucester Road and Earls Court subway stations. Their rooms are tiny, but I barely remember that I sleep more comfortable in any other hotels than this one even though we walked all the days around the city, feeling like we have no legs in the evening. I will give them 5 stars for sure, but the night before we checked out in the very early morning, our bathroom shower hand was break and no one was able to fix it this night. Therefore we were not able to take a good shower before our over the ocean 7 hours flight We will definitely consider this hotel for our future trips to London.Hope, next time we will not have any problems with bathroom accessories
---