Please select your dates to see prices:
---
ME London in London, England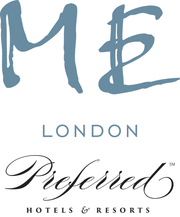 Welcome to ME London, an ultramodern, exceptionally chic luxury hotel where conventional English charm meets contemporary glamour. ME London owes its sleek architectural design and lustrous façade to Foster and Partners, founded by Sir Norman Foster. Set along historic Strand in Covent Garden, this former site of Gaitey Theatre, Strand Music Hall and Marconi House commands attention with its highly regarded history as well as its modern flare. A member of the esteemed ME by Melia collection of contemporary resorts and urban hotels, this line of experience-based personality hotels is aimed at the traveler with progressive sensibility.
With 141 lavish guestrooms and 16 superb suites, complete with state-of-the-art soundproofing, premium bathroom amenities, and 24-hour in-room dining, leaving your room to explore the city may pose quite the quandary. The beauty of ME London's stunning exterior is exceeded only by its awe-inspiring interior. A walk through the hotel's corridors is an experience akin to walking through a museum of postmodern art and architecture, but comfort is not sacrificed for all the beauty and elegance. ME London's state-of-the-art fitness facility summons the health buffs, while a rooftop bar promises delicious cocktails and breathtaking views of London's most notable sites including the River Thames and Houses of Parliament. ME London's progressive spin on the luxury hotel does not stop at stunning visuals; your health and wellness are at the forefront of ME London's mission as well. In-room spa treatments are available upon request, and the hotel is a completely smoke-free space, so breathe deeply and take it all in. The city's exciting sites set the ideal backdrop for a midday stroll or a romantic nighttime escape. With shopping, delicious cuisine, pubs, and museums within walking distance of ME London, there are endless answers to the question, "what should we do today?" Through design, music, cuisine and art, ME engages the intellect, emotions, senses and desires of each guest. ME brings you fully into the moment and delivers the thrill of the unexpected. It inspires you, It transforms you. ME. It Becomes You.
Location of ME London
ME London
336-337 The Strand London WC2R 1HA Great Britain
London, England
Nearest Airport: LHR
Amenities for ME London
General Information
157 Guest Rooms and Suites
Non-Smoking Property
Handicap Accessible Rooms
Handicap Accessible Facilities
Dining
Restaurant
2 Bars
24-Hour Room Service
Rooftop Bar
Room Service
Snack Bar
Bar & Lounge
Deli
Restaurants
Bar & Restaurant
On-Site Amenities
Concierge
Housekeeping Service
Laundry Service
Multilingual Staff
Valet Parking
In-Room Spa Services
Complimentary High-Speed Internet Access
Health Club
24-Hour Fitness Center
Complimentary WiFi
Elevators
In-Room Amenities
Air Conditioning
In-Room Safes
Mini Bar
Satellite Television
iPod Docks
Flat-Screen Televisions
Luxury Linens
Coffee & Tea Facilities
Pillow Menu
Luxury Bath Amenities
Bottled Water
Soundproofed Rooms
Rain Showers
Espresso Machine
Work Desks
Bathrobes & Slippers
High-Speed Internet Access
Nearby
Historic Sites
Shopping
Museums
Restaurants
Nightlife
Parks
Theatres
Public Transportation
Interests
City
Culture & Arts
Reviews for ME London
---
I have to say this was by far one of the best stays we have had in London. From the very beginning at check in, the staff were so lovely and helpful. We were given a lovely glass of prosecco on arrival. Our room wasn't ready at the time but we arrived earlier than the check in time and we had a phone call as soon as it was ready. We were in London celebrating my birthday. When we got int our room i was greeted with balloons and a lovely birthday message on the mirror, in addition to a bottle of champagne and a chocolate desert. It really made my birthday extra special. We had a energy urban terrace room which was fabulous. A very large room and bathroom and lovely balcony over looking the city. We visited the roof top bar in the evening. It had great vibes and staff were friendly. We went again the next day when the royal wedding was on. It was a great atmosphere and the cakes issued were lush. It definitely helped that we had a cracking day of sunshine too. The location of this hotel is spot on. Right on the strand next to convent garden, with lots of coffee shops, restaurants and shops near by and the tube station is a minute walk away. We also decided to do a city bus tour, and the stop is right opposite the hotel which was fabulous! All in all we were so impressed with this hotel, we really cant fault any part of it and we will defiantly we returning. Thank you for making my birthday even more special. Kelly Stinton and Connor Edwards.
kstinton91 - Worcester, United Kingdom
---
When you arrive, you are greeted heartly and a wonderful fragrance expects you when you pass the ground floor to get the elevator to the reception on the 1st floor. We had the feeling to enter a church. The check-in was very fast and we got offered a glass of champgne. We were upgraded to a superior room. The room is modern an gives you a good room feeling. There is large and comfortable bed and a small table with two chairs. I really enjoyed the window which is like an oriel and if you stand there, you feel like you are in the trees. There is a large bathroom with two sinks a a separate toilet. The absolute highlight is thw terrasse on the top floor. It is open for luch with a beautiful view over the city. In the evening, it is a popular bar.
Zurich_Traveller23 - Zurich, Switzerland
---
Booked two nights at the ME for my partner's 40th birthday. The hotel itself is very cool, minimalist, very dimly lit & nice smelling, a bit like hollister opened a hotel. We upgraded on arrival to a suite - which was really good. I had pre-booked a bottle of champagne to kick off the birthday celebrations and asked that this be moved to the suite. This unfortunately didn't happen so we decided to go up to the roof-top bar for a drink. Bad move! The bar is amazing but is open to anyone and everyone and the rather rude woman on the lift door told us to sit down and wait and then 10 minutes later told us there was no availability. We decided to ask reception why, as residents, we were not allowed in the bar and the woman there could not have been more helpful. She escorted us past the 'bouncer' on the lift and got us a table and a free glass of bubbles for the inconvenience. As I said, the bar is amazing, but it was like a scene out of Towie - it was fully of really loud and obnoxious geezers on the birthday lash. We didn't stay long! We did get a bottle of champagne and a written apology regarding the refusal of entry to the bar so credit to the hotel for that. Overall a good hotel apart from the issue with the bar.
clayspa1969 - Woodhall Spa, United Kingdom
---
My friend and I booked a Saturday night at The Me Hotel as a treat for her birthday and wow it didn't disappoint,not only is it a trendy stunning hotel but the staff we exceptional,they did everything to make us feel welcome and special,from Marie on reception to Maria who showed us to our room and how to work out all the lighting gadgets and bonus ,a bottle of champagne and a beautiful chocolate birthday cake awaiting us.Dinner was great and it's such a fun lively atmosphere so great for groups of friends or couples and then when we headed to the Radio Roof top bar which we had booked we were greeted again but a glass of fizz.Check our is 12pm so again another bonus after a good night out and when we came to pay and check out we were greeted by Luke from The Aurora team who again didn't disappoint,he was kind and friendly and offered us a Buck's Fizz which was just what we needed.i cannot reccomend this hotel enough,the little touches really did count and I will be definitely staying again,well done to everyone at the hotel your customer service is exceptional and you made my friend and I feel like a million dollars xxx
ambrosefashion - Poole, United Kingdom
---
We stayed at the ME london for my boyfriends birthday. Walking in the hotel the way its designed is very modern and beautiful, every detail ! the reception is especially cool and staff were very friendly and helpful ! The room was very smart the gave little touches to make the stay extra special for the birthday. Better than i could of pictured they went out of their way to make it a great stay which I love. We also went to the stk downstairs which was also very good, again the design and surroundings were cool/modern, good food overall a very nice restaurant. I would recommend this hotel to anyone and will be going again in future ! Next time Maybe try out their bars which look nice as i didn't get the chance this time round as it was a short stay
Elle791 - Huntingdon, United Kingdom
---