Please select your dates to see prices:
---
ME London in London, England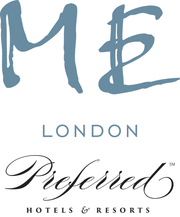 Welcome to ME London, an ultramodern, exceptionally chic luxury hotel where conventional English charm meets contemporary glamour. ME London owes its sleek architectural design and lustrous façade to Foster and Partners, founded by Sir Norman Foster. Set along historic Strand in Covent Garden, this former site of Gaitey Theatre, Strand Music Hall and Marconi House commands attention with its highly regarded history as well as its modern flare. A member of the esteemed ME by Melia collection of contemporary resorts and urban hotels, this line of experience-based personality hotels is aimed at the traveler with progressive sensibility.
With 141 lavish guestrooms and 16 superb suites, complete with state-of-the-art soundproofing, premium bathroom amenities, and 24-hour in-room dining, leaving your room to explore the city may pose quite the quandary. The beauty of ME London's stunning exterior is exceeded only by its awe-inspiring interior. A walk through the hotel's corridors is an experience akin to walking through a museum of postmodern art and architecture, but comfort is not sacrificed for all the beauty and elegance. ME London's state-of-the-art fitness facility summons the health buffs, while a rooftop bar promises delicious cocktails and breathtaking views of London's most notable sites including the River Thames and Houses of Parliament. ME London's progressive spin on the luxury hotel does not stop at stunning visuals; your health and wellness are at the forefront of ME London's mission as well. In-room spa treatments are available upon request, and the hotel is a completely smoke-free space, so breathe deeply and take it all in. The city's exciting sites set the ideal backdrop for a midday stroll or a romantic nighttime escape. With shopping, delicious cuisine, pubs, and museums within walking distance of ME London, there are endless answers to the question, "what should we do today?" Through design, music, cuisine and art, ME engages the intellect, emotions, senses and desires of each guest. ME brings you fully into the moment and delivers the thrill of the unexpected. It inspires you, It transforms you. ME. It Becomes You.
Location of ME London
ME London
336-337 The Strand London WC2R 1HA Great Britain
London, England
Nearest Airport: LHR
Amenities for ME London
General Information
157 Guest Rooms and Suites
Non-Smoking Property
Handicap Accessible Rooms
Handicap Accessible Facilities
Dining
Restaurant
2 Bars
24-Hour Room Service
Rooftop Bar
Room Service
Snack Bar
Bar & Lounge
Deli
Restaurants
Bar & Restaurant
On-Site Amenities
Concierge
Housekeeping Service
Laundry Service
Multilingual Staff
Valet Parking
In-Room Spa Services
Complimentary High-Speed Internet Access
Health Club
24-Hour Fitness Center
Complimentary WiFi
Elevators
In-Room Amenities
Air Conditioning
In-Room Safes
Mini Bar
Satellite Television
iPod Docks
Flat-Screen Televisions
Luxury Linens
Coffee & Tea Facilities
Pillow Menu
Luxury Bath Amenities
Bottled Water
Soundproofed Rooms
Rain Showers
Espresso Machine
Work Desks
Bathrobes & Slippers
High-Speed Internet Access
Nearby
Historic Sites
Shopping
Museums
Restaurants
Nightlife
Parks
Theatres
Public Transportation
Interests
City
Culture & Arts
Reviews for ME London
---
Amazing hospitality and service. If you favor art, avant-garde and an artistic atmosphere it's the perfect place for you. Next to that, the location is great near Covent Garden. An interesting fact to know, Marconi House used to be BBC radio headquarters. The radio rooftop bar, which offers amazing views, was the location all radio telescopes where situated to broadcast. Can't wait to visit in May again, hopefully the temperature will be more comfortable to enjoy the rooftop bar to the fullest. I didn't knew the ME brand. Look forward to explore the brand in Ibiza as well!
Meer_2013_89 - Assen, The Netherlands
---
Stayed here a night only on Saturday and I must say that this is the best hotel for a weekend away from home. The decor is amazing, staff is very attentive and friendly. Had a dinner at STK and drinks at Radio after - views are second to none and cocktails are amazing.
111kiddo111 - Singapore, Singapore
---
Had a great stay! Perfect location, helpful staff and great restaurant! I stayed for business for a number of nights, room has all amenities, quiet rooms and right by Covent Garden to go to after working hours. Transport options are close too.
MKlok - London, United Kingdom
---
This hotel is one of the bests I ever stayed, I went there to celebrate my anniversary and the staff hand wrote a happy anniversary card and left a bottle of Champagne and cheese board in my room on the first night! The rooms are extremely comfortable and updated, the staff is the best and most thoughtful I've ever experienced, they were friendly, engaged, and eager to please. We will be back next year.
_andre_rodrigues_rp - London, United Kingdom
---
My husband and I have tried many hotels in London and the experience that we had at ME London surpassed any other experience that we have had before. From the moment that we arrived the staff were extremely attentive and seemed to genuinely want to assist us. The decor of the hotel is simply breathtaking and everything looked extremely fresh and inviting. The suite that we were given was very clean and the amenities were fantastic, I especially loved the size of the bathroom. The location is perfect and right in the centre of the city with very easy access to all major landmarks and museums. The hotel is situated in the heart of the West-End meaning easy access to fantastic musicals and shows. I would recommend this hotel to any couple wanting a fantastic relaxing weekend away.
JosephTIFF - Sydney, Australia
---