Please select your dates to see prices:
---
The Pelham Hotel in London, England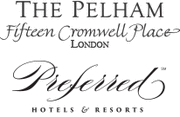 Location of The Pelham Hotel
The Pelham Hotel
15 Cromwell Place
SW7 2LA
London, England
Nearest Airport: LON
Amenities for The Pelham Hotel
General Information
50 Guest Rooms
Handicap Accessible Rooms
Dining
Restaurant
Room Service
Bar & Lounge
On-Site Amenities
Concierge
Laundry Service
Fitness Center
Complimentary WiFi
In-Room Amenities
Air Conditioning
In-Room Safes
Mini Bar
Complimentary WiFi
Family
Cribs
Rollaway Beds
Nearby
Shopping
Art Galleries
Museums
Parks
Public Transportation
Reviews for The Pelham Hotel
---
Stayed here last month with my wife. The Pelham is simple and straighforward: serviceable rooms, narrow hallways, international staff, and GREAT location right across the street from the South Kensington underground station. Room service is 24 hours--which always makes us happy--and the best part might be the showers: strong water pressure and lots of hot water...jaaaaa!! If you need simple accommodations with little to no extras in a fabulous location of London, then this is the hotel for you. Cheers!
stardust2newyorkcity - New York City
---
The Pelham is a great little hotel just next to the South Kensington tube station. A better location you could not ask for. Also, there are tons of interesting shops and restaurants within a short walking distance. I would recommend a room away from the street however as it can get a little noisy. Other than that you will have a wonderful stay and the staff are very nice and the hotel is a little gem.
Vance C - Redwood City, California
---
Lovely hotel. Incredibly well appointed rooms. Long handled shoe horn a revelation!! Very comfy bed, so often hotel beds are too hard. Lovely big bathroom with two basins, no sharing required! Wonderfully helpful staff. Incredibly convenient for transport as right opposite South Ken tube. We will definitely stay again when next in London.
---
We stayed for four nights. The room was beautiful and clean, but a little cold. I don't think the heat was working properly. I loved the location, we were close to the south Kensington tube station and we could watch all the street activity, but it was still quiet. The staff are very attentive and helpful, I would certainly stay here again. I would like to see a coffee maker added to the room.
---
I stayed for two nights with a friend. We chose it for the location. It's is right across the road from the South Kensington tube station. When we arrived we had to carry our suitcases up the stairs as there was no one to greet us, unlike most 5* hotels I've stayed in before. Check in was swift. Booking.com hadn't advised me of the £100 credit card hold however. Room was good at first glance. We were on the ground floor. The bath was a little stained on the top and the glass door/shower screen was so hard to move we initially thought it was broken. The rubber from the bottom was loose and made it very hard to move. Sadly the cold bath tap wasn't working properly. We discovered this on the first morning when we were unable to turn it off. We called for assistance but the poor guy was also unable to turn it off. This was 10am and maintenance wasn't arriving until 11am so it just ran for an hour. Mini bar and safe in cupboard. We didn't use these. Lovely slippers and dressing gowns too. The room comes with a little smart phone. This was great and we took it out with us. Free uk calls and internet. We had a turn down service every night and water left by the bed for us. The hotel was very quiet. We didn't see anyone in either lounge room during our stay. There isn't an honour bar anymore. We went downstairs to order two glasses of wine. On both occasions we were told that staff would bring it upstairs for us even though we had waited at the bar whilst they poured it. Upon check out I realised we had been charged £1.75 for the privilege of carrying it upstairs! It's a real shame that wasn't explained to us because I was happy to wait but was sent away from the bar by the waitress! I think it's a very u fortunate charge for customers when there isn't an upstairs bar for them to visit. I could see from reviews that the rooms didn't have a kettle and tea/coffee facilities so I emailed ahead and was told they would place a kettle etc in the room. This hadn't happened. We requested a tea tray and it was brought to the room straight away. The housekeeping however totally disregarded this tray. We had to ask for the tea bags and coffee to be replaced. The dirty used cups were also left and we had to ask for these to be replaced too. Whilst I appreciate the tea tray doesn't come as standard I would expect the items to be replaced as it had been specially requested. Both lounges were lovely. One had an open fire that was lovely to just sit and relax. We didn't eat in the hotel so cannot comment. There is a little square opposite the hotel that has lots of restaurants. We tried the pizza pasta restaurant. Little place but the food was amazing!! Harrods is a 15 min walk away. V&A just at the end of the road. The hotel would have had a full 5 stars for the review if there had just been a little more attention to detail. Would stay here again for the great location.
---