Please select your dates to see prices:
---
St. Pancras Renaissance Hotel London in London, England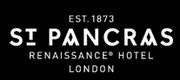 Beautifully restored and brimming with 5-star luxury, the St. Pancras Renaissance Hotel London provides a truly unforgettable experience. Behind the fairytale façade, that Sir George Gilbert Scott fashioned for the Midland Grand, lies a hotel that will exceed your every expectation...blending Victorian splendor with modern style and service.
Step inside the spectacular glazed entrance hall, and stride down the famous grand staircase to the Gilbert Scott Bar and Restaurant, featuring its brilliant cuisine. Make yourself at home during your Kings Cross visit in one of our 245 immaculately appointed rooms and suites, which feature luxury bedding, 24-hour room service, and much more. Additional hotel amenities include a 5-star spa, as well as a gym and an indoor pool. Events at our hotel are nothing short of spectacular. The historic Hansom Hall venue is perfect for weddings of varying sizes.
Location of St. Pancras Renaissance Hotel London
St. Pancras Renaissance Hotel London
Euston Road
NW1 2AR
London, England
Nearest Airport: LGW
Amenities for St. Pancras Renaissance Hotel London
Dining
Restaurant
Bar
Lounge
On-Site Amenities
Spa on Property
Spa Services
Fitness Center
Indoor Heated Pool
Nearby
Historic Sites
Art Galleries
Museums
Restaurants
Golf
Interests
City
Culture & Arts
Hotels
Reviews for St. Pancras Renaissance Hotel London
---
Located perfectly at the St Pancras Station premises so travellers for Eurostar will find this hotel very convenient. The gem is actually in the service staff, from check-in, to Booking Room Restaurant to Concierge to the Doorman. The only disappointment is the room size and configuration despite the fact I was allocated the so-called "larger room". In summary, definitely a choice for consideration for stays in London
---
My father always wanted to stay in this hotel so for Christmas we booked it !!.. & a to see Phanton at the theatre , the hotel was amazing, beautiful, clean & the staff great. We drank in the bar & the staff did great cocktails for us, very handy if your off on the Eurostar to Paris❤️
amandagucci - Nottingham, United Kingdom
---
My rating represents the whole experience. Originally booked for the 2 nights costing £586 which was a standard double room with breakfast. Arrived at 12 and room was ready ( good start) was told that they only had a twin. They said the twin beds were almost double sized but when we got in the room they were more like single beds so not happy and asked to change. Back at reception a Manager took over and sorted a double. Actually said we would love it. Room was exactly the same accept the bed was a double. Drab decor, very pale green... no bath.... back to reception and asked if we could change to a different Marriott as so far the hotel very poor. With the same Manager we negotiated an upgrade to the chambers at an additional cost of £180. Room was a better size but still nothing special considering we are now at almost £400 a night!! But the rooms are tired, the carpets look worn, the bathrooms need a good steam clean, the towels are like cardboard.. so much so they would be better used to exfoliate your skin. The furniture is battered and damaged all in all shocking really. There are some plus points promise, the have Nespresso in the rooms..🙂 There is no doubting that the hotel looks stunning, around the chambers area there is a magnificent stair case, the building has so many features and of course it is located right next to St Pancras station and near Euston by location just not justify shoddiness. As I have said before, would I stay here again.... not a chance. Really spoilt a lovely weekend.
David A - Cambridge, United Kingdom
---
This hotel is a true London landmark. Staying here brings you back in time, with all of the modern conveniences you'll need. This hotel is full of stories and history. Rooms in chambers wing have wonderfully high ceilings. You'll feel as if you're in a palace. Full of amenities, including larger sized bath products. The Chambers Club Lounge has a wonderful breakfast, tea, and happy hour. The Booking Office restaurant is also a wonderful place for a romantic drink. We stayed in the chamber's wing so that we would have concierge service on the Eurostar to Paris. This is a wonderful service as you're whisked through a private gate and onto your train car. The hotel does have a young staff, so there are some service inconsistencies, yet these were easily overlooked due to the pure pleasure of staying here. One thing the hotel should note- the "bath ritual" is over described. There was no consultation, no music- only a very nice bubble bath. Enjoyable, but not as grand as advertised. Stay here in the Chamber's wing- it's worth the splurge!
---
We just spent seven nights here from April 12 to April 19. We had stayed at this hotel three years ago and have been wanting to return. It's still really terrific. From check-in, to the club room, to the laundry service, all of the staff we dealt with were extremely helpful and gracious. We stayed in one of the grand junior suites and it was enormous and very nicely appointed. The public areas of the hotel are absolutely spectacular. The building is a Victorian era gothic revival style that has been beautifully renovated. The stunning architecture really makes a stay here a special experience.
---