Please select your dates to see prices:
---
La Mision Loreto in Loreto, Mexico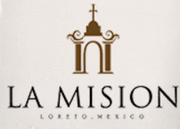 There is a vivid image of old world Mexico that is found within the confines of La Mision, a newly-built resort with vintage sensibilities. Located in the mission town of Loreto, a historic city tucked between the mountains and the Sea of Cortez, this intimate retreat lives up to its namesake by delivering a style of architecture that is undeniably one of sacred beauty. Beneath its roof are is a choice of 68 stunning accommodations, including lovely rooms and sprawling two-bedroom suites all boasting a hacienda-chic ambiance with protected terraces or patios, cool marble baths, and modern amenities that complement rather than collide with the authentic surroundings.
Your palate will be delighted with the selection of restaurants and menu offerings. Expect regional fare, fresh seafood gathered by local fishermen, and a fusion of Baja and Mediterranean-style cooking that is truly tantalizing. The Spa is an added escape, where a mix of textures and treatments arouse the senses with products that contain renewing ingredients from the Baja desert and Sea of Cortez. Mexico is known for its outstanding hospitality, and the concierge at La Mision is certainly schooled in anticipating guests' needs. Request an afternoon escapade of scuba diving or snorkeling. There is also kayaking and canoeing. For intellectual endeavors, there are archeology outings and architectural tours. La Mision joins together the best Mexico has to offer - a sense of culture, history and traditions with modern luxury, supreme surroundings and overall pampering. Together these elements complement one another creating a truly unrivaled holiday for each and every guest.
Location of La Mision Loreto
La Mision Loreto
Paseo Adolfo Lopez Mateos Rosendo Robles S/N
CP 23880
Loreto, Mexico
Nearest Airport: LTO
Amenities for La Mision Loreto
General Information
68 Guest Rooms
Dining
Poolside Dining
3 Restaurants
Pool Bar
24-Hour Room Service
Bar
On-Site Amenities
Spa on Property
WiFi
Boutique
Outdoor Pool
Car Rental
In-Room Amenities
In-Room Safes
Marble Bathrooms
Flat-Screen Televisions
Activities
Excursions
Hiking
Kayaking
Canoeing
Whale Watching
Business
Business Center/Services
Meeting Room
Interests
Culture & Arts
Summer Getaways
Reviews for La Mision Loreto
---
We stayed at this hotel the first night of our trip and then a week later for two more night at the end. The first night was terrible. We had reserved an Ocean front room. Wow, was that a mistake. The road is right in front of the hotel so we heard the cars driving by all night. Also, there was a motorcycle convention in town and most of the hotel was rented out by them. Lots of noise. Motorcycle engines revving until the wee hours of the morning. The people above us were dragging their furniture around until 1:30am. The floors are tile, so you hear everything. I called down to the front desk at 12:30am to see if we could be moved but they were full. Worst night sleep. We almost decided to stay somewhere else on the tail end our trip but decided to give this hotel another try. We requested a room in the back away from the street on the top floor. What a difference! The beds are very comfortable and the room is very nice. We ate at the restaurant on our last night and it was good. The front desk had some issues with our payment (finding it) on check in and check out but that was resolved. Be warned there is a sewer smell along the whole strip in front of the hotel.
Rkstuff - Los Angeles, California
---
This is a great hotel. It's only drawback is that it faces the sea, i.e. towards the east, which means the sun disappears behind the hotel in the afternoon and it is exposed to the wind a bit. But if you want a sea view, what can you do? So I have not marked it down for that. The rooms are spacious and the bed is comfortable. The bathroom has a walk-in shower and everything works well. The breakfast is great; a good hot & cold buffet and they will cook eggs/omelette to order. Dinner is also excellent - see my separate review of Las Olivas in Loreto.. The staff were very friendly and helpful, and I can thoroughly recommend a stay here.
Ian14_11 - Hatfield, United Kingdom
---
An elegant Sea front hotel with spectacular views of the Sea of Cortez and Isla del Carmen. We were upgraded from a partial ocean view to a full view. They provided us with a space heater as it was windy and chilly the first night. Very close to the mission area with good restaurants, coffee shops, and museum galleries. The bed is very comfortable and a large balcony completes the scene. We would stay here again.
EmaSaloma - Ventura, California
---
Ideally located with beautiful views of the sea. Very close to all the places you'd want to visit in Loreto. The rooms are spacious and comfortable and the staff is extremely friendly and helpful. The food is good and the service good. I have one negative comment and that is the coffee maker had to be moved to another place as there was no socket where it was placed. Also one had to pay if you asked for an extra pack of coffee. It is not a big deal, but I thought it was odd.
---
Our visit to Loreto was again, outstanding. I feel a bit guilty for not having updated our trips over the past three years, but I guess once you've stayed at La Mision, you know what you will experience.This was our 10th trip to La Mission since it opened. The environment, staff and attention to detail were simply impeccable. Hard to imagine how difficult it must be to maintain their high standard of excellence, but they do. Filiberto, Alan, Alfredo and Rudy, all at the front desk, always make you feel as though you've come back home and that you are a member of their family. The entire staff, from the waiters to the cooks, to the maids are great. Los Olivos is an outstanding restaurant, has a great menu. But, if you really want to enjoy excellent cuisine, take the reins off the cooks. Many times over the past several years we've simply asked them to prepare dinner for us...their choice of cuisine and their taste. We've never been disappointed, and it's always exciting to see what they will provide, what the taste and texture will be. My wife Teresita always says you can be certain they will always give you a perfect blend of food with the "perfect bite". We always request a room with a view of the Sea of Cortez, because you don't want to miss the "happenings" during the day or evening. Dolphins at breakfast on the shore line or the activity on the malecon in the evening. Okay, I'm an old guy, but it's okay to say it's "cool" because it is. We love the place and will return at the end of June for another great experience and some very good fishing. Thanks again to Scott Serven for your vision and making this such a special place.
amigoviejo - Camano Island, Washington
---