Please select your dates to see prices:
---
Cerf Island Resort in Mahe, Seychelles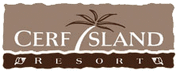 Carved into a hillside and surrounded by a marine nature reserve, Cerf Island Resort is the go-to getaway spot when the need calls for seclusion, spectacular surroundings and unsurpassed services. Located in Seychelles, an archipelago consisting of more than 100 islands scattered across the Indian Ocean northeast of Madagascar, the resort is an oasis and a place to reenergize your soul. Situated at the entrance to Sainte Anne National Marine Park, guests can choose from one of 24 private villas, all of which strike a perfect balance for enjoying the tropical surroundings without relinquishing any modern amenities. The Hillside Villas are flanked with four-poster beds, sprawling al fresco bathrooms with tandem tubs, and sliding doors that open onto spacious balconies. The Hideaway Villas boast private sun gardens and a roomier floor plan, while the timbered Tortoise Suites offer an expansive master bedroom and bath, lounge and living room.
The resort's 1756 Restaurant is a remarkable culinary destination with a cliff-top location and panoramic ocean views. It offers a menu of traditional Creole cuisine coupled with international fare, fresh seafood, and locally harvested ingredients. For those who need some added pampering, the Cerf Island Resort's Private Mini Spa is positioned halfway up the hill and is surrounded by a grove of trees abutting a rainforest. It accommodates only one person or couple at any given time, and the lucky occupant is privy to a menu of massages administered in the indoor/outdoor treatment room - complete with private steam room, outdoor shower, relaxation garden and Rainforest Jacuzzi. Guests are further spoiled with an infinity pool, poolside bar and a full-service beach experience.
Location of Cerf Island Resort
Cerf Island Resort
PO Box 1071 Cerf Island
Mahe, Seychelles
Nearest Airport: SEZ
Amenities for Cerf Island Resort
General Information
24 Guest Rooms
Only 7+ Years Permitted
Dining
Private Dining
2 Restaurants
Pool Bar
Restaurant
Bar
Room Service
Beach Wait Service
Picnics
Waterfront Dining
On-Site Amenities
Spa Services
Laundry Service
Heliport
Private Beach
Currency Exchange Service
High-Speed Internet Access
Helicopter Service
Music & Movie Library
2 Outdoor Pools
In-Room Amenities
Air Conditioning
CD Players
Ceiling Fans
Direct Dial Telephones
DVD Players
Hair Dryers
In-Room Safes
Mini Bar
Satellite Television
Coffee & Tea Facilities
Luxury Bath Amenities
Walk-In Closets
Activities
Fishing
Hiking
Kayaking
Sailing
Windsurfing
Scuba Diving
Snorkeling
Sunset Cruises
Business
Business Center/Services
Business Services
Interests
Beach
Summer Getaways
Reviews for Cerf Island Resort
---
We stayed here for a week and had the most enjoyable time. In fact we rate it as one of the most unique and wonderful properties we have stayed in anywhere in the world. Its quiet, quaint, peaceful, the staff are friendly, the rooms are generous in size, the wet bathroom is amazing, the beaches are very white, the water is clear, the food is pretty good, the transport options to get to and from the island and sufficient and the vibe is very chilled. Outstanding experience and looking forward to returning again!
bneb0y - Brisbane, Australia
---
We have just returned from a family stay at Cerf Island Resort. We had the most wonderful time. The standard of the resort itself is excellent. The rooms are presented very well and are comfortable and spacious. We were in a tortoise suite which has two bedrooms and two bathrooms and a large balcony with table and chairs and loungers on. The two pools, the beaches, the kayaks and pedallos were great. We also used the table tennis equipment, board games and dvds that you can borrow. The snorkeling was something else as it is like swimming in a fish tank. We saw lemon sharks, rays, starfish, sea cucumbers and so many different fish. It was just fantastic. The staff are also excellent. Very friendly and helpful. They made us feel like we were valued guests. Breakfast is great. Most things are cooked to order but there is no limit on the items. We thought that this is probably a great way to control food waste which is a good sustainable principle of course. The lunch menu is also good. We would recommend the creole curries, burgers and salads. The dinner menu is provided at breakfast for you to make your choice for the evening. They were flexible though so if the kids fancied something else this was no problem. The dinner menu was a bit varied and I notice someone else has mentioned that they were told that the hotel has tried to make it palatable to 8nternational tastes. I agree that this is a shame and probably explains some of the more random options we had. If we return, and we hope that we do, I think we would be inclined to ask for a creole curry as a replacement for the main course on some of the more random choice days. It is worth a walk up to the helipad for a view at sunset - but it is a steep walk! You can ask for a lift in one of the buggies if needed! We took mosquito repellent and burners for our trip to the Seychelles and we needed to use them on cerf in the evenings but the biters weren't too bad. Overall I do not hesitate to recommend to families or couples.
Malvestito - Jersey, Channel Islands
---
Went for a 3 day, 2 night stay in late March. Excellent welcome from Prakash & Shabham nothing was too much trouble for them. Rooms were lovely, very spacious and we all had balconies facing the sea. Both pools were fully operational & very clean. Good range of drinks available and not overpriced like some of the remote islands. Lunch was good on both days, Dinner was pretty poor on the Monday evening, fish served with mashed potato, carrots & frozen peas, rock hard lamb. I did complain & also chatted to the F&B Manager, although I was told the menu had been 'internationalised' to keep all nationalities happy, this seemed like a cop out. I firmly believe if tourists travel over 12 hours from their home they expect to encounter some local cuisine, maybe a local mango or pawpaw chutney would have been much better than peas & carrots for instance. The food was much better on the second evening & we even received some chilli to go with our fish. There were a few chips on plates, cups and ice cream bowls, this needs to be addressed urgently before guests start to injure themselves. The view from the helipad was truly amazing, definitely worth the trip at sundown. overall a very good time enjoyed by us all. Along with Shabnam & Prakash, Simon & Henry in the restaurants deserve a special mention as nothing was too much trouble for them. The 2 Seychelloise ladies we encountered on the waitress staff really need some retraining, didn't get a smile out of either of them, more like a scowl. Overall a lovely trip, many thanks.
LocalVillager2016 - Chilthorne Domer, United Kingdom
---
I went there on my honeymoon and was overwhelmed by the way they have conducted us. Villas were pretty amazing and it was lovely roaming around all the beaches. Food is the next best thing they have in their resort. They offer you a 4-course meal in the dinner, menu of which is partly decided by you in the morning while having your breakfast. Also, only cold part of the breakfast is served as a buffet, rest of it
---
My wife and I spent 3 days at Cerf Island Resort and used almost every facility in the property. We found everything incredibly rewarding and a great value for money. First of all, we loved our reception by Mr. Prakash who also helped us plan our stay and activities and gave us a late checkout as we had a late night flight out. The property is fabulous - it has Moyenne island (full of tortoise) to its north east, Mahe to its west and all sorts of activities spread across the island like hiking, snorkeling, kayaking - everything available for free from the resort. The most personalized aspects include how every guest can customize their meals and how, like gnomes, they make small adjustments to the room to make every day a surprise. The island itself is a protected area and has a number of spots near it from where one can see schools of fishes and corals. The resort has a team of marine biologists who work off the resort and take you on tours (free of charge!) - thank you Arianna, Sebastian and Savi! The cuisine is nice. We loved the breakfast and the nice romantic dinners. The 2 infinity pools and the helipad are must dos as well! The only thing they can try and fix is getting the internet to work in the rooms - had to go to the reception for that. Since it was a vacation, this wasn't a big downer for us. Overall, we cannot recommend this place more, it's a must visit to complete the Seychelles experience, for sure!
---