Please select your dates to see prices:
---
Gran Hotel Son Net in Mallorca, Spain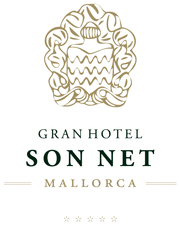 Set amidst the crystal waters of the Mediterranean, on Spain's renowned island of Mallorca, is the luxurious boutique Gran Hotel Son Net. Surrounded by the beautiful Tramuntana Mountains, this restored 17th century villa is the essence of classicism. With ornate designs and vibrant colors, each guest room is as stunning as it is inviting. Carved wood ceilings and accents of antiques and historic relics create a wonderfully rich atmosphere, while sweeping mountain views will take your breath away. Relax in a private whirlpool or recline on the balcony as the sun sets over the water. At Gran Hotel Son Net, the enchantment of the village of Puigpunyent and the Mediterranean will sweep you off your feet.
Begin your stay with a trip to the hotel's Zen Zone Beauty Centre and melt under the practiced hands of a masseuse. Walk through the beautiful nature reserve of Parque La Reserva Aventur in Puigpunyent, and let the peaceful surroundings put you at ease. Golf at nearby Real Golf Bendinat - or any of the four amazing area courses - and tee off with the backdrop of the Tramuntanas and azure waters behind you. Catch a bird's eyes view of it all while dining in the luxury treehouse. Ride horseback at Club Hipico Son Gual, or hike and bike through mountain trails for a fabulous day outdoors. For some true excitement go rock climbing in nearby Palma or take in the whole of the island from high above on a hot air balloon ride. Of course, relaxing at the beach - just 30 minutes away from the hotel - and enjoying the sun is a wonderful way to spend any afternoon in Mallorca. After your day's activity, return to the hotel for dinner at Oleum Restaurant. Dine on amazing Mediterranean cuisine crafted from fresh seasonal ingredients, and pair your meal with the perfect Spanish wine. With mind and body at ease, return to your room for a fabulous night's sleep, surrounded by comfort and luxury, and dream of your next amazing day in the Mediterranean.
Location of Gran Hotel Son Net
Gran Hotel Son Net
C/Castillo de Sonnet s/n Puigpunyant
07194
Mallorca, Spain
Nearest Airport: PMI
Amenities for Gran Hotel Son Net
General Information
21 Guest Rooms
Dining
Poolside Dining
Private Dining
Restaurant
Spa Cuisine
Organic Cuisine
Bar & Lounge
Vegetarian Cuisine
Seasonal Restaurant
On-Site Amenities
Fitness Center
Bicycle Rental
Art Collection
Outdoor Pool
Gardens
Outdoor Whirlpool
Pool Cabanas
Chapel
Complimentary WiFi
In-Room Amenities
Air Conditioning
DVD Players
Hair Dryers
In-Room Safes
Mini Bar
Luxury Linens
Luxury Bath Amenities
Activities
Bicycling
Hiking
Pilates
Yoga
Nearby
Historic Sites
Museums
Golf
Beaches
Reviews for Gran Hotel Son Net
---
We're just back from a few days at Son Net, our first visit and hopefully won't be our last. The hotel and people were just fantastic, it's a beautiful location, great food, couldn't recommend more highly.
---
Beautiful hotel set in the hills overlooking the village of Puigpunyent. We stayed here for a week and enjoyed the amenity of the hotel, what a wonderful place for mothers and babies clearly evident from the numbers staying at the hotel enjoying the relaxing environment. Very disappointed with the service at poolside and at Breakfast, we waited a considerable time at poolside for service, at Breakfast we received a menu but no order was taken and we had to go chasing for service, when we did place a order the wrong food arrived on numerous occasions. The poolside food was overpriced, small portioned and in our opinion very poor value. As mentioned on other reviews we were somewhat frustrated by the over-exuberant concierge. Turndown service was always carried out circa 6pm which was much too early.
ColeABC - Belfast, United Kingdom
---
We have just stayed for 2 weeks here and just loved it. The hotel itself is traditional elegance bit not stuffy at all. We had a deluxe room with views over the valley. I would so recommend trying to get a room with a view ... incredible! The best thing however is the staff. They are just incredible. So kind, genuine & helpful. It was our first family holiday with our new baby ... We will definitely be back. Definitely book this hotel.
---
We stayed for a long weekend in this beautiful 17th Century olive press. Amazing views of the surrounding hills, fantastic service. The room was outstanding and the breakfast was delicious particularly when the weather allowed us to sit outside on the terrace. Tree-house meal was special. All round a first class hotel.
bensmith884 - London, United Kingdom
---
Son Net is an incredibly charming property nestled in the small village of Puigpunyent and offers spectacular views of the surrounding area. The staff onsite was incredibly kind and took great care of us during our stay. They were very knowledgeable and provided some great recommendations for hikes in the area. All of our meals were excellent and I especially enjoyed the hotel's specialty Gin cocktail – the Son Net. I highly recommend this property and can't wait to return!
Snowskier24 - Denver, Colorado
---