Please select your dates to see prices:
---
Jumeirah Port Soller Hotel & Spa in Mallorca, Spain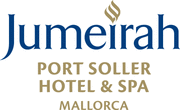 From its bird's-eye vantage point atop the rugged coastal cliffs of northern Mallorca, Jumeirah Port Soller Hotel & Spa enjoys stunning views of the sea and the UNESCO World Heritage Site Tramuntana Mountains. The Soller Valley is known for its lemon, orange and olive orchards, and these ingredients are woven into the hotel's personality, from organic spa treatments to guestroom furniture made from indigenous wood. Jumeirah's environmentally harmonious structure won Architecture of the Year accolades at the European Design Awards, and it topped the Sunday Times' Hot List when it debuted in 2013.
Hike through the Tramuntana Mountains with a local guide. Take a serene afternoon swim in the hotel's infinity pool and an early nap on an umbrella-shaded lounge chair. Sip a complex Tempranillo and watch the sunset. Nab a seaside table at Cap Roig and order seabass with saffron rice and baby squid.
Location of Jumeirah Port Soller Hotel & Spa
Jumeirah Port Soller Hotel & Spa
Calle Belgica s/n Port de Sóller
07108
Mallorca, Spain
Nearest Airport: PMI
Amenities for Jumeirah Port Soller Hotel & Spa
112 Rooms and Suites
Non-smoking Property
Pillow Menu
Pilates
Mountain Biking
Scuba Diving
Reviews for Jumeirah Port Soller Hotel & Spa
---
Enjoyed a five night stay in mid April. The hotel is situated in a wonderful position with views to the near of the towering beautiful mountains and to the far, the beautiful blue sea, cliffs and the port of Sóller. The most overwhelming and heartwarming aspect of the hotel is the staff. The welcome & service across all aspects of the hotel is outstanding; a genuine welcome, approaches & interaction. This was my first stay in a Jumeriah hotel and I was suitably impressed, a lovely calming, friendly atmosphere. A special mention for a few members of the team who we engaged with and were an absolute delight; 1. Bruno & Frank from the concierge team, consummate professionals. 2. Oscar, from the Sunset Sushi Lounge Bar, welcoming, entertaining, interesting & helpful. 3. Alba, from the Cap Roig Restaurant, quietly managing breakfast service beautifully. 4. Isabella on main reception, organising & sorting out queries, effortlessly with charm & friendliness. 5. Gorman, Pool Attendant from the Infinity Pool, delightful, proactive, friendly service. 6. Marcinek, from the Children's Pool area...an absolute delight, from Poland, forgive misspelling of name. Always looking after us, anticipating & genuinely friendly, intelligent service. We had several interesting, engaging conservations. 7. Finally a word for the evening drivers, we used the hotel shuttle service regularly & found the service to be efficient, on time, & friendly. Thank you & well done for creating such a welcoming, relaxing ambiance & atmosphere.
Sharon E - Leicestershire
---
We spent 5 nights at the jumeriah port soller. Fantastic hotel in stunning location. Great for travelling with our 5 year old, the room was perfect, staff were lovely and facilities were great. We ate in all restaurants and all were good standard. The spa was amazing. Only small negative was the children's pool was not heated to 24-28 as stated but this could have been due to rain in the days before we arrived. We will definitely return.
---
We have a house on the Island and live part of the year here. However we still enjoy a fabulous few days each year at this beautiful hotel. One disadvantage is that it is built on top of a mountain which means it is a long hotel. One advantage is that it is built on top of a mountain and the views are spectacular. Adult pool is great as is Es Fanals and the tapas. The spa is a must and the whole experience is superb. The staff are great and Jordi the GM obviously does a great job. We will be back.
665hughs - Glasgow, United Kingdom
---
This hotel is so amazing! It's located on a mountainside with beautiful views. The staff is great, they cater to your every need. The hotel is 1km long, so you might have a ways to walk to the lobby etc. depending on the location of your room, but it really doesn't matter. The breakfast is very, very good and the sea the view from my room breathtaking. They have a great spa with an infinity pool amongst other things, there is also a children's pool. As it's located on a mountainside, the walk up is pretty steep and not something everyone can do I would imagine, but it's totally worth it 😉.
---
We stayed in the Jumeirah Port Soller for the first time during the first week of the Easter holidays and it was an excellent all round experience. On arrival the staff were friendly and nothing was a problem with a good luggage service to your room. We had our children with us who are 5 & 8 and they loved it. The room 7009 - We had a deluxe mountain view, with a view of both the port and the mountains which we liked. The room was cleaned daily and was very spacious for our needs, also as it was easter we came back most days to find cakes or mini easter eggs left for the kids which was a nice touch. To get to the room it was either a walk or use three lifts which we got the hang of after a day so wasn't a problem to us at all. The only negative we had with the room was there was no fridge as the minibar is full and has a tiny space to store drinks. Also the drinks in the mini bar were very expensive. We had bed & breakfast during our stay at the caproig restaurant which was really nice, lots of choice and great service. The weather was a bit chilly at times but was still okay to have breakfast outside which was nice as the view is great. There is a shuttle service to and from the hotel as it is a decent walk up a hill, if you don't mind walking its a good walk and if you don't like it then the shuttle is regular or you can get a taxi from the port for around 8 Euro. Overall we enjoyed our stay and will go back one day, the kids were made very welcome and really liked the hotel and friendly staff. There's not loads to do for kids but ours were happy enough as we were out most of the day anyway.
X1998LCphil - Marton, United Kingdom
---