Please select your dates to see prices:
---
Gaia Hotel & Reserve in Manuel Antonio, Costa Rica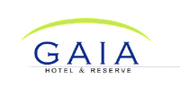 Crystal blue skies greet you, the cool breeze blowing in from the Pacific and over golden sand beaches, while the enchanting Gaia Hotel & Reserve emerges from the emerald rainforest. Nestled in central Costa Rica's coastal forests, near Manuel Antonio National Park, this property exudes luxury in harmony with nature. Bright, peaceful rooms greet you with abundant sunshine, designed to create a seamless flow between the modern comforts indoors and the natural splendor just outside. Gorgeous wood floors lead from serene bedrooms with plush king-sized beds, past stylish bathrooms offering enticing 2-person Jacuzzis, and out to a fabulous separate living room. Enjoy the use of your own home entertainment system as you relax on deep, comfortable couches, then step outside onto your expansive private balcony. As you breath in the crisp, fresh air, soak in the sun, and take in the unforgettable view, understand the true beauty of Costa Rica and the fabulous Gaia Hotel & Reserve.
Start your morning with a wonderful breakfast at La Luna, with spectacular views of the sunrise coast, then keep up your routine at the gym or pamper yourself with a visit to Terra Spa. With the waters warm, stretch out on the sun deck next to the 2-level waterfall pool, or make your way to the beach and find your perfect spot on the warm sands. Dive in to the waves to cool off, and spend the day kayaking, jet skiing, and surfing along the coast. Venture out on the open Pacific for an exciting day of deep sea sport fishing, or relax on the decks of a luxury yacht and sip champagne as you cruise into the horizon. Spend a day, or few, exploring the rainforest of Manuel Antonio National Park as you hike along stunningly beautiful trails. Discover some of the 346 species as you tour the park, listen to the enchanting tropical bird calls and sounds of the forest, and be amazed by some of the most amazing natural scenery in the world. After a full and exciting day in the forest or at sea, return to the hotel for a sunset dinner at La Luna before retiring to the plush comforts of your room. That night, as you gaze out over the rainforest, glittering under the stars, smile and imagine your next amazing day at Gaia Hotel & Reserve.
Location of Gaia Hotel & Reserve
Gaia Hotel & Reserve
KM 2.7 Carretera Quepos A Manuel-Antonio, Quepos
6350
Manuel Antonio, Costa Rica
Nearest Airport: SJO
Amenities for Gaia Hotel & Reserve
General Information
16 Guest Rooms
Adults Only
Ecologically Sustainable Practices
Only 14+ Years Permitted
Dining
Pool Bar
Restaurant
24-Hour Room Service
Snack Bar
Bar & Lounge
On-Site Amenities
Beauty Salon
Concierge
Spa on Property
Laundry Service
Fitness Center
High-Speed Internet Access
Personal Trainers
Outdoor Whirlpool
2 Outdoor Pools
In-Room Amenities
Air Conditioning
Direct Dial Telephones
Satellite Television
Flat-Screen Televisions
Luxury Linens
Luxury Bath Amenities
Activities
Deep Sea Fishing
Hiking
Kayaking
Sailing
Mountain Biking
Scuba Diving
Snorkeling
River Rafting
Surfing
Wildlife Viewing
Business
Business Center/Services
Nearby
Beaches
National Park
Nature Reserve
Interests
Eco Friendly Luxury Vacations
Reviews for Gaia Hotel & Reserve
---
We had the loveliest stay at the Gaia Hotel and Reserve. The property was beautiful (infinity pools and on-call golf carts) and the staff went out of their way to treat you well. The room was cozy and comfortable (goodness the showers were fantastic!) and had great air conditioning which is a welcome relief in the 80/90 degree dry season. The cafe overlooked the water and we had dinner with glorious views of the sunsets every night. I was traveling with 2 other vegetarians and the menu was so good we stayed here for dinner each night. The mango tartar is something I still dream about! Finally, I'm not sure if there is enough said about having a scarlet macaw reserve on site. I awoke one morning to see them right outside my our room. They are so beautiful and we did not see them anywhere else on our trip. Overall, we were thrilled to have stayed here and recommend it highly to everyone!!
---
Really lovely place with lots of wildlife on site. We saw a sloth from the sidewalk! It's not the top luxury hotel I've ever stayed at, but it's very comfortable, beautiful, and the staff are super friendly! I love what they are doing with breeding scarlet macaws too. I highly recommend the nature walk on their preserve. This was a very memorable stay.
---
We really enjoyed this hotel. The room (jungle view) was spacious and comfortable. Food and Amenities are very good and the service is simply fantastic. Luxurious boutique hotel with great views of the mountain and not to far from the beach. We really loved the bird reserve they built and all the efforts and money they put on protecting the Ara (parrots) community. It shows great social responsibility! Highly recommending.
---
The staff was amazing & I could not ask for better service. Really made you feel welcome indeed and went out of thier way to make you feel welcome. Bird watching from the room balcony was the best of 3 places we stayed in 2 weeks - the macaws, toucans & monkeys were easy to spot. The Macaw restoration center was a nice plus, although the reserve trail was nothing special & needed improvements. This property, like many in Costa Rica, has many steep steps & I would not recommend for handicapped or older people not in good shape. They do have shuttle carts that will come quickly if you need help getting around - but only on the main path. Rooms are nice & the entire resort appeared to be freshly painted, however the age is showing & some things needed more attention. The food was my biggest disappointment, but the servers were great. Worst coffee I had anywhere I went. Bacon I couldn't eat at breakfast, food was only average. Drinks in the dining room tasted watered down but at the pool were much better. The pools are small but very nice & well kept. However, I kept on seeing things though that made me feel the owner, who lives on site, is pinching pennies. In all, had a nice stay & enjoyed the resort.
---
This property is teeming with wildlife we saw macaws and sloths every day and lots of lizards and the capuchin monkeys raided our rooftop terrace . We had requested a flower arrangement for our room during our stay but because of some mixup it was not in our room when we arrived. No big deal. Well, to the staff it was a big deal and they were very apologetic. The arrangement arrived the next day-gratis-along with an hour of comped spa time for my wife and I. Very nice. We loved the pool, it always seem to have a private nook even if there were other people there. this is where you will see a lot of wildlife All of the food is exceptional at Gaia. Extremely fresh seafood at La Luna, I dream about their succulent tuna medallions. This restaurant is perched high up on a hill where you have great sweeping views of the Pacific Ocean and the rainforest. Dining during a storm one evening we enjoyed watching the lightning bolts striking the Pacific. Gaia's concierge team setup all of our adventures during our stay including jet skiing, zip lining, white water rafting, the Manuel Antonio tour, the scarlet macaw reserve tour and the Quepos farmers market tour. Johannas also recommended an excellent seafood restaurant Mar Luna. We liked our room a lot, especially the rooftop terrace where we would have our breakfast brought to. They should somehow install plunge pools on those terraces. Everything is very nice, the staff is accommodating and friendly. The food is fresh delicious( stayed 6 nights and ate all but one meal on property) and the property is lush, alive with wildlife and private Go!
ChassSue - Northfield, Illinois
---