Please select your dates to see prices:
---
Gaia Hotel & Reserve in Manuel Antonio, Costa Rica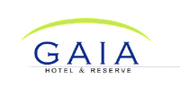 Crystal blue skies greet you, the cool breeze blowing in from the Pacific and over golden sand beaches, while the enchanting Gaia Hotel & Reserve emerges from the emerald rainforest. Nestled in central Costa Rica's coastal forests, near Manuel Antonio National Park, this property exudes luxury in harmony with nature. Bright, peaceful rooms greet you with abundant sunshine, designed to create a seamless flow between the modern comforts indoors and the natural splendor just outside. Gorgeous wood floors lead from serene bedrooms with plush king-sized beds, past stylish bathrooms offering enticing 2-person Jacuzzis, and out to a fabulous separate living room. Enjoy the use of your own home entertainment system as you relax on deep, comfortable couches, then step outside onto your expansive private balcony. As you breath in the crisp, fresh air, soak in the sun, and take in the unforgettable view, understand the true beauty of Costa Rica and the fabulous Gaia Hotel & Reserve.
Start your morning with a wonderful breakfast at La Luna, with spectacular views of the sunrise coast, then keep up your routine at the gym or pamper yourself with a visit to Terra Spa. With the waters warm, stretch out on the sun deck next to the 2-level waterfall pool, or make your way to the beach and find your perfect spot on the warm sands. Dive in to the waves to cool off, and spend the day kayaking, jet skiing, and surfing along the coast. Venture out on the open Pacific for an exciting day of deep sea sport fishing, or relax on the decks of a luxury yacht and sip champagne as you cruise into the horizon. Spend a day, or few, exploring the rainforest of Manuel Antonio National Park as you hike along stunningly beautiful trails. Discover some of the 346 species as you tour the park, listen to the enchanting tropical bird calls and sounds of the forest, and be amazed by some of the most amazing natural scenery in the world. After a full and exciting day in the forest or at sea, return to the hotel for a sunset dinner at La Luna before retiring to the plush comforts of your room. That night, as you gaze out over the rainforest, glittering under the stars, smile and imagine your next amazing day at Gaia Hotel & Reserve.
Location of Gaia Hotel & Reserve
Gaia Hotel & Reserve
KM 2.7 Carretera Quepos A Manuel-Antonio, Quepos
6350
Manuel Antonio, Costa Rica
Nearest Airport: SJO
Amenities for Gaia Hotel & Reserve
General Information
16 Guest Rooms
Adults Only
Ecologically Sustainable Practices
Only 14+ Years Permitted
Dining
Pool Bar
Restaurant
24-Hour Room Service
Snack Bar
Bar & Lounge
On-Site Amenities
Beauty Salon
Concierge
Spa on Property
Laundry Service
Fitness Center
High-Speed Internet Access
Personal Trainers
Outdoor Whirlpool
2 Outdoor Pools
In-Room Amenities
Air Conditioning
Direct Dial Telephones
Satellite Television
Flat-Screen Televisions
Luxury Linens
Luxury Bath Amenities
Activities
Deep Sea Fishing
Hiking
Kayaking
Sailing
Mountain Biking
Scuba Diving
Snorkeling
River Rafting
Surfing
Wildlife Viewing
Business
Business Center/Services
Nearby
Beaches
National Park
Nature Reserve
Interests
Eco Friendly Luxury Vacations
Reviews for Gaia Hotel & Reserve
---
We had 6 nights at Gaia, which we mostly used as a relaxing quiet part of our holiday, after a week or so of travelling around the rest of Costa Rica. On arrival check in was friendly, we were given chilled fruit drinks whilst reception checked us in and talked us through everything. As we were staying for more than 4 nights, we were told we could order anything on the breakfast menu for free - whereas normally only certain items are included. We'd arrived about 20 minutes before the official check in time, so were asked to wait in the bar area. This would have been fine, except that the check in time came and went and still we sat there with no sign of anyone. Eventually my husband had to go in search of someone, and in the end we were able to check in about 40 minutes AFTER the official check in time, which meant we'd been sat waiting for an hour, not the best start. We were glad we had access for free to the full breakfast menu, as we often chose to order the 'chargeable' items at breakfast. Breakfast itself was delicious, we tried eggs benedict, waffles, Costa Rican cooked breakfast, gallo pinto. All of which were really good. You ordered your hot food and whilst waiting for it to arrive, you could help yourself to fresh fruit and bread and jam. I would say we were a little disappointed at the small range of fruit available, it was the same every day, just watermelon, papaya and pineapple. As fresh and juicy as it always was, in a country with so many lovely fresh fruits available, we'd really have expected a better range of fresh fruit at breakfast, especially at the calibre of hotel that this is supposed to be. Breakfast service was usually rather slow. Whilst this mostly didn't matter, it did nearly cause us to nearly miss the free shuttle service one day. There's a free hotel shuttle to the beach and also the national park, which goes once an hour. We went to breakfast one day 70 minutes prior to the shuttle, ordered our hot food but when it came, it was wrong. It had taken about 35 minutes for the hot food to come in the first place, so then we had to wait again. There was only one other couple at breakfast so they weren't busy, but it still took a further 20 minutes to get the correct food to us. So we ended up having to rush this down and run down to catch the shuttle which was rather annoying. Another day we were also catching the shuttle, and had similar problems with the food taking ages. The free shuttle was very handy. One day we took it down to the beach, they drop you off at Mary's, where you pay a small amount to hire a sunbed for the day, and then you can use their free lockers, toilets, and also order drinks/food. We didn't order any food but did get some drinks - we wandered up to the restaurants instead. But we liked the convenience of Mary's, it was a lovely beach, fairly quiet, but for those that wanted it there were watersports available - paragliding, banana boat, jetski, body boards. We hired body boards for $4 for an hour, never done it before but had great fun playing around in the waves. Another day we used the free shuttle to go to the national park. Having already been on a number of guided tours elsewhere in Costa Rica during our holiday, we chose to just walk around ourselves. I have to say that was a great decision as we enjoyed the freedom of going at our own pace and not having to be with a group, and we saw LOTS of wildlife. We'd seen several sloths during our holiday, but always 3 toed, so I was excited to see a number of 2 toed sloths at the national park. Also saw a family of raccoons, some spider monkeys, lots of birds, and various other animals. Talking of wildlife, there was plenty within the hotel grounds too! From our first day, sitting at the top pool we spotted a 3 toed sloth in the tree right above our sunbeds! Apparently it had been there a couple of weeks, as it's mother had recently left it to fend for itself, and it had settled itself in that tree. We then checked on it every day, it was always there, although moved slightly from day to day - one day we did see it moving (very slowly) and it was brilliant seeing him up close. There were also huge iguanas in the trees by the pool. And one day a troop of 15 or so howler monkeys tore through the hotel. They started at the bottom pool - with one of them actually taking a dip in the pool! - then moved to where we were sat at the upper pool area. It was brilliant watching them swing through the trees and play for the 10 minutes it took them to pass through. Then of course there's the macaws. The hotel has a conservation programme which they don't really publicise, where they've been working to increase the number of wild macaws, they have a closed off area where they keep them in cages until they are ready to be released, and then they release them into the area around the hotel. I think they said around 40 have been released so far, and as a result we very often saw a number of them flying around the hotel area making their loud squawks as they went. Beautiful birds. We took up the offer of a free tour within the hotel, they do this every day except for Mondays. The tour consisted of around half an hour spent at the usually closed off macaw rehabilitation area, where we got to see a large number of the macaws up close whilst they fed and played. There were even 2 baby macaws still in their nest. We then had a short walk around a little trail on the hotel grounds, we were unlucky and didn't see any wildlife to speak of, but it was enjoyable and the guide was so passionate about animals. We ate in the hotel restaurant on 2 evenings. Both times the food was really good, but similar to breakfast the service was very slow. I guess we weren't in a rush so it didn't matter, but we did end up checking the time over and over as it just took so long, so it did get a bit annoying. For the other nights we ate out at nearby restaurants. One place we chose looked to be 800m away according to Google maps, so we thought we could walk it. But on asking the hotel staff they told us that no, we'd need to get a taxi. We took their word for it and ordered a taxi, after about 10 minutes it arrived and we hopped in, but we found that it was indeed only round the corner as only a minute later we arrived! That was a little annoying really, we walked back after our meal with ease, it only took 5 minutes so the information from the hotel wasn't really very accurate. This is marketed as a luxury boutique hotel. And whilst it was very lovely and we had a good stay there, overall the service just wasn't up to what I'd expect (and indeed what we usually experience elsewhere). If we ever go back to Manuel Antonio I think on balance that we'd look to book somewhere else, we did enjoy our stay but were disappointed with some aspects so it didn't live up to the expectations.
garstanggirl - England, United Kingdom
---
We found the views spectacular. Service was slow but we weren't in any hurry either! The pasta and mahi mahi was good. I would not recommend the seafood casserole- it was too chewy and more like a soup with small shrimp. Appetizers were excellent!
---
This is a top notch hotel. I really recommend the packages, all the tour operators are amazing! From the ride to and from San Jose to the hotel stay the night before we left to the meals at the restaurant I was amazed.
---
Our entire experience from beginning to end was excellent. The property itself is immaculate and so beautifully maintained. Every morning at breakfast we watched pairs of the resident Macaw's fly over the property. There is even a baby sloth that lives in a tree by the pool which was incredible to see! The service is also top notch. Our personal concierge Johannes was extremely helpful and responsive to our needs. He greeted us at breakfast the first morning and we expressed concern about the weather. Within a few minutes of him leaving us we got a WhatsApp message from him with the weather for the next few days! We also had many pleasant experiences throughout our stay with Octavio. He greeted us and gave us a tour upon arrival and remember our names each time we saw him throughout our stay. It is little gestures like these that go a long way. As for the rooms, they were clean and the beds were SO comfortable. I would recommend Gaia for anyone traveling to the Manuel Antonio area.
kanolan9921 - Boston, Massachusetts
---
Great room, Great hotel! Epic adventures throughout the city! My daughter is was 17 so qualified for the Adults only stay. The staff and excursions were awesome. Josue was our guide for the free Manuel Antonio guide and he was great! We will go back for sure.
Shurrie P - Houston, Texas
---