Please select your dates to see prices:
---
Hotel Makanda by the Sea in Manuel Antonio, Costa Rica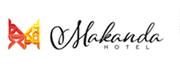 Adjacent to Manuel Antonio National Park, within a 12-acre sanctuary poised 200 meters above the Pacific Ocean, the adult-only Hotel Makanda by the Sea captures the magical spirit of Costa Rica. Open-air and well-appointed villas and studios are sculpted harmoniously into the natural environment, and boast spectacular views of the 60-mile coastline. In this unspoiled wonderland, you can savor fresh seafood, drift in the stunning infinity pool, or watch local wildlife including monkeys and sloths as they wind their way through the rainforest.
Although the resort boasts spacious viewing decks reaching into the jungle canopy, you will want to venture further out, to raft the Savegre River or take a horseback ride along a rainforest trail. Secluded nearby beaches provide sublime settings for surfing, sunning and sea kayaking. You might also snorkel or scuba dive off the volcanic reefs of local islands. For pure indulgence, request a soothing spa treatment. Then unwind over homemade dessert and a cup of coffee freshly roasted at the hotel's own Sunspot Bar & Grill.
Location of Hotel Makanda by the Sea
Hotel Makanda by the Sea
Manuel Antonio
Manuel Antonio, Costa Rica
Nearest Airport: SJO
Amenities for Hotel Makanda by the Sea
General Information
11 Guest Rooms
Adults Only
Dining
Outdoor Dining
Bakery
On-Site Amenities
Outdoor Pool
Outdoor Whirlpool
In-Room Amenities
Air Conditioning
Hair Dryers
Satellite Television
Kitchenettes
Activities
Fishing
Hiking
Kayaking
Sailing
Mountain Biking
Scuba Diving
Snorkeling
Parasailing
Ecological Excursions
ATV Tours
White Water River Rafting
River Rafting
Jet Skiing
Surfing
Wildlife Viewing
Interests
Active & Adventure
Summer Getaways
Reviews for Hotel Makanda by the Sea
---
We just returned from four superb nights at MBTS and I'm experiencing the pain of withdrawal. The hotel is stunning and the service was outstanding. After starting our CR trip with a lovely three-night visit to the Arenal volcano and hot springs area at a high-quality, pleasant, family-friendly resort, we were delighted to upgrade our experience to this luxurious boutique (adults only) hotel. Arriving after a long ride, we were met at the impressive, secured entrance by a friendly, welcoming staffer who took our bags and ran us by cart to Reception. We were immediately struck by the dramatic property - like many hotels in the area, it is built into the cliff and positioned to offer numerous breathtaking views of the Pacific. We were also immediately struck by the beauty and thoughtfulness of the contemporary design reflected in every aspect of the architecture, finishes and fixtures. From Reception to the pools, to the restaurant, to our room in the Ocean Club (highly recommended) we felt like we stumbled into the hidden lair of a James Bond villain (without any ominous overtones). The "17 favorite photos" does a wonderful job of capturing the feel. The staff was uniformly warm, friendly and accommodating. The included breakfast was amazing and other food and drink options excellent (the sushi and ceviche at the salt-water pool, in particular, extraordinary). We had one very good dinner on the property and the remaining in the nearby business district (as mentioned by others, Emilio's was our absolute favorite for friendly food and great coffee/desserts with breathtaking views - although the Manuel Antonio Falafel Bar was also fantastic for "cheap eats"). I could go on and on. My partner raved about her spa treatments and we saw more wildlife at breakfast and happy hour than on any nature tour. My only caution is that this boutique (27 rooms but feels like less) is for a sense of solitude - if you are looking for a teeming, high-energy, heavily populated summer-camp feel, you might want a larger resort. If you want rest, relaxation, privacy and a feeling of pampered exclusivity, Makanda by the Sea is for you.
Bruce C - Chicago, Illinois
---
Makanda by the sea, my favourite spot in Manuel Antonio to relax. A mesmerising view, amazing wildlife, super designed everywhere and lovely staff! An incredible swimming pool WITH an underwater audio system!!!! A place I highly recommend in Manuel Antonio.
emmackok - Manuel Antonio, Costa Rica
---
My husband and I researched for days on where to go in Costa Rica for our honeymoon. Eventually, during an in-depth Google Maps search, we came upon Hotel Makanda and thought it would be the perfect place to stay during our week in Manuel Antonio in March 2018. From start to finish, our visit was top-notch, with the staff still feeling approachable. We LOVED the staff and feel that they are our lifelong friends. We arrived before check-in, and Luis greeted us at the main pool / restaurant where we were given a lovely bottle of bubbly rose and then ordered some delicious ceviche served in a hollowed out coconut. Once we arrived to our room with the wonderful Jorge, it felt exactly like the photos, but better. The view was incredible, and we were so excited to be able to spend seven nights here. We tried the restaurant on the first night. Sadly, I wasn't super impressed with my pork belly, as it was a bit on the dry side, but the tuna tar tar was out of this world -- we ordered it two more times after the first night. Each night, we took part in the happy hour at the pool, which is a great 2-for-1 deal. We would spend some of our mornings by the salt water pool, which has a glorious view of the ocean, lined with jungle foliage. The sushi bar there is fantastic. We loved chatting there with Chris (who also served us breakfast most of the mornings we were there). His English was very good, and he helped my husband, who is on a mission to learn Spanish, learn more Spanish words throughout the week. He was very patient with us, and we feel like we got to know him well. The breakfasts were wonderful! We woke up pretty early every morning and really enjoyed our short walk down to the pool where we got to look forward to a plate full of fresh fruit, a new juice concoction created with love by TJ, and a large and delicious breakfast. I feel like I could go on about specific details, but I'll just leave it at this: we 100% recommend this hotel and would go back any time. Our memories from our honeymoon are nothing but positive, and it's due in large part to our time at Makanda.
---
Hotel Makanda in Manuel Antonio is second to none … Let me start by saying the staff was incredible and extremely hospitable. Both receptionists we dealt with were kind, respectful and full of information. The rooms were immaculate and the staff went over every detail about the room with a fine tooth comb. The room had features like electric curtains to take in the spectacular view, a mini fridge fully stocked with all the essentials, air conditioning, a gorgeous bathroom made for a king and queen, two sinks, a giant cloud-like bed and the best part a giant walk out balcony to soak in everything Manuel Antonio has to offer in a nice secluded sanctuary for you, your family or just a romantic getaway for you and your loved one. There is a delicious freshly prepared breakfast included in your stay along with a gourmet restaurant on premise as well. If you get a little hot go for a refreshing swim in the salt water pool or for later in the evening the regular pool. There is a bar attached to the pools so that you can swim up to and order refreshing cocktails or a quick bite to eat with smiling and happy staff members to take all your requests. 24/7 security makes you feel safe at all times and there is a shuttle service to take you to and from all the fascinating amenities this hotel has to offer … definitely 5 star for pictures of everything Hotel Makanda has to offer check us out @truththroughtravel on instagram
---
Spent a day at Makanda at the pool and it was absolutely incredible. The architecture is something worth marveling over, words and pictures cannot do enough justice. The whole layout of the pool area, with the view of the ocean are absolutely divine. Spent and entire day at the pool with a group of friends and the staff treated us wonderfully. Cannot say enough good things about this place, can't wait to be back.
---