Please select your dates to see prices:
---
Hotel Makanda by the Sea in Manuel Antonio, Costa Rica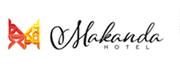 Adjacent to Manuel Antonio National Park, within a 12-acre sanctuary poised 200 meters above the Pacific Ocean, the adult-only Hotel Makanda by the Sea captures the magical spirit of Costa Rica. Open-air and well-appointed villas and studios are sculpted harmoniously into the natural environment, and boast spectacular views of the 60-mile coastline. In this unspoiled wonderland, you can savor fresh seafood, drift in the stunning infinity pool, or watch local wildlife including monkeys and sloths as they wind their way through the rainforest.
Although the resort boasts spacious viewing decks reaching into the jungle canopy, you will want to venture further out, to raft the Savegre River or take a horseback ride along a rainforest trail. Secluded nearby beaches provide sublime settings for surfing, sunning and sea kayaking. You might also snorkel or scuba dive off the volcanic reefs of local islands. For pure indulgence, request a soothing spa treatment. Then unwind over homemade dessert and a cup of coffee freshly roasted at the hotel's own Sunspot Bar & Grill.
Location of Hotel Makanda by the Sea
Hotel Makanda by the Sea
Manuel Antonio
Manuel Antonio, Costa Rica
Nearest Airport: SJO
Amenities for Hotel Makanda by the Sea
General Information
11 Guest Rooms
Adults Only
Dining
Outdoor Dining
Bakery
On-Site Amenities
Outdoor Pool
Outdoor Whirlpool
In-Room Amenities
Air Conditioning
Hair Dryers
Satellite Television
Kitchenettes
Activities
Fishing
Hiking
Kayaking
Sailing
Mountain Biking
Scuba Diving
Snorkeling
Parasailing
Ecological Excursions
ATV Tours
White Water River Rafting
River Rafting
Jet Skiing
Surfing
Wildlife Viewing
Interests
Active & Adventure
Summer Getaways
Reviews for Hotel Makanda by the Sea
---
We stayed at makanda after a trip around arenal and monteverde and this was definitely set up for relaxing . The pool views are amazing and the sun beds are so comfortable. The pools are also a really good temperature. We were lucky enough to see a sloth - which apparently are seen about twice a month at the property. We saw monkeys every day. The sushi bar was the best - such amazing food - and a particular shout out to Christopher who provided impeccable service and went out of his way to look after us . It was obvious he really cares about his job and was such a lovely guy to talk to. It would be helpful to have more information in the rooms I.e pool opening times, facilities at the private beach (there were none so would have been helpful to know before), whether there was a happy hour at the pool bar, local restaurants etc. Usually you would Find this information as standard and all helps to add to the service experience. Thanks for a great stay makanda, we would come again.
---
My husband and I stayed here for 4 days and had the absolute best experience. It was our first trip away from our 8 month old baby and we really needed to rest and recharge. The rooms were comfortable, clean and stylish. The pools were breathtaking and the service was impeccable (shoutout to AJ & Alex for exceptional service.) We didn't have much planned but they helped us plan our day trips when we were ready. The food was really great too as we ordered room service often and ate breakfast and lunch by the pool. I look forward to coming back!
---
Hotel Makanda is a beautiful boutique hotel surrounded by the natural rainforest landscape. It was very cool to see the local animals roaming around in the trees in their natural habitat. The rooms were very clean and modern. The staff was always very friendly and welcoming. They even often referred to us by name when we spoke to them. They had two infinity pools with gorgeous views of the ocean. The service was a little slow in terms of receiving food/drinks when we ordered them. But when you did receive them the quality was very good. Everything was fresh and the presentation was beautiful. Breakfast every morning included fresh cut fruit and freshly made juices as well. And the coffee was delicious. If I ever get a chance to come back to Costa Rica I would certainly come back to this hotel.
---
I came here with my girlfriend at the time back when she met up with me in Costa Rica while I was traveling for the month. The accommodations are very modern and upscale. I am pretty technologically savvy, however I found the lighting controls a little confusing and/or didn't work. The bathroom is very chic. We had a private pool which was amazing, except it was a little cold. The reason I am rating one star is because my ex left her phone on the table outside near the private pool. The room sat on a cliff so the only way someone could have got to that area would be to climb up from the side or a ladder. Well, we left the room to go to the pool/bar area and when we got back her phone was missing. We retraced our steps and couldn't find it anywhere. We told the front desk and they ask their employees and they said the never saw it. The front desk guy then told us that the pool cleaner uses a ladder to climb up the side of the building to clean the pool. We assume that he took it but we could not be certain. When we checked out, my ex met with the owner, so I am not sure what was said, but when she came back my ex told me she was getting some money back or something. But originally the owner was giving her a hard time about giving her anything back. The hotel is very luxurious and even has its own private beach. But you have to track down a jungle first to get to it, meaning you need to track back up it when you want to go back to the room. Additionally, we wanted to get a couples massage while we were here, however the hotel could not find 2 masseuses. The hotel could only find one, so I had to wait for my ex to get her massage before I could get mine. This wasted an hour of the day, and I'm sure the masseuse was tired by the time she got to me. This place has a lot of potential, however lack in seriously important areas...
---
It was fantastic stay. I love this hotel so much. I was staying 12 days in this adorable hotel. Firstly need to say that interior of the room is brilliant. When I hear that the hotel is boutique I mean that it is small. No, it is not small hotel with 12 rooms. It has 3 swimming pool. I liked the second swimming infinitive pool more, it is very cozy and comfortable. Hotel stays in a jungle, so you can watch and listen animals in a real wildlife. Moreover some special words about the restaurant. The taste of the chicken with truffle sauce was brilliant, like in - good restaurant in Europe. White fish with rice was very tasty too. I really love Makanda hotel and I can say you very honesty — everything made with love and you will feel that. And yes, must to try - banana cake.
---