Please select your dates to see prices:
---
L Mansion in Marrakech, Morocco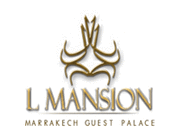 As you walk towards a majestic palace at the end of a cypress lined grove, the scent of bougainvillea and rosewater envelope you, and the whisper of lapping water from the adjacent fountains softly reminds you that you are surrounded by paradise. Welcome to L Mansion, an exclusive desert destination against the exotic backdrop of Marrakech, Morocco. Opulent Andalucian design creates exciting, vibrant common spaces, while opulent regional influences are seen in the details of plush cushions, dazzling crystal chandeliers, and stunning local art lining the walls. Savor tranquil moments away from the busy city in the quiet splendor of L Mansion.
The fragrance of jasmine and orange blossoms from the lush surrounding gardens awakens you to the dawning day in one of eleven expansive suites. Unparalleled luxury awaits in the sprawling layout of the hotel's private four-bedroom villa, ideal for larger families, or for the discerning guest who demands nothing but the best. Situated in the center of the property, the on-site spa is a scene out of an Arabian fantasy. A centuries old bains maures—Moorish bath—offers relaxation and rejuvenation in the stillness of the surrounding space, while the vast spa features a sauna, fitness room, indoor pool, and beauty parlor. Bustling Marrakech sits just beyond the heavy iron gates of the L Mansion, but all you can dream from your African adventure sits just beyond your door.
Location of L Mansion
L Mansion
KM 9, Route de Ouarzazate Marrakech
BP 6131
Marrakech, Morocco
Nearest Airport: RAK
Amenities for L Mansion
General Information
9 Villa and Suites
Dining
Poolside Dining
Outdoor Dining
Restaurant
Organic Cuisine
Dining Room
Lounge
On-Site Amenities
Beauty Salon
Concierge
Shuttle Service
Spa on Property
Fitness Room
Sauna
Solarium
High-Speed Internet Access
Butler Service
Terrace
Multilingual Staff
Indoor Pool
Valet Parking
Art Collection
Hamam
Outdoor Pool
Tennis Courts
24-Hour Front Desk
Gardens
Lounge
Outdoor Spa Treatments
Chauffeur Service
Indoor Jacuzzi
Organic Garden
In-Room Amenities
Turndown Service
Air Conditioning
Bathrobes
Direct Dial Telephones
Hair Dryers
In-Room Safes
Mini Bar
Satellite Television
Flat-Screen Televisions
Luxury Linens
Luxury Bath Amenities
Individually Designed Rooms
WiFi
Activities
Cooking Classes
Tennis
Billiards
Table Tennis
Sightseeing
Business
Meeting Room
Catering Services
Nearby
Shopping
Art Galleries
Museums
Restaurants
Casinos
Golf
Nightlife
Monuments
Amusement Parks
Market
Interests
City
Culture & Arts
Reviews for L Mansion
---
We decided with all my family to book a full week to get a " disconnection " and it was just amazing. It was just wonderfull because we book all the rooms so the mansion was all ours, it was an occasion to regroup all our family (each of us came from a different place). It's a thousand and one night like in the movies: Big green gardens, different flowers and trees with their bio fruits, great pink walls, traditionnal & moroccan zellige, beds were really confortable and rooms are huges and colourful. The breakfast was excellent with moroccan dishes, we really felt like moroccans in Morocco. I like how we were treated with a great smile and gorgeous service. I totally recommend this place for anyone who wants to disconnect from his business or modern life. Thank you L Mansion for your originality and professionalism.
ExplorateurParis7 - Paris, France
---
I visited a couple of weeks ago with my 12 friends. All can say if you want to feel like royalty and want to feel like you have your own palace, this is the place for you. Lamya and her staff make you feel like it is your royal palace. It embodies all the detail and luxury you would expect from Marrakech. The rooms are all different and fantastic. I highly recommend upgrading to a suite. The food was plentiful, authentic and the best meal I had in Marrakech. We found out they source all their food they cook with what is grown on the property or locally. The breakfast was perfect, and the selections offered were perfection. The service was royal and I felt I had to pinch myself to make sure I wasn't dreaming. The staff was extremely attentive and were mind readers. They provided me with tea and snacks right when I needed them before I could request them. Lamya totally made us feel like L Mansion was our home during the visit. She scheduled a lot of visit with one of our friends and everything was perfect. On our unplanned day she provided us with guides for the Medina and paired us up perfectly with the right guides to fill our needs. And she is the most stylish property owner/manager I ever met. If you want visit the Medina and visit other parts town, I highly suggest having her schedule a private car and guide when needed. I would not depend on taxi's. The people she uses are professional and provide a high quality of service. I highly recommend experiencing L Mansion.
TonyaLetrice - Dallas, Texas
---
I just returned from a wonderful stay at L Mansion with 12 of my girlfriends! For most of us it was our first time in Marrakech and the L Mansion was the perfect place for our fete! We were celebrating the birthday of one of our friends and this luscious luxurious palace catered to all of our needs. First of all I made all of the arrangements in advance with the wonderful Lamya. Lamya took care of all of our arrangements in Marrakech from dinner reservations to private drivers, guides and all incidentals- in advance. When we arrived at L Mansion an elegant gourmet spread awaited us for lunch. The pool is divine and the view is unprecedented-up close an personal to the Atlas mountains which I plan to hike when I return. The rooms were wonderful in that they are elegant and each one is different. My entire party was extremely happy with the level of service and personal attention. The top three things about L Mansion are: the food, the service/rooms and Lamya. I recommend this to anyone whether a romantic getaway, family adventure or outing with friends. Fantastik!
divatrotter - Los Angeles, California
---
This is one of the best hotels that i have ever stayed in! Its not the cheapest and the service on the terrace of the italian restaurant can be slow! We dines in the italian restaurant twice and both times were excellent! We also had lunch at the pool side buffet however i would just try something from the snack menu in the future as the buffet is huge and nit cheap! The rooms are well equipped and spacious however the separate loo is a tight squeeze even for the smallest of frames! If you want something special, then this is your place! I would put it in my top three hotels in the world and its worth every penny in my eyes!
---
Had an amazing trip. Beautiful surroundings and staff couldn't have been more helpful. I have stayed in Marrakech a few times and could honestly say this one of the best experiences I have had there and have always liked the city. The food was especially good and we felt very at home.
RachelDavid190 - London, United Kingdom
---