Please select your dates to see prices:
---
Pavillon du Golf in Marrakech, Morocco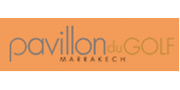 Situated in the heart of the picturesque Marrakech palm grove is the stunning Pavillon du Golf. The hotel provides a wonderful display of classical Moroccan architecture and modern luxury. With 44 gorgeously appointed rooms, and beautiful views of the golf course, lake and Atlas Mountains, this lush paradise is a bastion of relaxation. Imagine being surrounded by the opulent reds, greens, and golds of classical Morocco, reclining next to your private fireplace, and gazing over the placid lake. This is the scene from your balcony, and it only gets better as you experience the luxury of the hotel, the amazing golf available, and wonderful history of the city of Marrakech.
Constructed directly on the 27-hole Palmeraie Golf Course designed by Robert Trent Jones, this luxury resort is the perfect getaway for enthusiasts of the sport. Play a round surrounded by the tranquil environment of lush swaying palms, and marvel at the scenic snow covered mountains in the distance. For a taste of the true history of Marrakech, and Morocco, visit the Marrakech Museum. Housed in the fully restored Dar Menebhi Palace, this amazing collection of classical and modern Moroccan art will give you a greater understanding and appreciation of the culture. If a more visceral experience is desired, delight your senses at Menara Gardens, where gorgeous groves of olives and orchids have blossomed since the 12th century. For a gourmet meal after a long day exploring, reserve a table at the restaurant Dar Enassim. Located within the resort, Dar Enassim offers French and Moroccan cuisine designed by a two-time Michelin-starred chef. At Pavillon du Golf you will truly enjoy the lap of luxury in this beautiful and historic land.
Location of Pavillon du Golf
Pavillon du Golf
Les Jardins de La Palmeraie Circuit de la Palmeraie
1488
Marrakech, Morocco
Nearest Airport: RAK
Amenities for Pavillon du Golf
General Information
44 Suites
Dining
Restaurant
24-Hour Room Service
On-Site Amenities
Spa Services
High-Speed Internet Access
Outdoor Pool
Theater
In-Room Amenities
Satellite Television
Interests
City
Culture & Arts
Golf
Reviews for Pavillon du Golf
---
Its the best place if you are looking for a sile t and peaceful sejour. Its located at the center of the legendary palmeraie and you have to use transportation to go to the city. Otherwise you can stay there .
---
Fantastic service and very polite and helpful employees. The only reason Iā€™ve not given a 5* is that there is nowhere to get food or drink before the evening. Other than that, we were very well looked after, especially by Abdul from reception - very nice man. Would recommend.
---
Clenless... bathroom was not clean at all. Even there was not toilet paper and the mirror in the bath was falling down alone, no electricity in the bedroom so the moved a little table spot from the livingroom to the bedroom. and no wifi. Breakfast also is not a good deal. I hope that the hotel will make some new goal to clean better and make this really noce place a perfect place to be in holiday. I loved th team in the reception that is very kind and professional. I loved the view from my appartement that is in a calm place with a little lake a golf view. Bed is very confy and just perfect for a good sleeping
WaveDanceMorocco - Tamraght, Morocco
---
Upon entering our room we were amazed how large, spacious and beautiful the room was, with an amazing view of a small lake behind, surrounded by palm trees, flowers and ducks. We had plenty of storage space for our belongings and the bathroom was more than enough room for our family of 4. Upon closer inspection I would say the sofabed was old and dirty, we did not allow our children to sleep on it so all 4 of us had to share the bed for the entire stay. The kitchenette although a godsend with kids, was very poor build quality. The appliances were old and poor and the cupbards were poorly fitted and squeaked on opening and slammed shut everytime. There was a good supply of cutlery and crockery however. On the face of things it was great, we didn't mind the little shortcomings when we considered the room was so beautiful. It all started to go downhill when the 1st night we realised the location of this hotel is very poor. Just to get some milk for our child I would have to walk over 1 hour, or spend almost 20 GBP in taxi fares. Before arriving, when I could have cancelled I emailed reception to ask if there are nearby supermarkets. I was told its a 5 minute drive. I would conclude thats a 20-30 minute walk if needed. However, this is not the case - the nearest supermarket would take almost an hour to reach on foot and although may be 10 mins by car, it would cost you a minimum of 100 dirhams. Almost Ā£10 EACH WAY. In fact, it is so badly situated that there is simply nowhere that you can reach without paying this as a minimum. The hotel staff were unhelpful and could do nothing except offer to call the same taxi driver who owns a Mercedes that is falling apart, the car is a deathtrap and is probably about 30 years old. The driver is rude and cannot speak English. The hotel staff also failed to point out to us that if we were to walk to the Palmeraie palace about 10 mins away, we could use their shuttle service to Jamma el Fnah. 4 times a day - return. When we discovered this and quizzed them about it, they refused to accept it and were adament the only way to go anywhere was to use the expensive taxi service. 2 days in to our trip, I found 4 cockroaches in our room. The receptionist initially refused to even come and move them, then 3 hours later, reluctantly arrived at 2am to take the out. When I asked if he could help me block off the AC vents as I was concerned they were coming through there, he could find nothing to help. He said he would tell the manager to contact me in the morning to discuss this. The manager failed to contact me. That evening there were more cockroaches and this tim the reception manager said he could move us but the room would be a downgrade - no refund available. I asked if instead he could arrange for our room to be cleaned in the morning, and fumigated. He agreed but no fumigation happened and again we had cockroaches. This time we asked to be moved an it turns out there was a room that we almost the exact same available. After spending half a day packing, moving and settling in, we found another cockroach in that room. The hotels attitiude was "Tough" we can't do anything to help you. They did not seem bothered that it is a hassle to move a fmaily of four after we have settled in a room - they did not want to help clean the room because they did not want to break their policy of cleaning rooms every two days. Even though we had cockroaches. I spent HOURS arguing with the staff, asking for a manager, at silly times of the night. My children were afraid of the cockroaches and could not sleep well. I was worried our clothes and food would become contaminated. It just ruined our holiday and tarnished our memories. The other issue we had was the noise levels of the toads - all night every night you can just hear the toads making a racket as you are so close to the water. This is made worse by the fact that the doors don't close properly. I would recommend this hotel to have a better pest control policy and to invest in finding out where these roaches are coming from and stopping them getting in to guest bedrooms - it is unacceptable. I would also recommend a more helpful on site manager to be there - we saw the actual manager at check out only - the entire week there was no sign of her. It is all very easy to be sympathetic and apologetic, but the hotel refused to offer any financial compensation - I complained through Expedia who offered some money from themselves. The staff at this hotel are unhelpful, rude, and the service is pathetic. Only the cleaners are good. The location is terrible - so this place is only good if you are hiring a car or are happy to spend a lot of money on taxi fares. Marrakech taxi drivers are extortionate gangsters by the way - google it - thats a whole joke in itself. I would recommend this place for short stays, or for couples only who may be able to put up with limited service and cockroaches etc.
niaz1978 - London, United Kingdom
---
Very bad service, no customer care, staff without smile or positive attitude! We had such a bad experience! The rooms are ok but old, and so many torn towels... I do not recommend this place! Especially if you are sensitive to service quality!
Didacasa - Casablanca, Morocco
---