Please select your dates to see prices:
---
Riad Kniza in Marrakech, Morocco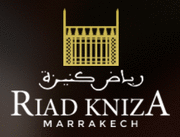 Owned by a Moroccan antiques dealer who has served as personal tour guide to international celebrities and heads of state, Riad Kniza is located in the heart of the Old Medina district of Marrakech. This elegant hideaway invites guests in with richly furnished suites surrounded by gorgeous cityscapes and views of the Atlas Mountains. Here at this gem of Moorish art and architecture, you will enjoy a most memorable hospitality experience.
Situated just minutes from Djemaa Al Fna Square, famed for its snake charmers and fortunetellers, the hotel is an excellent starting point for your explorations. Browse the city's many wonderful souks, lively bazaars, spice markets and more. Not to be missed is the Museum of Islamic Art, with its priceless Moroccan artifacts, relics and the monumental Koutoubia Minaret. Adventurous guests can day trip to the ancient Berber villages and kasbahs of the nearby mountains.
Location of Riad Kniza
Riad Kniza
34 Derb l'Hote Bab Doukkala
40008
Marrakech, Morocco
Nearest Airport: RAK
Amenities for Riad Kniza
General Information
14 Guest Rooms
On-Site Amenities
Concierge
Spa on Property
WiFi
Sauna
Solarium
Terrace
Indoor Pool
Hamam
Car Rental
In-Room Amenities
Air Conditioning
Direct Dial Telephones
In-Room Safes
Satellite Television
Individually Designed Rooms
Activities
Excursions
Tennis
Nearby
Historic Sites
Shopping
Restaurants
Golf
Monuments
Interests
City
Culture & Arts
Summer Getaways
Reviews for Riad Kniza
---
We stayed here for a weekend as a family of four. The bedroom was beautifully laid out, one floor for the children and the upper floor for us. The food and service were exceptional. The ambience is one of peace and tranquillity. There was a problem with a leaking pipe in our room meaning that we lacked hot water on the last evening. As a result, the owner offered the luxury hammam for our use and did not charge us for what turned out to be a spectacularly delicious three course dinner. My wife and I also got a private tour of the Berber museum which is soon to be extended. The owner, an erudite and fascinating gentleman, was generous with his time and his knowledge. We could not have been better looked after. A stunning riad.
Rupert H - London, United Kingdom
---
They successfully negotiated La Mamounia's strict security to pick us up at the front door! Dropped us us off at the nearest vehicle access to to Riad. Greeted and escorted to that Friendly studded front door, to be greeted by the friendliest receptionist. A lovely cup of tea and the features of this stunning Riad carefully explained. A large cosy room with some very good features, a transformer plug socket so any guest can recharge their mobile phone iPad etc using their own plugs at the correct voltage. We were given the most useful guide device so that we could navigate the souks and tiny streets with ease and confidence, it even recommended sites to visit, restaurants to eat in. Owner of this Riad and his son have really tried to think of everything to make our stay a total pleasure. The staff from lovely receptionists, very attentive waiters, and you can see the care they take to make your table look absolutely perfect at each course, the chamber maids had our room spotless at all times and the beautiful folded towels and tasteful use of those stunning rose petals! All friendly and determined to make sure your stay with them, just an exceptionally pleasant experience. Food excellent and perhaps the highlight, the invitation by our host to see the excellent museum that he and his wife have created in the Riad just across the alley. The display of Berber costumes and jewellery even better than in the Majorell gardens and then the display of city costumes and the exceptional modern cloathes and jewellery designed by his daughter. As you may gather this Riad went the 'extra mile' in every direction to make our visit just super. The interior of these premises, just down an alley so large, so perfectly layed out and decorated will just blow you away. The attention to detail, design and facilities a wonderful success. Pay them a visit and be pampered and treated in the most friendly way, you will remember your visit with a smile for many years to come.
884courtenay - Burgos, Spain
---
I can't even begin to explain the level of customer service at this Riad. They sent a driver for us at the airport and made sure that we were completely pampered during our entire stay. I can't wait to come back! Thank you for everything from the rides to the breakfast to the handy phone we used to guide us through the streets.
---
Perfect service and warm welcome! We get an upgrade to the next room size and it was absolutly amazing. Breakfast on the rooftop was great and also the dinner in the Restaurant. The Riad Kniza is a wonderful an quiet place.
---
STAY HERE!! I stayed 2 nights at Riad Kniza and absolutely loved it. Could not recommend it more. The staff was accommodating and lovely, the room was amazing, and the food was DELICIOUS. Breakfast on the rooftop terrace was the best start to a day of exploring the charmingly chaotic Medina. Be sure to have dinner here one night!
---