Please select your dates to see prices:
---
Riad Kniza in Marrakech, Morocco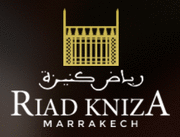 Owned by a Moroccan antiques dealer who has served as personal tour guide to international celebrities and heads of state, Riad Kniza is located in the heart of the Old Medina district of Marrakech. This elegant hideaway invites guests in with richly furnished suites surrounded by gorgeous cityscapes and views of the Atlas Mountains. Here at this gem of Moorish art and architecture, you will enjoy a most memorable hospitality experience.
Situated just minutes from Djemaa Al Fna Square, famed for its snake charmers and fortunetellers, the hotel is an excellent starting point for your explorations. Browse the city's many wonderful souks, lively bazaars, spice markets and more. Not to be missed is the Museum of Islamic Art, with its priceless Moroccan artifacts, relics and the monumental Koutoubia Minaret. Adventurous guests can day trip to the ancient Berber villages and kasbahs of the nearby mountains.
Location of Riad Kniza
Riad Kniza
34 Derb l'Hote Bab Doukkala
40008
Marrakech, Morocco
Nearest Airport: RAK
Amenities for Riad Kniza
General Information
14 Guest Rooms
On-Site Amenities
Concierge
Spa on Property
WiFi
Sauna
Solarium
Terrace
Indoor Pool
Hamam
Car Rental
In-Room Amenities
Air Conditioning
Direct Dial Telephones
In-Room Safes
Satellite Television
Individually Designed Rooms
Activities
Excursions
Tennis
Nearby
Historic Sites
Shopping
Restaurants
Golf
Monuments
Interests
City
Culture & Arts
Summer Getaways
Reviews for Riad Kniza
---
The staff was welcoming and showed us around the Riad. Our suite was outstanding--beautifully decorated and gave us room for our suitcases. The breakfast/ dinners were excellent. Dining on the roof terrace is a must-- Make sure you get the owner to show you his Berber museum and jewelry that is for sale. I highly recommend this Riad while touring Marrakesh
---
We stayed 3 nights at this beautiful Riad in mid May. The welcome and service were excellent. Real attention to detail and very accommodating. It was my birthday while we were there and the Riad sent a fabulous cake to the room. Thank you very much!! Made me feel very special!
lucy c - Greater London, United Kingdom
---
My wife and I stayed for several nights and enjoyed the Riads location on the edge of the Medina. Our room on the second level was priced mid-tier with a nice sitting area for relaxing after being out all day. We also stayed in a smaller room one night and it too was adequate if your not travelling with too much luggage. You can have anything on offer when and where you want it and if evenings are pleasant you should dine on the rooftop one night. When I put a small gash in my head, one of the staff went to he pharmacy for bandage and antiseptic and would not accept reimbursement. They were most helpful and personable, even offering our driver a coffee in the mornings!
williamrL2597DP - Singapore, Singapore
---
In 2013, I was in Riad Kniza with my wife, and this Easter I came back with my entire family (I have two children, an 18-year old boy and a 21-year old girl). My memory of the Riad was excellent and after so many years I was curious to see how things had changed. Our last staying in the Riad has been even better than the previous one. The location of the Riad is strategic for anyone who wants an experience in the messy and noisy Medina of Marrakesh, but at the same time, enjoy the relax and quiet in a typical Moroccan private luxurious house. From an architectural point of view, the Riad Kniza is gorgeus and unchanged from our experience. A peaceful place, warm environment, very well decorated and with stylish furniture, (in addition we really appreciated the rose petals in the fountains that give a wonderful fragrance in the air). Moreover, we had the opportunity to visit a new private collection (of the owner of the Riad) of ancient Berberian objects, typical clothes, weapons, handmade carpets. Definitely worth it! The level of service and attention towards clients is still very high, as it was in our memory. You feel that (almost) any desire could be satisfied with kindness and simplicity. I strongly recommend to have breakfast and dinner in the Riad. Excellent typical food and service. With respect to breakfast, different every day, although our flight back to Milan was very early, we still had the chance to have a varied and full breakfast (at 5am) before leaving. During dinner, the live music was very pleasant and relaxing. If you go to Marrakesh, you cannot miss a staying in the Riad Kniza!
---
I don't really know where to start with my glowing review of Riad Kniza. The surroundings, the rooms, the staff, it was all just so wonderful; I have gushed at every opportunity. Let's start with the staff; we arrived fairly late, but Assia and team were there to greet us with our first cup of properly poured mint tea, a dinner menu should we be hungry and some decompression time in the main seating area. For dinner, we selected three items to share - we had been on the road just under 24 hours and so hot soup, Moroccan salads and a lamb tagine was the perfect way to start our week in Marrakesh, but also to put us right to a deep and comfortable sleep! While we are already talking about food, I'll say that breakfast at Kniza was just beyond. Because we had relatively warm weather, we generally opted for breakfast on the rooftop terrace. The birds, the sounds of the medina just waking up, and the daily selection of Moroccan pastries, fresh (amazing - wish I had it here) honey, granola, yogurt and farm fresh hot egg dish was the perfect start to every day we had. Kniza provided us with a nice map, but our intention was to get as lost as we possibly could each day. We found navigating the Medina walls quite easy and used google maps on our phone to navigate (for those that do not have international service - Kniza can provide you with one for your stay!) The location of Kniza is very unique in that it is a short walk from all of the more touristy souks but it feels much more isolated as part of the true culture and livelihood of the area because of the proximity to the main gate. As cultural travelers, my husband and I really appreciated being immersed in a part of the Medina that was a little more authentic to the character of life there yet a short walk from so many destinations. Not to say that we didn't walk through all of the areas now brightly lit for an optimal shopping experience, we loved that just as much. Assia and the team helped us with so many things; foodies by nature, we had a few restaurants that we wanted to try so we didn't rely on them for recommendations but each day, the front desk happily made our dinner reservation for us within the restaurant at the Riad or beyond. The restaurant at the Riad had a simple menu but the food was wonderful! We should probably talk about the Hammam. Our first time and please do not miss this experience. If I was to say one thing (beyond the attentive staff) about our stay here it would be you have GOT to Hammam. I'm so glad we selected Kniza for a myriad of reasons, but initially one of the reasons was the Hammam right there on site and we were right. It's such an experience and one that could have never really been accurately described with words. I'm so glad we were able to relax into it by walking downstairs, enjoying the experience together, relaxing next to the pool in our robes and slippers with mint tea and cookies afterwards and then mosey back up to our room for a nap before dinner. It's truly a spa experience when it's right there on site. I am looking forward to visiting other parts of Morocco on our next visit, but if we should ever find ourselves back in Marrakesh, we will surely be at Kniza. XO
Heatherlyo - Sunny Portland, OR
---