Please select your dates to see prices:
---
Le Cap Est Lagoon Resort & Spa in Martinique, French West Indies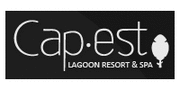 Washed ashore on the French island of Martinique, glittering on the shores of the azure Caribbean, is an oasis called Cap Est Lagoon Resort & Spa. A member of the esteemed Relais & Chateaux - a collection of enviable properties with a flawless reputation - the resort's 50 suites are both lavish yet playful. Enjoy roomy beds, Balinese-style sofas topped with rattan canopies, teak terraces, private plunge pools and an overwhelming sense of privacy. Lather up within the confines of your al fresco shower or lounge poolside with an umbrella-laden cocktail. Things are anything but ordinary at Le Cap Est Lagoon Resort & Spa.
When hunger calls or you need to quench your thirst, follow the tranquil pathway towards the lagoon and find the resort's charming Le Campęche restaurant. Its menu features succulent lobster, fresh fish and a variety of Creole-inspired dishes. The mixologist at the nearby Cohi-bar knows how to shake and stir your favorite libations while you enjoy the serene water views. Sip a rum-infused drink, or make a run to the cigar cellar for an imported Cohiba. The spa is a soothing escape and offers a menu of soothing and supple treatments coupled with jet showers, algae baths and a hammam. Plunge into the ice-water pool for an unexpected jolt or find your inner om at one of the many yoga classes offered. Island living means days spent on the beach trying your hand at surfing, sailing and windsurfing. A simple sunset walk along the platinum-sand shoreline marks the end to yet another wonderful day at Le Cap Est Lagoon Resort & Spa.
Location of Le Cap Est Lagoon Resort & Spa
Le Cap Est Lagoon Resort & Spa
Quartier Cap Est Le Francois
97240
Martinique, French West Indies
Nearest Airport: FDF
Amenities for Le Cap Est Lagoon Resort & Spa
General Information
50 Guest Rooms
Dining
Outdoor Dining
2 Restaurants
Wine Cellar
Room Service
Bar & Lounge
On-Site Amenities
Spa on Property
Laundry Service
Library
Live Entertainment
High-Speed Internet Access
Hamam
Outdoor Pool
Tennis Courts
Music & Movie Library
In-Room Amenities
Air Conditioning
CD Players
Ceiling Fans
Direct Dial Telephones
DVD Players
Hair Dryers
In-Room Safes
Mini Bar
Coffee & Tea Facilities
Luxury Bath Amenities
Outdoor Showers
Private Pools
Activities
Kayaking
Tennis
Windsurfing
Snorkeling
Boating
Interests
Beach
Summer Getaways
Reviews for Le Cap Est Lagoon Resort & Spa
---
I've stayed in hundreds of hotels in my life and this one was by far the worst: it started from check in - the room given was not the one i paid for (with sea view), i had long discussions to get the right room - it took 1+ day, multiple calls to travel agency support to get the right room - finally the room was found while the management was saying that no rooms were available. At the first room we stayed the airconditioner broke and the water was running from the pipe - the management did nothing to fix it. There's nothing to do in this hotel - really nothing - no activities, no shops, not even music in the cafes. The staff is extremely lazy and inattentive, no command of English - they forget requests - forgot to order my taxi to the airport. The bellman said i had to carry my luggage to the car and first to find it in the storage room. The food is very basic - hostel like, not fresh and overprices - cold fried eggs on breakfasts even when they start, no coffee or juice supply - you should do it yourself. Every Monday there is sewage dump to the sea and the smell of that is horrible - you cannot open windows and go outside. The beach was covered with the seaweed - so that you cannot enter the sea and nobody cared to remove it. For the same money you can go to 5 stars on Seychelles or Maldives - and this hotel is really hardly 2 or 3 stars
---
A recent response by management to a recent review criticized the reviewer for not opening enough time or money at the resort to write a review. I have spent nights here, have spent quite a bit more than one Euro, have eaten the meals, and am a real guest, at this moment in fact. So now I will write a review. I wish I could refute any of what has been said in other reviews but sadly, it is true. This resort needs serious investment of capital, time and management concern. The absolute best aspect is that there is a car rental desk in the lobby so you can spend time elsewhere. The air conditioning in the suite worked fine. The wifi is unimaginably slow. The food is fair but priced as if it were made by Thomas Keller. For example: 22 Euro for a simple burger with sweet potato fries at lunch, or 50 Euro for a Caribbean lobster. Both outrageous. We wanted to spend time lounging in the sun. But they must have worked very hard to find the absolute most uncomfortable chaise lounges on the planet. There is no padding on the wooden ones on the beach and the others, with mesh, have bars below the mesh in rather inconvenient places. Of course, on the beach, one could lie on the sand, that is if it weren't rock hard and covered in seaweed. But there's the pool. Lovely and clean. Just exactly as you would want it to be. I'm about to go in for a massage so I'll pause and return afterwards... The massage was very good! The spa is lovely and I was asked to fill in a form about what type of massage I would like. Very nice indeed. So let's recap. Decent rooms that are large but need refurbishment, especially matresses, as others have said. Uncomfortable chaise lounges. A very nice pool. A tiny, seaweed infused beach with very hard sand (how does that happen?) and overpriced food. I paid $344 Euro at the beginning of March 2018. You can decide if that's value or not. We didn't have a bad time here, just not a great time. I hope the GM uses this info, and from others, to improve the property.
---
Recently stayed at le cap est lagoon and spa. Nice people from a bad place. It's bad because you can get better quality but you can't pay more. I found cap est to be in a state of bad repair. It is in a remote location with no other choices to eat or obtain food. The food at cap est was not to my liking and there was no other choice. I had chosen Martonique and cap est in order to enjoy again French food. This was not the case.
William L - Sea Cliff, New York
---
We read the reviews here, and to be honest, we had pretty low expectations. But we were pleasantly surprised when we got here. Yes, parts of the property could use some upgrades, like the lounge chairs and the lobby area. But the rooms were quite nice and the private pool was amazing! It's important to note that if you get a room with a private pool, make sure you request it to overlook the water. Some of them do not. We assumed they all did and once we checked in, we asked to switch. They were fully booked the first two nights of our stay so we couldn't switch, but we did the last night and it was worth the switch, even for 1 night! Our favorite spot was the ponton area. We enjoyed laying out there and watching the kite surfers go by and no one else was there, so it was just us!
---
We spent 100 Euro on a taxi ride to visit the hotel to find out the photos of it are very old (2007) We waited 15 minutes for the gate intercom to be answered to let us in ...the place looked very rundown at the entrance. It does not look like a 5 star resort! The beach is disgusting and smelly and would definitely not come again ! It's a shame because I'm sure in its day it would of been lovely!
---