Please select your dates to see prices:
---
Fairmont Mara Safari Club in Masai Mara National Reserve, Kenya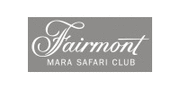 Your base for African adventure, the Fairmont Mara Safari Club lies at the foot of the Aitong Hills in the northwest Masai Mara in Kenya. This unique camp, positioned along the Mara River and surrounded by cultivated gardens, features luxurious furnished safari tents - with flush toilets, hot water and showers - whose game-viewing verandas offers splendid views. By day you'll be swept away on guided game drives, and at night you'll savor activities that include wildlife presentations, traditional dancing, and moments beneath an endless, star-filled sky.
After a breakfast in The Dining Room, set out to explore the Mara Plains on a game drive with a picnic in the wild. In the company of Masai warriors in full regalia, embark on a walking safari along the hippo-filled river or a nature walk with a specialist guide. The area around the camp is home to over 70 species of bird and a variety of other wildlife. When you need a break from all the adventure, the camp is ready to accommodate your more leisurely moments with a refreshing outdoor pool and bar, live entertainment, slide shows and other unique diversions.
Location of Fairmont Mara Safari Club
Fairmont Mara Safari Club
PO Box 58581
Masai Mara National Reserve, Kenya
Nearest Airport: NBO
Amenities for Fairmont Mara Safari Club
General Information
50 Guest Rooms
Dining
Outdoor Dining
Pool Bar
Restaurant
Room Service
Bar & Lounge
On-Site Amenities
Spa Services
Laundry Service
Library
Gift Shop
Currency Exchange Service
Live Entertainment
High-Speed Internet Access
Terrace
Outdoor Pool
In-Room Amenities
Hair Dryers
In-Room Safes
Mini Bar
Private Verandas
Outdoor Showers
Activities
Cultural Classes
Nature Walks
Wildlife Viewing
Bird Watching
Game Drives
Interests
Active & Adventure
Luxury Tents & Open Air
Tours
Reviews for Fairmont Mara Safari Club
---
The Fairmont was truly a slice of heaven on earth. Every last part of the resort, staff, guides, were out of this world. First of all, the grounds are marvelous, each tent was unique and made you feel at home in the middle of the Mara. The decor was on point and the 'glamping' experience was everything I wished for and more. (Loved the outdoor shower) The staff, well the best! Our housekeeper became a friend (we loved our hot water bottles in the bed), our concierge a doll, our waiter was out of this world, the chef was wonderful, and our guide, Jonathon, made the trip absolutely perfect. We did guide drives every morning and evening and we saw all of the big 5 except for the leopard, which we will be back to see. He took us on adventures and made sure that we saw lion cubs, got up and close with the rhinos, took a walk on the hippo highway, etc. My husband and I also did a guided bike ride and riding next to the giraffes was breathtaking. We visited a Maasai village and the list goes on and on. On our last night of our stay they surprised us with a private dinner on the Hippo lookout (it was our honeymoon), not only was it beyond sweet and enjoyable but it was also great hanging out with our waiter and chef and getting their advice for our next day in Nairobi! This was truly a five star experience in the greatest place on earth. Thank you to everyone at the Safari Club for giving us the best experience of our lifetime!
Jordan F - Birmingham, Michigan
---
HomeFairmont Mara Safari Club Availability We are sorry, there are no rooms available at this accommodation at the moment Fairmont Mara Safari Club Overlooking the Mara River, home to hippos and crocodiles, all tents at Fairmont Mara have a private veranda. Game drives, an outdoor heated pool with bar, and massage tents are provided. Featuring four-poster beds, the spacious tents include a minibar and fan. Some have a private outdoor shower, while others have furniture on the veranda for al-fresco dining. Positioned over the river, the rustic restaurant with wooden roof serves a buffet breakfast and lunch. The dinner menu includes typical African cuisine, accompanied by music. All meals can be taken outside on request.
GiddiTours - Nairobi Region, Kenya
---
The entire property is stunningly beautiful, and the staff is exceptional. The lovely tented rooms overlook the Mara River, where hippos can be seen. Landscaping on the grounds is gorgeous. The food is absolutely delicious. Our game drivers were very knowledgeable about all of the numerous animals that we saw. Thank you to Jerimiah, Abdi, Henry, Reuben, and Samuel for finding the animals. The early morning wake up knock on the tent with coffee and cookies is wonderful. Hearing the birds singing, hippos laughing, and other sounds of nature is amazing. The Maasai men dancing in the Lobby is interesting and fun to watch. Dennis is an exceptional waiter, as well as Joan in the Dining Room. Hannah is in charge of the Gift Shop that has beautiful items for sale. Dr. Charles is a good doctor on property. My husband and I hope to return in the future. Our stay was exceptional.
---
It's hard to summarize our experience into words, there are no words really for the magic that you experience while staying here. We absolutely loved our tent and the property was beautiful! How awesome was it to have hippos right below your tent snorting all though the night! Everything is perfectly organized and executed. The entire staff was excellent and made us feel very special and cared for. Wilfred was amazing and catered to our every need. Joseph, our primary server for our stay, he always there anticipating our needs and greeting us with his overtly friendly nature. All the other servers, Marcus, Symon, Dennis and many more were all fantastic as well and all contributed to a most memorable time. The service we received across the board was the best we have ever experienced in our travels. The highlight of our stay of course were the Safaris that we went on and our guide/driver Samuel was the sole reason for this. He blessed us with experiences that has left the Masa Mara in our hearts forever. This was a trip of a lifetime that was unforgettable in every way.
jillspoor - Vancouver, Canada
---
After a short flight from Nairobi you are met at the airstrip with a welcoming drink prior to the 5 minute drive to your new home. A warm welcome and you are escorted to your tent. The tents are all placed alongside the River Mara, so you can sit on the decking to your tent and watch and listen to the Hippos, monkeys and birds, whilst enjoying a drink from the mini bar or a nice hot tea/coffee. The tents are paradise! The Chefs are brilliant, and they will do their best to accommodate any diet. Breakfast is buffet style with a chef waiting to cook you eggs in any style you want! Lunch and dinner are either A La Carte or buffet style, either way be prepared for an expanding waistline before you leave. There is a small swimming pool to enjoy or just to relax around on the sunbeds. The evening entertainment could be the local Masai dancing and singing or maybe Jonathan talking about his Masai cultures or the wildlife to be seen, whilst you relax in the lounge with a drink or two if you wish. Ah yes, the wildlife! That is what I go for time and again, a wonderful addiction! If you are lucky you will see the Big Five, plus all the herbivores, a cocktail of animals grazing on the Savannah, gazelles, antelopes, zebras, giraffes, warthogs and all the other African plains animals. A sight to be enjoyed and never forgotten. Thank you Anthony for all the incredible game drives, and everyone here for such a wonderful welcome... again!
dingull - Exeter, United Kingdom
---