Please select your dates to see prices:
---
Sextantio Le Grotte della Civita in Matera, Italy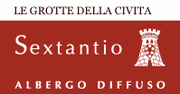 The sassi of Matera – ancient cave dwellings carved into the soft volcanic rock – are believed to be some of the first human settlements in Italy, and are what constitutes Sextantio Le Grotte della Civita. Inhabited until the 1950s, when Carlo Levi's Christ stopped at Eboli created a national scandal and the inhabitants were relocated to more modern dwellings, they are now the location of one of Italy's alberghi diffusi. The alberghi diffusi are hotels distributed over existing buildings in the centers of Italian towns. They have a central reception area and café and are part of a community so that guests may be integrated into local life.
Warm your toes as you walk across a stone floor paved with rock from the nearby Murgia River Gorge. (Masons lifted the stone piece by piece to install radiant heating.) Break your fast with zucchini and honey scones before navigating the ancient passageways of the town on a historical walking tour of Matera's centuries of civilization, or hike the Lucanian Dolomites to a Saracen fortress. For dinner, wander to a deconsecrated, candlelit church to feast on pasta fatta a mano from organic, local ingredients. End your day with a rose-scented dip in a stand-alone tub filled with water piped from ancient cisterns.
Location of Sextantio Le Grotte della Civita
Sextantio Le Grotte della Civita
Via Civita 28
Matera, Italy
Nearest Airport: BRI
Amenities for Sextantio Le Grotte della Civita
General Information
18 Guest Rooms
Dining
Restaurant
Organic Cuisine
Healthy Cuisine
On-Site Amenities
Spa Services
In-Room Spa Services
Activities
Excursions
Hiking
Nature Walks
Cultural Tours
Sightseeing
Nature Hikes
Business
Business Center/Services
Meeting Rooms
Conference Facilities
Nearby
Historic Sites
Museums
Parks
Monuments
Market
Reviews for Sextantio Le Grotte della Civita
---
Staying in this cave hotel is such a unique experience and a way to get yourself more involved in the history and feel of the area. This is a first class facility and so unique you will never forget it. Each "room" is uniquely built into a ancient cave dwelling. Every room is different, but all elegant and with modern amenities. Some rooms do not have stand up showers, but all have tub showers. If you are claustrophobia this may not be the place for you. It is worth the trip to southern Italy to see this town and stay in this hotel.
Alan B - Lancaster, Pennsylvania
---
We stayed here as part of a bike trip in Puglia. The hotel was selected by the bike tour organizer — Backroads. They really select top notch and unique hotels and this was no exception. The hotel is made up of a series of caves and decorated in the most authentic manner as possible. cobble floors, rustic furniture, candles everywhere in your room. But it sacrifices nothing in comfort and conveniences. Free WiFi is hidden as are a number ( but not too many) light fixtures. The ambiance is incredible. We had a huge comfy bed, a deep bath tub, a rainwater shower etc. Things can be a little dark but I managed to blow dry my hair and get my makeup on a feel I wouldn't go out scaring anyone! The hotel staff is extremely accommodating and so hospitable. You feel Ike you are a guest in their home. If you are going to Matera, this is a must. Pricey but worth it for the experience.
Leslie J - San Juan Capistrano, California
---
We spent a night in Sextantio Le Grotte della Civita and are so very pleased we did. This hotel offers comfort and luxury along with a unique experience: sleeping in a cave. Read about Matera to understand what that means. The amenities were excellent and the staff helpful, friendly and enthusiastic to ensure everything was first-class, from guidance on how to get there, to the welcome and advice we received. The breakfast buffet was wonderful and the setting extraordinary.
Ivan G - Sydney, Australia
---
We booked this hotel thinking it would be a cool way to spend a couple of days. As we got closer, I was admittedly worried that it wouldn't be comfortable. It was actually VERY comfortable. It was so relaxing and beautiful. All of the details are just impeccable. The candles are natural beeswax candles with no scent. The linens are high quality beautiful, soft sheets and blankets. The bed was fabulous. The soaps and shower gels are handmade and unscented. Usually hotels use heavily perfumed things and it was so lovely to be in a natural environment finally. We didn't miss the shower. They have hand showers in the tub. Matera is magical and this hotel is a gem. The breakfast was amazing as well. They made fresh interesting juices like peach juice, etc. Fresh peach juice! They have their own infusion teas. The staff is incredibly friendly and helpful and warm. We would definitely go back!
---
We found out about Matera by chance from a picture on an Italian restaurant menu cover. Then when we were looking for somewhere special to stay for our Ruby wedding anniversary we discovered Sextantio. I can only repeat some of the other comments. Matera itself is amazing but this hotel makes for an experience in itself. Staff are extremely helpful. Airport transfer and candlelight dinner for our anniversary sorted by email prior to arrival. Our upgraded "cave" was wonderful to enter and so romantic with the candles all lit. The special candlelight dinner was an experience of a lifetime. A wonderful local chef, Brunella, cooking and serving just for the two of us. Walking excursion to Murgia Park was also very good. A very charming guide, Renato, who brought all the history to life with his local and family knowledge. His grandfather actually lived in one of the Sassi caves. I would give Matera and this hotel in particular 6 stars if it were available. Amazing
Bob E - London, United Kingdom
---