Please select your dates to see prices:
---
Sextantio Le Grotte della Civita in Matera, Italy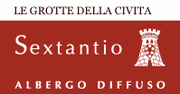 The sassi of Matera – ancient cave dwellings carved into the soft volcanic rock – are believed to be some of the first human settlements in Italy, and are what constitutes Sextantio Le Grotte della Civita. Inhabited until the 1950s, when Carlo Levi's Christ stopped at Eboli created a national scandal and the inhabitants were relocated to more modern dwellings, they are now the location of one of Italy's alberghi diffusi. The alberghi diffusi are hotels distributed over existing buildings in the centers of Italian towns. They have a central reception area and café and are part of a community so that guests may be integrated into local life.
Warm your toes as you walk across a stone floor paved with rock from the nearby Murgia River Gorge. (Masons lifted the stone piece by piece to install radiant heating.) Break your fast with zucchini and honey scones before navigating the ancient passageways of the town on a historical walking tour of Matera's centuries of civilization, or hike the Lucanian Dolomites to a Saracen fortress. For dinner, wander to a deconsecrated, candlelit church to feast on pasta fatta a mano from organic, local ingredients. End your day with a rose-scented dip in a stand-alone tub filled with water piped from ancient cisterns.
Location of Sextantio Le Grotte della Civita
Sextantio Le Grotte della Civita
Via Civita 28
Matera, Italy
Nearest Airport: BRI
Amenities for Sextantio Le Grotte della Civita
General Information
18 Guest Rooms
Dining
Restaurant
Organic Cuisine
Healthy Cuisine
On-Site Amenities
Spa Services
In-Room Spa Services
Activities
Excursions
Hiking
Nature Walks
Cultural Tours
Sightseeing
Nature Hikes
Business
Business Center/Services
Meeting Rooms
Conference Facilities
Nearby
Historic Sites
Museums
Parks
Monuments
Market
Reviews for Sextantio Le Grotte della Civita
---
Unusual setting with spectacular large rooms in caves. Rooms are lit with candles, spacious, beautifully decorated, comfortable, Amazing views of the Murgia National park. Breakfast and aperitif are delicious. Great location. Rooms are all at different levels, be prepared to climb! Staff is amazing with every type of request.
RORGAJO - Newton, Massachusetts
---
I doubt you've ever stayed in a place like this before, or will afterwards. Sextantio is a "hotel diffuso," meaning the rooms are spread out, which makes sense when they're refurbished caves. We stayed in two rooms, both sorta on the third floor, at least up and down a series of steps. Lots of candles, interesting showers. Matera is an experience, and staying in this hotel only increases it.
---
Exquisite. Beautifully, sensitively and assionately converted cave hotel. Staff so helpful. Breakfast and it's setting superb. Sat nav did not get us there easily, worth asking for detailed map of surroundings with one way roads marked! The hotel has no parking and we paid the extra (25 euros) per night to have the car garaged- just because we'd got so lost and were only there 3 nights. The private guide, Michele Zasa, was fabulous. Not cheap, but so knowledgable and with real passion again- his family lived in the Sassi.
MaryCordall - Guernsey, United Kingdom
---
We were blown away at how beautiful this hotel is... actual caves converted to a lovely boutique hotel. Our room was incredibly cozy and romantic, lit by just a few candles and lamps. Additions to the cave of refurbished hardwood, stone and brick were perfect touches to the structure. Service was elegant. Breakfast was served in an old cave church...very authentic...delicious spread of local foods, cheeses, meats, pastries and produce. Walking distance to downtown with various restaurants and shops. The area of Sassi is definitely the most beautiful, authentic and photographic place I have ever been. Wish we could have stayed longer to explore, but we will just have to plan another getaway to Italy.
Lurajean - Wilmington, OHIO
---
Simply stunning, on arrival it's a little disconcerting as it's not obvious where the rooms are. But the wonderful staff are on hand to help with bags and explain the incredible history of this hotel. Rooms are carved from the rock and as dramatic and unique as you might expect, but with enough mod cons to satisfy even Bruce Wayne and make it extremely comfortable (including wi-fi.. in a cave.. and underfloor heating). The complete silence of the night is incredible, as is the sense that you are staying in a piece of history. The breakfast, served in the former chapel cave is a collection of locally made delicacies and is just as stunning as the rooms themselves. You must stay here once in your life.
---