Please select your dates to see prices:
---
The Peabody Memphis in Memphis, Tennessee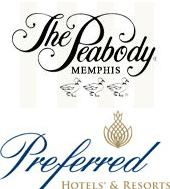 The Peabody Memphis is as well known for stupendous service and luxury living as it is for its marching ducks. The 13-story hotel and Memphis landmark opened in 1869 and has been a place of privilege ever since. Part of Preferred Hotels & Resorts, a member of the well-established Preferred Hotel Group, is located just two blocks from famed Beale Street and near the Peabody Place entertainment complex. Its collection of traditional rooms and suites, including pet-friendly accommodations, are elegantly appointed with rich hues and regal furnishings. Residents have a fondness for The Peabody, and the hotel's Memorabilia Museum documents its place in history through a series of displays.
While times have changed, tradition has not and the hotel is still a place for socialites to gather each afternoon for a proper tea. The Peabody features an array of dining options, from the Four-Star Chez Philippe to an Italian steakhouse. The Corner Bar offers live entertainment, while the Lobby Bar gives you a front row seat to the famed Peabody Ducks. The full-service spa and indoor Grecian-style swimming pool add a contemporary feel to this timeless property. During the spring and summer its Rooftop Party Season featuring live music on selected evenings. Dance and drink under the stars then when the party is over, simply stroll back to your guestroom. The Peabody's location makes it a great home base for sightseeing, too. Not far from its storied entrance is Graceland, the former home of Elvis Presley. The hotel even has an Elvis connection with Bernard J. Lansky's shop, located in the hotel lobby, who served as The King's personal tailor.
Location of The Peabody Memphis
The Peabody Memphis
149 Union Avenue
38103
Memphis, Tennessee
Nearest Airport: MEM
Amenities for The Peabody Memphis
General Information
464 Guest Rooms
Pet Friendly
Dining
2 Restaurants
2 Bars
Rooftop Bar
Room Service
Afternoon Tea
Deli
On-Site Amenities
Spa on Property
Complimentary Newspaper
Laundry Service
Live Entertainment
Indoor Pool
Valet Parking
In-Room Amenities
Turndown Service
Reviews for The Peabody Memphis
---
I loved visiting this hotel. The lobby is gorgeous; the ducks are awesome, the beds are comfortable; everything was clean & really pretty. The hotel is historic, so the rooms are, too! Really nice and evocative of a by-gone era. There's a piano on the mezzanine level that was custom built for Francis Scott Key, for Pete's sake!! Only a couple of blocks from Beale Street....
BobbieBarbBarbara - Columbus, Mississippi
---
Two teenage girls excited to swim and enjoy the Hotel Peabody end up with neon green hair after 5 min. In the pool. Then had to sit in a hair salon for four hours of their last day of vacation. Insult to injury. The day manager and his supervisor basically said it was the girls hair that caused the problem, and there was nothing wrong with the pool. The only compensation was a couple drinks and some nuts during the 4hours taken away from them. Not to mention the others that were inconvenienced I.e. mom and gramma. I have never experienced such bad P R. We were treated very bad and will NEVER GO BACK!!!
JoycW123 - Springfield, Missouri
---
We loved the Peabody until after 5 minutes after the pool and my 13 yr old daughter and her best friend's hair turned bright green...the worst I've ever seen! The manager on duty, Shemma, was a sweetheart. She immediately took action, calling engineering, making a hair appt for the girls the next morning and hand delivering soda water and lemon to try. We spent 4 hours the next day working on their hair. The stylist was great and did his best. Their hair will continue to need work, but they no longer look like punk rockers. The male supervisor, Graham was one of the iciest and most rigid I've seen. I explained the girls lost 4 hours of their day and Spring Break and would appreciate some compensation. Both he and the Director stated they provided high end salon service as compensation (and a bowl of nuts and 2 drinks I requested) and that should be enough!! They could not understand we lost 4 hours of our vacation!! I paid $500 a night to be treated this way. I would've appreciated anything, late checkout, dinner, something. Rather I'm treated that I should be thankful they got their hair done, even though I will have to take my daughter to our stylist at home and pay $150. Swimmers beware!!!
---
This hotel was packed with college age students for a conference when we were staying there for a wedding. Our room was much smaller than a normal hotel room and was on the dirty side. Don't think I will be staying here again. Paid a little more to stay here for the history but will not be back.
Lynnard9 - Birmingham, Alabama
---
The Peabody was an ideal conference hotel. Great rooms and amenities and close to Beale Street and dining/entertainment. Beautiful hotel with storied history. Excellent staff and service. Spacious rooms with comfortable beds. Quiet and well maintained. You must see the famous duck march.
---