Please select your dates to see prices:
---
Hacienda Xcanatun in Merida, Mexico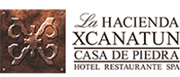 Built in the 18th century, Hacienda Xcanatun (ssh-kana-toon), a former sisal plantation, has been magically recreated as a small luxury hotel. This elegant hideaway, set on nine acres of exuberant gardens and surrounded by protective walls, lies minutes from the capital city of Merida. Settle into the ambience of colonial Mexico in an air-conditioned suite filled with antiques, hand carved colonial furnishings, intricate textiles and Peruvian oil paintings. A unique fusion cuisine is served in the gourmet Casa de Piedra restaurant, awarded a 5-star diamond award from the American Academy of Hospitality Sciences. Savor a blend of French technique with Caribbean and local ingredients, plus Yucatecan specialties.
For undeniable pampering, The Spa offers wellness and holistic indigenous treatments such as the signature Maya Honey & Flower Massage, which may be enjoyed in a secluded garden palapa or in-suite. When not relaxing at the hacienda, this is a great jumping off point for exploring the Mayan ceremonial centers at Uxmal, Kabah, Dzibilchaltun and Chichen Itza. Enjoy a boat ride through one of the largest flamingo nature preserves in the Americas and discover nearby deserted Gulf beaches. With Merida in your backyard, fine shopping, a colorful weekly market, street festivals, local concerts and museums are just a quick jaunt away.
Location of Hacienda Xcanatun
Hacienda Xcanatun
Calle 20 S/N por 19 y 19A Km. 12 Carretera Merida Progreso
97302
Merida, Mexico
Nearest Airport: MID
Reviews for Hacienda Xcanatun
---
We had been looking forward to our meal here on 03/19/18. It was our last night in Merida so we wanted to go somewhere special. When we arrived the entire place was empty (two more parties arrived after us). The property is gorgeous. The only reason we're giving one star is the wonderful service. Our waiter was great. We couldn't believe how acidic our ceviche was. Throw in the fishy, tough grouper and it was inedible. The chaya mousse was described as pate-like but when it came to our table is was dry, crumbly and flavourless. We had planned on ordering two mains but we were already getting warning bells, so we stuck with a steak. How could the kitchen get that wrong. Ordered our steak medium to well. It came medium-rare. I've tasted better frozen french fries. The Chimichurri was forgettable. At this point, we were floored at how bad everything was. Mango sorbet for dessert was awful. It was our worst meal in Mexico. Finally, they must have just fertilized the grounds. It stank of manure...not great when you're eating on the terrace. We can only guess the chef must have been off this night. The only thing we enjoyed was again, the excellent service (our waiter was great), the grounds and the hacienda's cat, named "Netflix".
itchyku - Toronto, Canada
---
This place is 10X MORE beautiful than the pics can show! We didn't know about it until we arrived in Merida but it was all booked! We did drive out to have lunch and were so impressed with everything! We walked the grounds and had a tremendous lunch! Please book ASAP if you have any interest in the Merida area, it's not that far from town and so well worth it! The nearby surroundings will make you skeptical until you walk thru their doors! ❌❤️❌❤️
SoTxAdventurers - Mcallen Texas
---
Hacienda Xcanatun was remanded to us by a local friend. It is just north of the town( 150 pesos by taxi) and is an old converted hennequin factory. The owner's old house now houses the best 4 suites ( around US$ 500 a night). They are large an elegantly traditional. The grounds are tropical, have 2 delightful pools in the gardens, an excellent spa for massage( my wife went) . The hacienda also stages occasional cultural/musical events. One night there was a tango evening in the old chapel! The restaurant and bar are excellent, as are all the staff. Good varied choices of food, local and international.The best is sitting on the covered terrace in the gardens.Very romantic. Highly recommended as the best place to stay and eat around Merida!
paulbV6804MW - brampton, Canada
---
Our friends suggested we try out Xcanatun. They've been there before and we were very interested. The hotel is beautiful, an old Hacienda coverted into a luxury hotel and restaurant. We went for lunch and my expectations were surpased with the excellent service and food. I have had great meals in my travels, the Xcanatun would be at the top of the list. The dress code was casual and the cost was well below what I was expecting.
---
Jorge & Christine Buenfil have created an absolute oasis of magnificent perfection from the remains of an 18th century hacienda of the era when sisal "Green Gold" flourished...The hacienda is a short drive out of central Merida and once you arrive it is very difficult to even think about leaving...With two beautiful pools, spectacular tropical landscaping, a delicious restaurant, stunning spa, a staff that continually amazes with their competent warm charm, unique birds singing and endless feasts for the eyes this hacienda is completely unique...If they have a workout room I have no idea where it is and I hope it doesn't exist...The Hacienda Xcanatun is to be enjoyed to it fullest excess of lavish decadence...relax and let your hosts surround you with their cultured good taste...
Surfbarrels - Honolulu, Hawaii
---