Please select your dates to see prices:
---
Delano South Beach in Miami Beach, Florida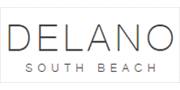 Sleek, urbane, and innovative, Florida's Delano South Beach boasts an ultramodern design and enviable oceanfront locale. Setting out to create an experience, unmatched in luxury, service, and amenities, the esteemed Morgans Hotel Group designed an exceptional hotel that blurs the lines between trendy and traditional, classic and contemporary. Boasting the first of its kind indoor/outdoor lobby, Delano South Beach offers guests the elegance of a refined ambiance with the chic South Beach atmosphere. Embrace the white-on-white design of Philippe Starck interiors in expertly appointed accommodations, accented by the rich textures of premium bedding, and the cool touch of marble. When it comes to amenities, think futuristic: high-definition televisions, complimentary wireless Internet access, and an iPad in every room. The fitness center—open 24 hours a day—is available when you are, as are personal trainers and yoga instructors. Whatever your pleasure, it is clear from the start that Delano South Beach is one-of-a-kind.
Seeking an oasis of calm and tranquility after a long day exploring South Beach? Take to the plush sofas and chairs in the hotel's deluxe Media Room, where guests can read, play games, or watch movies on the colossal 85-inch screen. Or indulge in a sumptuous spa treatment at Club Essentia—the premier destination for luxury spa treatments and groundbreaking anti-aging procedures located in the hotel's spacious Penthouse. Lounge beneath the shade of the oversized poolside umbrellas as delightful small bites are served courtesy of the Delano Beach Club, or retreat to Umi Sushi & Sake Bar for a dining experience that is slightly more traditional, but miles from typical. Old Hollywood has nothing on Whiskey Wednesdays/Speakeasy Nights at Rose Bar, a Prohibition-era inspired bar that is both alluring and enchanting, but do not forget the password, or risk missing the fun. During nights not steeped in the Roaring '20s guests may intensify the night at FDR at Delano, a newly constructed nightclub where the music and the clientele are stylish and sophisticated, like every other aspect of Delano South Beach.
Location of Delano South Beach
Delano South Beach
1685 Collins Avenue
33139
Miami Beach, Florida
Nearest Airport: MIA
Amenities for Delano South Beach
General Information
195 Guest Rooms
Handicap Accessible Rooms
Dining
Poolside Dining
Outdoor Dining
3 Restaurants
Pool Bar
24-Hour Room Service
3 Bars
Sushi Bar
On-Site Amenities
Concierge
Spa on Property
Laundry Service
Solarium
Wellness Center
Terrace
Valet Parking
Art Collection
Personal Trainers
Beach Club
Pool Cabanas
In-Room Spa Services
24-Hour Fitness Center
Complimentary WiFi
In-Room Amenities
Flat-Screen Televisions
Luxury Linens
Luxury Bath Amenities
Rain Showers
Work Desks
iPads
Complimentary WiFi
Activities
Bicycling
Yoga
Sightseeing
Water Sports Programs
Nearby
Historic Sites
Shopping
Zoo
Art Galleries
Museums
Restaurants
Golf
Nightlife
Beaches
Parks
Shopping Mall
Theatres
Public Transportation
Monuments
Amusement Parks
National Park
Market
Convention Center
Colleges/Universities
Interests
Beach
City
Spring Getaways
Summer Getaways
Reviews for Delano South Beach
---
My husband and I stayed here for a night and we loved it! The rooms were spacious and beautiful. The staff was extremely kind and the food was good too...we ordered grilled cheese late night from room service and it was delicious. We went out in the back for drinks and that was a really great time! It was also a short walk to the mall! We would definitely stay there again next time we are in Miami
---
If you don't purchase vip your privileges will be stripped away slowly throughout the day! For starters you made everyone wait to get in and then charged everyone with a before 3pm ticket extra Because you couldn't get your crap together and let people in on time. Second there's 1 bathroom for EVERYONE TO SHARE ... and after about 5pm it turns into VIP ONLY leaving you waiting in line to walk down the beach (off property) to use a public port o potty making you miss 3/4 of the music set going on. Then you have the food and drinks that are SO OVERPRICED (sandwiches served with no side for $26 MOT TO MENTION 15$ bottle or water!!) makes you want to die of hunger and thirst before purchasing something with extra 20% gratuity added on from a snobby bartender/pool staff who makes you wait FOREVER and then gives you attitude like you are scum! Again unless you are vip you literally HAVE NO WHERE TO SIT or put your belongings down and if you do the rude staff rushes over and throws it right off without a care in the world about what's inside. If you're going to host a party and sell GA tickets at least treat everybody equally OR DONT SELL THEM AT ALL! I would never recommend this place to anyone ever! Unless you like being treated like crap.
dandj8891 - West Palm Beach, Florida
---
I called today to book a room for tomorrow (memorial day weekend) because my husbands and I's original plan was ruined due to this tropical storm coming in. When I called for reservations, Gerson was the person to help me. He was absolutely fantastic!!! He listened to my story and did everything he could to make sure everything was booked to my liking. Not only did he find me an amazing rate, he told me his personal story of staying at the hotel, which is what sold me! Thanks Gerson, I will forever stay at the Delano because of your customer service!
SJ L - Boca Raton, Florida
---
This is a really gorgeous place. Not only a hotel, but inside there is a phenomenal Sushi restaurant, a dance area with a DJ, tons of really posh seating, as well as a pool & yet another bar beyond the pool ... Its a huge place & tons to see & do. Amazing service. Beautiful views. Tons of funky furniture all over the place to get photo ops too. 5 stars from me
Amy T - East Grand Rapids, Michigan
---
I want to say and mention names from the staff down from the pool, Nelson, Roberto to the mixologist at the bar Alejandro plus the friendly staff who greeted us and made us feel at home. The live music was awesomeness and I would always stay there on all my trips to Miami. Thank Jean Claude for fixing our broken luggage from our flight. This place is classy hip and you just need to be prepared for a great time where ever you roam.
---