Please select your dates to see prices:
---
Delano South Beach in Miami Beach, Florida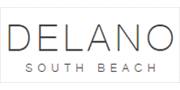 Sleek, urbane, and innovative, Florida's Delano South Beach boasts an ultramodern design and enviable oceanfront locale. Setting out to create an experience, unmatched in luxury, service, and amenities, the esteemed Morgans Hotel Group designed an exceptional hotel that blurs the lines between trendy and traditional, classic and contemporary. Boasting the first of its kind indoor/outdoor lobby, Delano South Beach offers guests the elegance of a refined ambiance with the chic South Beach atmosphere. Embrace the white-on-white design of Philippe Starck interiors in expertly appointed accommodations, accented by the rich textures of premium bedding, and the cool touch of marble. When it comes to amenities, think futuristic: high-definition televisions, complimentary wireless Internet access, and an iPad in every room. The fitness center—open 24 hours a day—is available when you are, as are personal trainers and yoga instructors. Whatever your pleasure, it is clear from the start that Delano South Beach is one-of-a-kind.
Seeking an oasis of calm and tranquility after a long day exploring South Beach? Take to the plush sofas and chairs in the hotel's deluxe Media Room, where guests can read, play games, or watch movies on the colossal 85-inch screen. Or indulge in a sumptuous spa treatment at Club Essentia—the premier destination for luxury spa treatments and groundbreaking anti-aging procedures located in the hotel's spacious Penthouse. Lounge beneath the shade of the oversized poolside umbrellas as delightful small bites are served courtesy of the Delano Beach Club, or retreat to Umi Sushi & Sake Bar for a dining experience that is slightly more traditional, but miles from typical. Old Hollywood has nothing on Whiskey Wednesdays/Speakeasy Nights at Rose Bar, a Prohibition-era inspired bar that is both alluring and enchanting, but do not forget the password, or risk missing the fun. During nights not steeped in the Roaring '20s guests may intensify the night at FDR at Delano, a newly constructed nightclub where the music and the clientele are stylish and sophisticated, like every other aspect of Delano South Beach.
Location of Delano South Beach
Delano South Beach
1685 Collins Avenue
33139
Miami Beach, Florida
Nearest Airport: MIA
Amenities for Delano South Beach
General Information
195 Guest Rooms
Handicap Accessible Rooms
Dining
Poolside Dining
Outdoor Dining
3 Restaurants
Pool Bar
24-Hour Room Service
3 Bars
Sushi Bar
On-Site Amenities
Concierge
Spa on Property
Laundry Service
Solarium
Wellness Center
Terrace
Valet Parking
Art Collection
Personal Trainers
Beach Club
Pool Cabanas
In-Room Spa Services
24-Hour Fitness Center
Complimentary WiFi
In-Room Amenities
Flat-Screen Televisions
Luxury Linens
Luxury Bath Amenities
Rain Showers
Work Desks
iPads
Complimentary WiFi
Activities
Bicycling
Yoga
Sightseeing
Water Sports Programs
Nearby
Historic Sites
Shopping
Zoo
Art Galleries
Museums
Restaurants
Golf
Nightlife
Beaches
Parks
Shopping Mall
Theatres
Public Transportation
Monuments
Amusement Parks
National Park
Market
Convention Center
Colleges/Universities
Interests
Beach
City
Spring Getaways
Summer Getaways
Reviews for Delano South Beach
---
Checked in for Spring Break 2018; only to learn the pool was closed and once we made our way to the beach a very rude beach attendant (young woman) threw a few towels ont beach chairs and walked away saying sorry; so chair covers available,and never returned. A pre printed letter in our hotel room offered complimentary spa; beach chairs and spa amenities due to inconvenience of pool closure; we received none of this; only horrible beach attitude for young woman referenced above. Went to sushi bar in lobby for dinner and spent over an hour waiting for the kitchen to get the entire order out due to the confusion between wait staff and chef. If you are in the 21-25 year old age group and can tolerate subpar service and want to enjoy a mediocre time in Miami Beach, this is the place for you!
cassiep203 - Princeton, New Jersey
---
The Delano Hotel is a very nice hotel in South Beach.The rooms are nice but a little small. What does make the hotel exceptional is the the wonderful staff. The bell staff,the reception staff and concierge go out of their way to make your stay at the hotel top notch.When you go to the pool and pool bar - restaurant the people working are as good as any hotel in the world.The pool staff of Roberto,Henry and Julian are the best. The bar staff of Nina,Jara,Rebecca and Jeromy create the best pool bar atmosphere and service of any pool bar we have been to "and that is quite a few". The wait staff is just as sensational Julie,Katie and Sophia just to name a few. The Delano is a place we will return to because of the staff and atmosphere.
flanigan15 - New York City, New York
---
Went to Delano for a business meeting. I'm glad it wasn't there with my kids. March is spring break season, so it's a little crazy. Rooms are all white, so also not very good for kids. I would definitely come back with my husband though. Would be nice to hang out and relax and go to the bar. Restaurant and food was good. Drinks are expensive, but everything in Miami is expensive.
---
Carlos and Reggie were so helpful and amazing! We were guests at the SLS but due to two pool parties and limited beach service we went over to the Delano side. They both were attentive and helped us with all of our news. They went above and beyond. Thank you for making what was NOT a great experience into an enjoyable one.
juliekay2015 - Bridgeport, Connecticut
---
Caveat: I am writing this review while sitting in my bed at the Delano under all of the covers, because the hotel has no heat and my room is 56 degrees. Upon arriving at the Delano this afternoon, the stay could not have gotten off more on the wrong foot. I booked two partial view ocean rooms at the Delano with a few girl friends for a long weekend. I waited over 15 minutes to check-in while the front desk attendant dealt with someone over the phone (I was standing directly in front of her). She did not acknowledge me or try to waive a colleague to help with check-in. Upon checking us in, she promised the rooms were next to each other - alas, they are not, but down the hall...small to some, but pretty annoying and makes it apparent she does not know her property. We asked that a small fridge be sent up as a friend has temperature sensitive medicine (it was sitting on ice in the interim) - she promised it would... After getting into the room (the chocolate & macaron tray was a nice touch), there were holes in the duvet cover and stains all over the white bed skirts. It barely looks like the room had been cleaned. The thermostat read 56, but was set to 75, I figured this must be a mistake, so hiked it up then went out on a walk and grabbed dinner. After returning at 10pm, there still was no fridge in the room and the room was even colder. Upon calling the front desk, it turns out the hotel does not have heat. Something this is baffling in this day and age. While Miami is usually warm, it does have cold snaps, so this baffles me even more. They sent up a space heater and then asked if we still needed that mini-fridge...as they hadn't gotten around to it yet. How is asking for something for a medical reason not a priority? Moreover, as I sit in this bed, I can feel every spring in the twin mattress (b/c, let's be honest, they're lying, this is not a double bed) pierce into my body. I am still stunned that I paying any amount of money to be treated this way. Is this what they pass off for hospitality these days? If so, I doubt the Delano will be here to ring in 2019. While I have 2 more nights in this dump, I am only wishing that I could be refunded for this stay, because the chances of it getting better after the hole they've dug themselves into are slim-to-none.
SuzzyG24 - Chicago, Illinois
---