Please select your dates to see prices:
---
Delano South Beach in Miami Beach, Florida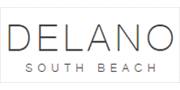 Sleek, urbane, and innovative, Florida's Delano South Beach boasts an ultramodern design and enviable oceanfront locale. Setting out to create an experience, unmatched in luxury, service, and amenities, the esteemed Morgans Hotel Group designed an exceptional hotel that blurs the lines between trendy and traditional, classic and contemporary. Boasting the first of its kind indoor/outdoor lobby, Delano South Beach offers guests the elegance of a refined ambiance with the chic South Beach atmosphere. Embrace the white-on-white design of Philippe Starck interiors in expertly appointed accommodations, accented by the rich textures of premium bedding, and the cool touch of marble. When it comes to amenities, think futuristic: high-definition televisions, complimentary wireless Internet access, and an iPad in every room. The fitness center—open 24 hours a day—is available when you are, as are personal trainers and yoga instructors. Whatever your pleasure, it is clear from the start that Delano South Beach is one-of-a-kind.
Seeking an oasis of calm and tranquility after a long day exploring South Beach? Take to the plush sofas and chairs in the hotel's deluxe Media Room, where guests can read, play games, or watch movies on the colossal 85-inch screen. Or indulge in a sumptuous spa treatment at Club Essentia—the premier destination for luxury spa treatments and groundbreaking anti-aging procedures located in the hotel's spacious Penthouse. Lounge beneath the shade of the oversized poolside umbrellas as delightful small bites are served courtesy of the Delano Beach Club, or retreat to Umi Sushi & Sake Bar for a dining experience that is slightly more traditional, but miles from typical. Old Hollywood has nothing on Whiskey Wednesdays/Speakeasy Nights at Rose Bar, a Prohibition-era inspired bar that is both alluring and enchanting, but do not forget the password, or risk missing the fun. During nights not steeped in the Roaring '20s guests may intensify the night at FDR at Delano, a newly constructed nightclub where the music and the clientele are stylish and sophisticated, like every other aspect of Delano South Beach.
Location of Delano South Beach
Delano South Beach
1685 Collins Avenue
33139
Miami Beach, Florida
Nearest Airport: MIA
Amenities for Delano South Beach
General Information
195 Guest Rooms
Handicap Accessible Rooms
Dining
Poolside Dining
Outdoor Dining
3 Restaurants
Pool Bar
24-Hour Room Service
3 Bars
Sushi Bar
On-Site Amenities
Concierge
Spa on Property
Laundry Service
Solarium
Wellness Center
Terrace
Valet Parking
Art Collection
Personal Trainers
Beach Club
Pool Cabanas
In-Room Spa Services
24-Hour Fitness Center
Complimentary WiFi
In-Room Amenities
Flat-Screen Televisions
Luxury Linens
Luxury Bath Amenities
Rain Showers
Work Desks
iPads
Complimentary WiFi
Activities
Bicycling
Yoga
Sightseeing
Water Sports Programs
Nearby
Historic Sites
Shopping
Zoo
Art Galleries
Museums
Restaurants
Golf
Nightlife
Beaches
Parks
Shopping Mall
Theatres
Public Transportation
Monuments
Amusement Parks
National Park
Market
Convention Center
Colleges/Universities
Interests
Beach
City
Spring Getaways
Summer Getaways
Reviews for Delano South Beach
---
Called at 10:15am on Saturday as my wife and friends were having brunch. I wanted to send a bottle of champagne to help celebrate the day. The manager said I needed a credit card authorization form in order to complete the transaction, I'm still waiting for the authorization form to be emailed, my wife is long gone. Poor service and I was going to order a $300+ bottle.
---
Tired and beat up. Needs some TLC. First 2 rooms I checked into we're unsatisfactory. One moldy and the second was filled with cigarette smoke smell. Hotel entry carpet and hall rugs were stained and ripped. Grates in elevators haven't been cleaned in ages (gross) Water spilled from sink on bathroom floor, used towel to wipe up and it was covered with filth. Doormen barely acknowledged guests coming and going. Pool atmosphere and service was excellent.
Fancynaia - Boston, Massachusetts
---
I'm staying here right now with my family. It's pouring outside and still they insist on blasting club music all day and all night. I asked them to turn it off, and they simply said "we play music every night until 1am." Every. Single. Night. My family is staying in 4 different rooms and every one of them sounds like a rave. My baby can't sleep. It's miserable. So if you want to feel like you're inside a bassy house music club for 11 hours every day of the week, this is the spot for you!
jweissbe - Brooklyn, New York
---
i love the Delano. every time i go to Miami i stop by to check out its décor and cool features its become a timeless classic feature on this part of the south beach strip (its been open in this style for over 20 years now) this is the first time i actually stayed, as it is super pricey, but i wanted to scratch that itch. the rooms are special. all white, as you probably know - but with funky aspects .. awesome mini bar design and other cool deco features, all in white. the sheets and bedlinen also super luxuriously soft - that bathrooms lux marble and white .. lovely the staff are super helpful, friendly, prompt and not tip needy- i have read that they are arrogant and off ... but that was SO not my experience .. they couldn't have been lovelier and i have kids, so i often excuse off behaviour as kids can be an annoyance .. here, they were welcomed and so were we. the food is very good, but exceptionally highly priced .. so a total treat to eat at their sushi bar, Umi, but dont go crazy as its twice the price of anywhere else in Miami!! breakfast is also delicious, generous and excellent quality - again twice the price of anywhere else We were travelling with kids, we booked a suite which was billed for 4 adults, the pull out bed was not comfortable and my kids were pretty tollerant, however when i snuggled in with them one night to watch a movie, i was shocked at how uncomfortable it was and its billed as a 4 adults sleeping suite - no adult would put up with that level of discomfort at that price - if i came again i would definilty opt for two rooms. the pool and the beach are fantastic. most the pools along that stip are so narrow and most of the time in shadow, the delano pool is nearly always in full sunshine and it a lovely pool to hang out in - the beach beds were also super comfortable i felt super spoilt coming to the delano - would i come again ?? i would but there are also other fanatastic hotels on this strip i would like to try ..
cathontheroadagain - lonon
---
Just stayed at the Delano. Good looking hotel. Staff was friendly at check-in. Room was a nice size and nicely decorated. Great pool! As someone else mentioned in a previous review, you do feel like you are getting squeezed for money everywhere you look. You pay a resort fee which is supposed to include beach chairs but you get to the beach and they tell you is doesn't include umbrellas (extra $$$). Staff at the beach hut wasn't very friendly and i had to ask 3 times to get a server to take our $50 drink order (2 drinks plus tip). If you are going to charge those priced you better provide amazing service to go with it. I Wanted coffee in the morning and there is no coffee available til 7am. Then they change you $7 for a cup of coffee. There are lots of places to stay in South Beach and I think the Delano is resting on their reputation and no trying very hard. There is definitely room for improvement.
salacata - Westport, Connecticut
---