Please select your dates to see prices:
---
The Palms Hotel & Spa in Miami Beach, Florida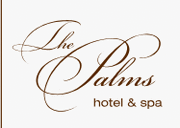 Move to the beat of conga sounds and gentle waves in South Beach, as you sip on a supremely mixed cocktail on the sweeping veranda's of The Palms Hotel & Spa – part of the Lifestyle collection of Preferred Hotels & Resorts. Escape to a beach front location, bronzing on a turquoise recliner, taking in the sun and ocean sounds. Surrounded by endless beaches and overflowing with luxury amenities, this tropical paradise offers a post card perfect spot to indulge,relax, and play. Attention to detail and exceptional service is a staple of this breezy hotel, making you feel at home, with the added benefit of a 24-hour concierge at your beck and call. After a long dinner or night out in Miami, experience a holistic ritual at the AVEDA spa, dedicated to nurturing guests with highly personalized treatments. Whether in need of a simple manicure or body overhaul, an array of massage, skin care, and body healing is available throughout the day.
A commitment to environmentally friendly practices is second nature here. The art of living is inspired by organic cuisine served fresh at Essensia Restaurant. Winner of the 2011 Diners' Choice, seasonal and local ingredients are tasty and unique in all season on the Gold Coast. Head over to the Tiki Bar for casual after dinner libations, feel at ease amongst the swaying palm trees and warm coastal breeze. You can truly have it all at this indulgent resort, feeling fresh and new upon returning home.
Location of The Palms Hotel & Spa
The Palms Hotel & Spa
3025 Collins Avenue
33140
Miami Beach, Florida
Nearest Airport: MIA
Amenities for The Palms Hotel & Spa
Dining
Poolside Dining
Pool Bar
Restaurant
2 Bars
Room Service
Beach Wait Service
Pool Wait Service
On-Site Amenities
Beauty Salon
Spa on Property
Spa Services
Media Room
Laundry Service
Fitness Center
Pool Butler
Gardens
Beach Beds
Beach Club
Lounge
Pool Cabanas
Laundry Facilities
Beach Amenities
Outdoor Pools
In-Room Amenities
Air Conditioning
Bathrobes
Mini Bar
Marble Bathrooms
Luxury Linens
Coffee & Tea Facilities
Luxury Bath Amenities
Activities
Deep Sea Fishing
Excursions
Fishing
Tennis
Scuba Diving
Nature Walks
Boogie Boarding
Boat Excursions
Boating
Business
Business Center/Services
Nearby
Shopping
Restaurants
Beach
Nightlife
Beaches
Parks
Shopping Mall
Public Transportation
Monuments
Nature Reserve
Market
Convention Center
Interests
Active & Adventure
Beach
City
Culture & Arts
Family
Reviews for The Palms Hotel & Spa
---
Angel was an awesome waiter! Very quick and polite! Hope to see him more often! He continuously asked if we needed anything else and offered assistance. He was so nice when my mom didn't enjoy one of the drinks, he immediately got her a different one she enjoyed!
rmh1255 - Pelham, New Hampshire
---
The Palms Hotel & Spa is a wonderful, quiet and relaxing getaway. The staff is all extremely kind and courteous. Even with sub optimal weather, we were still able to enjoy the hotel and all the amenities provided. We particularly enjoyed Angel, whose upbeat and charismatic personality made our days/evenings by the pool and garden all the better. We will be back!
---
We spent 3 nights with my wife. The hotel is nice and well located. The service from the staff is good. There were some issues that make me rate it with a 3 stars. 1) the first night we got a water leak coming off the roof just over the bed. We had to sleep using half the bed. Next morning they couldn't fix it and they changed our room. That implied repacking and unpacking again... Not the best experience. The next day they sent to our room a bottle of wine and some cheese as an apology. Nice gesture but I don't think that is enough for having the bed soaked in the middle of the night. I let the front desk know that my expectation for compensation was higher so that they could figure out what kind of discount the were going to include in my bill next day when I check out. For my surprise when I went to check out I didn't have any kind of discount or compensation, after I told them they found a message in my reservation and gave me a 40% discount on the fare for the night with the problem. Why did I had to ask for it again?? Was 40% off enough for a night with a leak over the bed?? Not sure. I had already warned them I was expecting something more and even with that input they tried to save the compensation just in case I forgot to ask for it again. That was a very bad way to manage a problem in my view. 2) the restaurant got packed during the mornings and we had to wait for a table to have breakfast 3) on weekends they only offer brunch menu at the restaurant which is a "weird" menu for the ones not used to brunch like me 4) the design of the bathroom in both rooms where we stayed was weird. The WC and the shower were in to separate places each with an sliding door and a sink. The WC place offered little privacy Bottom line, not a bad hotel but I will look for a different alternative next time I go to Miami PS: I posted a different review for the SPA which was simply AWESOME
EHM1977 - Santiago, Chile
---
Lovely hotel on beach on Miami Beach. In quiet area and great for families. 20 minute walk along boardwalk to Art Deco area. Pool area and bar/lounge nice and spacious. Nice private area on beach. Poolside food very good and service excellent. Rooms a bit tired but overall very good value for money for Miami Beach
---
This was our first time to Miami, we stayed here for three nights before a cruise. The hotel is nice and clean, lovely pool and beach. Staff very helpful. Loved the eco friendly touches, like the sink to wash your hands collected the water to flush the toilet. We had a lovely day by the pool and pool bar, great cocktails and bar staff work very hard. We did find Miami very expensive to eat out especially with the service charges added.
MMBBBradford - Barnsley, United Kingdom
---