Please select your dates to see prices:
---
The Palms Hotel & Spa in Miami Beach, Florida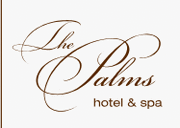 Move to the beat of conga sounds and gentle waves in South Beach, as you sip on a supremely mixed cocktail on the sweeping veranda's of The Palms Hotel & Spa – part of the Lifestyle collection of Preferred Hotels & Resorts. Escape to a beach front location, bronzing on a turquoise recliner, taking in the sun and ocean sounds. Surrounded by endless beaches and overflowing with luxury amenities, this tropical paradise offers a post card perfect spot to indulge,relax, and play. Attention to detail and exceptional service is a staple of this breezy hotel, making you feel at home, with the added benefit of a 24-hour concierge at your beck and call. After a long dinner or night out in Miami, experience a holistic ritual at the AVEDA spa, dedicated to nurturing guests with highly personalized treatments. Whether in need of a simple manicure or body overhaul, an array of massage, skin care, and body healing is available throughout the day.
A commitment to environmentally friendly practices is second nature here. The art of living is inspired by organic cuisine served fresh at Essensia Restaurant. Winner of the 2011 Diners' Choice, seasonal and local ingredients are tasty and unique in all season on the Gold Coast. Head over to the Tiki Bar for casual after dinner libations, feel at ease amongst the swaying palm trees and warm coastal breeze. You can truly have it all at this indulgent resort, feeling fresh and new upon returning home.
Location of The Palms Hotel & Spa
The Palms Hotel & Spa
3025 Collins Avenue
33140
Miami Beach, Florida
Nearest Airport: MIA
Amenities for The Palms Hotel & Spa
Dining
Poolside Dining
Pool Bar
Restaurant
2 Bars
Room Service
Beach Wait Service
Pool Wait Service
On-Site Amenities
Beauty Salon
Spa on Property
Spa Services
Media Room
Laundry Service
Fitness Center
Pool Butler
Gardens
Beach Beds
Beach Club
Lounge
Pool Cabanas
Laundry Facilities
Beach Amenities
Outdoor Pools
In-Room Amenities
Air Conditioning
Bathrobes
Mini Bar
Marble Bathrooms
Luxury Linens
Coffee & Tea Facilities
Luxury Bath Amenities
Activities
Deep Sea Fishing
Excursions
Fishing
Tennis
Scuba Diving
Nature Walks
Boogie Boarding
Boat Excursions
Boating
Business
Business Center/Services
Nearby
Shopping
Restaurants
Beach
Nightlife
Beaches
Parks
Shopping Mall
Public Transportation
Monuments
Nature Reserve
Market
Convention Center
Interests
Active & Adventure
Beach
City
Culture & Arts
Family
Reviews for The Palms Hotel & Spa
---
I just returned from a stay at The Palms with my sister. I am a return guest and The Palms consistently provides exceptional customer service and amenities. This is a boutique hotel property. It is beautiful inside and out and is very tropical and serene with many private and very comfortable seating/lounge areas throughout. I also feel very safe here. We had an oceanfront room with an amazing view with attention to every detail. The Palms is very environmentally friendly too. The Essencia Restaurant is seasonal and all food is prepared to order and fresh - they even have their own vegetable and herb garden. The staff helped me arrange a special brunch on Sunday for some dear friends of mine that was one of the highlights of my trip. The Aveeda Spa is one of the best. If you are looking for casual elegance and a peaceful and relaxing stay, consider The Palms.
RaleighGoldenMom - Raleigh
---
Read the reviews, looked over the website. Had booked at another large Miami Beach landmark hotel, cancelled as we were concerned about the party environment during spring break. At 50+ it is been there done that, and that wasn't the plan for a long weekend trip to visit our daughter in Miami Beach. Looked for a more refined "Zen" like experience. All the nam brand hotels we usually visit were booked (see other reviews for examples). Didn't want to fight for chairs and have someone else's music playing next to me. This is an older facility that just check the boxes, although the staff seems to have the desire to help. So, small pool area with pool furniture that does not look like the website. Chairs in disarray, and certainly no rolled up towels on the lounge chairs. Nice but slooooooooooow staff, definitely not an upscale feel. Went to towel stand and requested four towels. The attendant had one, and that was the end of the conversation. We stood there wondering "now what." My wife, cumulatively frustrated at this point from various similar events, said, so can you get more towels? He walked away not to be seen again. In all fairness, the cost is about half what a more luxurious brand name hotel a little further north might charge. So, it is a "you get what you pay for" trade off. Not our preferred experience but some, perhaps many, will find it acceptable. In the end, I wanted to be able to find a nice lounge chair, lay by a quiet pool, and have attentive service in a relaxed an sophisticated environment, it wasn't meant to be this weekend. Perhaps this weekend was unusual, but my experience points to management that needs to be enlightened, if the intent is to play in an upscale market.
Donald D - Swedesboro, New Jersey
---
We had a great trip. We were there for 5 days. All 5 days we had a cabana. Jesse is the most amazing server. He knows how to make a guest feel as if he was only waiting on the one guest. Jesse was our cabana attendant for 3 days. I wish we could've had him all 5.
---
We have visited Palms Hotel twice in the last five years. It is a lovely hotel, away from the touristy, party zone of South Beach. But within comfortable walking distance if you want to visit. The outdoor dining area is like stepping back in time with a huge wooden veranda and delicious offerings on the menu. Breakfast buffet is lovely and a great value. Located on the beach, with the fabulous boardwalk running beside it. We parked our car and walked along the boardwalk to various museums and restaurants. The staff at Palms are very helpful and professional. We really enjoy this place!!
gardendogmom - Cincinnati, Ohio
---
We loved this hotel! The common areas are quaint and beautiful and the beach spectacular. The food was delicious. We rented a cabana for the day and Jessie, our attendant, made the day. He was so attentive and we never lacked for a drink or a towel. Thank you Jessie. We want to make a stay at this hotel a yearly experience.
---