Please select your dates to see prices:
---
The Palms Hotel & Spa in Miami Beach, Florida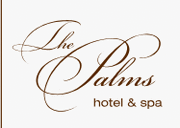 Move to the beat of conga sounds and gentle waves in South Beach, as you sip on a supremely mixed cocktail on the sweeping veranda's of The Palms Hotel & Spa – part of the Lifestyle collection of Preferred Hotels & Resorts. Escape to a beach front location, bronzing on a turquoise recliner, taking in the sun and ocean sounds. Surrounded by endless beaches and overflowing with luxury amenities, this tropical paradise offers a post card perfect spot to indulge,relax, and play. Attention to detail and exceptional service is a staple of this breezy hotel, making you feel at home, with the added benefit of a 24-hour concierge at your beck and call. After a long dinner or night out in Miami, experience a holistic ritual at the AVEDA spa, dedicated to nurturing guests with highly personalized treatments. Whether in need of a simple manicure or body overhaul, an array of massage, skin care, and body healing is available throughout the day.
A commitment to environmentally friendly practices is second nature here. The art of living is inspired by organic cuisine served fresh at Essensia Restaurant. Winner of the 2011 Diners' Choice, seasonal and local ingredients are tasty and unique in all season on the Gold Coast. Head over to the Tiki Bar for casual after dinner libations, feel at ease amongst the swaying palm trees and warm coastal breeze. You can truly have it all at this indulgent resort, feeling fresh and new upon returning home.
Location of The Palms Hotel & Spa
The Palms Hotel & Spa
3025 Collins Avenue
33140
Miami Beach, Florida
Nearest Airport: MIA
Amenities for The Palms Hotel & Spa
Dining
Poolside Dining
Pool Bar
Restaurant
2 Bars
Room Service
Beach Wait Service
Pool Wait Service
On-Site Amenities
Beauty Salon
Spa on Property
Spa Services
Media Room
Laundry Service
Fitness Center
Pool Butler
Gardens
Beach Beds
Beach Club
Lounge
Pool Cabanas
Laundry Facilities
Beach Amenities
Outdoor Pools
In-Room Amenities
Air Conditioning
Bathrobes
Mini Bar
Marble Bathrooms
Luxury Linens
Coffee & Tea Facilities
Luxury Bath Amenities
Activities
Deep Sea Fishing
Excursions
Fishing
Tennis
Scuba Diving
Nature Walks
Boogie Boarding
Boat Excursions
Boating
Business
Business Center/Services
Nearby
Shopping
Restaurants
Beach
Nightlife
Beaches
Parks
Shopping Mall
Public Transportation
Monuments
Nature Reserve
Market
Convention Center
Interests
Active & Adventure
Beach
City
Culture & Arts
Family
Reviews for The Palms Hotel & Spa
---
We were so excited to enjoy a four day getaway, someone recommend this hotel so we booked about two months in advance in an ocean view room. Upon arrival the staff was very friendly, the room was pleasant and of course the view was great. A few issues started right away! To start they only had two elevators of of four working. Mind you two only serviced the floors above 8. We were on 11 so only one elevator to get to our floor. The wait times for an elevator would exceed 10 minutes most of the time and it would stop on every floor even if no one was waiting. After two days of this we finally spoke to an asst. manager who was nice but honestly seems like he could care less by stating "we are updating them, if you like you can take the stairs". Take the stairs?? I paid for a resort hotel with an ocean view room and they want me to take the stairs? Ha. What a joke. This issue would have been a lot less of an issue if we were told upon check in or even better given a call prior to arrival and given the chance to decide if we wanted to keep our reservation. Also was not pleased with the daily running of the beach. First, they don't have enough staff to probably come around and take drink/food orders. You literally have to get up and get someone. Second, at 4pm they start breaking down all the chairs and umbrellas making noise and really ruining the relaxing atmosphere. I'd like to point out the surrounding hotels did not start breaking down the beach stuff till 5:15/5:30. Lastly I'd like to add that they played no music around the pool area at anytime. While walking the board walk We noticed lots of other hotels had some kind of music playing which would have been enjoyable. After this experience, especially the comment from management I do not recommend this hotel nor will I ever stay here again on our yearly vacations to Miami.
npls2005 - Houston, Texas
---
The staff seems to enjoy making the guests happy. We were lucky enough to have Angel serve us on the beach today. Every time he stopped by, he was very pleasant and smiling. Thanks for making our beach day so nice, Angel!
TheBonks - Hockessin, Delaware
---
Angel at the beach was beyond attentive and such a pleasure to talk to! Very hospitable! Always checked in to be sure we were satisfied. The hotel is beautiful and very well maintained! We will be back for sure!
mmallone - Trumbull, Connecticut
---
I'm writing about our stay at your hotel. I did a lot of research since we wanted to do something other than RIU. I read lots of reviews to pick the right hotel for me and my husband. We paid for ocean view and we were places at room 502 where most you see is pool at RIU and some palm trees. I've stayed at RIU and I know how the pool looks at that hotel so this was waste of our money to have such bad view for the money we paid. We asked to be moved higher and we were told that there are no rooms available maybe in 2 days if something will open up for us. I got to our room on Saturday after breakfast and there was voice mail left saying that something might open up. At this point I was too frustrated with the elevators. I had no idea that half of your elevators aren't working. Guests and staff share the same elevators making it impassible to deal with. Wait time anywhere from 15-30 min to get from 5th floor to the lobby. Elevator does whatever it wants it goes from 5th to 9th to 4th to 8th floor. We found another elevator Which was on the other side of our room but it was even worse.. because of the weddings going on in that hotel wing. They offered us free breakfast because of this really bad experience. It just didn't make any sense to me since wed to Monday second elevator wasn't serviced. I don't think it ever will, it seems like you guys don't care about this issue that this creates and all the frustrations people swearing getting mad. Hotel that has 12 floors and not willing to fix additional elevators ? Awful . You know how many people I meet at the elevators waiting just like us complaining swearing and telling us they will never stay at your hotel? Shame on the management for not taking care of this... this is horrible for almost 3k and I had to deal with all this frustrations this was supposed to be relaxing vacation time.
Sam N - Chicago, Illinois
---
Last night at the palms and I have nothing bad to say about the hotel. Everyone is nice form the towel guys, waiters, valet, receptionist housekeeping and all. I din't get everyone's names but I Thank you all for making sure your guests feel at home. The hotel is beautiful. Angel at the beach thank you for being kind and efficient. Max at concierge thanks for always willing to help when you can and for the smile. We are having an amazing time here.
jayen80 - Kansas City, Kansas
---