Please select your dates to see prices:
---
The Palms Hotel & Spa in Miami Beach, Florida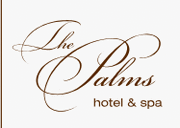 Move to the beat of conga sounds and gentle waves in South Beach, as you sip on a supremely mixed cocktail on the sweeping veranda's of The Palms Hotel & Spa – part of the Lifestyle collection of Preferred Hotels & Resorts. Escape to a beach front location, bronzing on a turquoise recliner, taking in the sun and ocean sounds. Surrounded by endless beaches and overflowing with luxury amenities, this tropical paradise offers a post card perfect spot to indulge,relax, and play. Attention to detail and exceptional service is a staple of this breezy hotel, making you feel at home, with the added benefit of a 24-hour concierge at your beck and call. After a long dinner or night out in Miami, experience a holistic ritual at the AVEDA spa, dedicated to nurturing guests with highly personalized treatments. Whether in need of a simple manicure or body overhaul, an array of massage, skin care, and body healing is available throughout the day.
A commitment to environmentally friendly practices is second nature here. The art of living is inspired by organic cuisine served fresh at Essensia Restaurant. Winner of the 2011 Diners' Choice, seasonal and local ingredients are tasty and unique in all season on the Gold Coast. Head over to the Tiki Bar for casual after dinner libations, feel at ease amongst the swaying palm trees and warm coastal breeze. You can truly have it all at this indulgent resort, feeling fresh and new upon returning home.
Location of The Palms Hotel & Spa
The Palms Hotel & Spa
3025 Collins Avenue
33140
Miami Beach, Florida
Nearest Airport: MIA
Amenities for The Palms Hotel & Spa
Dining
Poolside Dining
Pool Bar
Restaurant
2 Bars
Room Service
Beach Wait Service
Pool Wait Service
On-Site Amenities
Beauty Salon
Spa on Property
Spa Services
Media Room
Laundry Service
Fitness Center
Pool Butler
Gardens
Beach Beds
Beach Club
Lounge
Pool Cabanas
Laundry Facilities
Beach Amenities
Outdoor Pools
In-Room Amenities
Air Conditioning
Bathrobes
Mini Bar
Marble Bathrooms
Luxury Linens
Coffee & Tea Facilities
Luxury Bath Amenities
Activities
Deep Sea Fishing
Excursions
Fishing
Tennis
Scuba Diving
Nature Walks
Boogie Boarding
Boat Excursions
Boating
Business
Business Center/Services
Nearby
Shopping
Restaurants
Beach
Nightlife
Beaches
Parks
Shopping Mall
Public Transportation
Monuments
Nature Reserve
Market
Convention Center
Interests
Active & Adventure
Beach
City
Culture & Arts
Family
Reviews for The Palms Hotel & Spa
---
Last night at the palms and I have nothing bad to say about the hotel. Everyone is nice form the towel guys, waiters, valet, receptionist housekeeping and all. I din't get everyone's names but I Thank you all for making sure your guests feel at home. The hotel is beautiful. Angel at the beach thank you for being kind and efficient. Max at concierge thanks for always willing to help when you can and for the smile. We are having an amazing time here.
jayen80 - Kansas City, Kansas
---
I meet my Boston buddies once a year in Miami for a guys weekend and for the last two years we've made our visit to this spa one of the highlights. Passing on the place near where we stay as The Palms spa seems to have it all, including a great ambience, an excellent staff, and attention to all of the details that make it stand out from the others. Yvan, who cuts and styles hair, is a real pro and takes great care of us. The massage therapists we've had are highly skilled and take the time to ensure that everything is dialed in. Not easy to find a great deep-tissue massage in my experience, but here my masseuse knew what she was doing. Awesome! The woman who manages the spa, Halle (sp?) took the time to ensure that we had everything that we needed and were happy with our treatments. She went the extra mile for us and is one of the reasons we'll return when back to Miami next time. At this place we feel nurtured and revived, just what we needed...
MrBilly-Johnson - San Francisco, California
---
First of all, the Palms is a beautiful property. Everyone I encountered there was pleasant and friendly. By Miami standards, the rooms were a decent size (although laid out strangely). There were two main issues during my stay, however, that would make me hesitate to book again. #1- Beach service. While I had no trouble finding someone to set up my chairs and umbrella, I would have died of thirst waiting for someone to come by to take my order. I think the hotel is to blame; I did see one young man working very hard in the Miami heat, but he obviously needed help. Never in the 2.5 hours that I was there on the beach was I ever asked if I needed anything. The beach service was a primary reason for selecting this hotel. I found it subpar, to say the least. #2- Elevators. There was one working elevator off the main lobby and it took a very long time to get anywhere, as it seemed to stop on every floor for no reason.On my last day at the hotel, a sign went up, alerting guests that there was another bank of elevators available. I suspect, thought, that the sign only went up because of the large number of wedding guests who had just arrived. I wasted a lot of time either waiting for the elevator to arrive or going up and down four flights of stairs. As the elevator issue was mentioned in reviews quite a while ago, I was very surprised it hadn't been immediately addressed.
rhodytraveler10 - Rhode Island
---
Angel at The Palms was amazing today on the beach. He was very attentive and did a great job making sure me and my friends were taken care of. He was very friendly and took good care of us today!!! Thanks Angel!!!
---
What an amazing hotel! Magnificent grounds, beautiful pool and beach, and exemplary service! Angel took such good care of us! He was so attentive to our group. Went out of his way to attend to us! Highly recommend!
courtneywurth - Devon, Pennsylvania
---