Please select your dates to see prices:
---
SLS Hotel South Beach in Miami Beach, Florida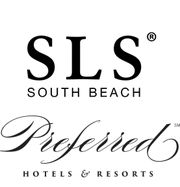 Collins Avenue newcomer SLS Hotel South Beach tops Miami's "It List" for its celeb-studded restaurants and nightlife, the two elements that define the SLS brand. José Andres makes his Miami debut with The Bazaar, and acclaimed sushi chef Katsua Uechi brings a second high-profile restaurant to the mix. Cabanas at the beachfront club Hyde Beach are almost as sultry as the rooms – designer Philippe Starck modeled them like a modern-day boudoir of Louis XV's mistress, with French furniture and mirrored ceilings.
The Atlantic Ocean glitters right out your window, but you might have a tough time deciding whether to leave your sumptuous room. Order room service with champagne for breakfast. Don a Valentino swimsuit and saunter through the halls of this former Art Deco palace. Claim a poolside lounge chair and order a Burning Mango cocktail made with Grey Goose L'Orange vodka, Serrano pepper and mango juice.
Location of SLS Hotel South Beach
SLS Hotel South Beach
1701 Collins Avenue
33139
Miami Beach, Florida
Nearest Airport: PBI
Amenities for SLS Hotel South Beach
General Information
140 Rooms and Suites
On-Site Amenities
Beauty Salon
WiFi
Valet Parking
Outdoor Pool
Lounge
In-Room Amenities
Flat-Screen Televisions
Nearby
Shopping
Art Galleries
Museums
Restaurants
Golf
Nightlife
Beaches
Shopping Mall
Theatres
Monuments
Interests
Cool Pools
Spring Getaways
Reviews for SLS Hotel South Beach
---
It was coming up on my bday weekend and my sister insisted that we stay a night out on the beach. I like the location of this hotel being it is on the quieter end of the beach. The beach area was nice and the lounge chairs were spacious. Drinks are ridiculously over priced (2 drinks were $53) and of course my sister is not use to Miami prices but I myself thought that was just ridiculous, reason for loss of star rating. A server at Katsu by the name of Sam blew my sister and self away with his service! I hate service in Miami and was warning my sister to have patience with the Miamians lol. Sam's service was BEYOND impeccable and was not of Miami at all! I truly appreciated his attentiveness and great service. I was dissatisfied with a dish I ordered, but I didn't complain, just sat it to the side and was going to take one for the team and just pay for it. He saw I barely took 3 bites and apologized for something he didn't do lol. He asked to replace my meal and I was adamant at first but he insisted. Just amazing service from Sam! The food there is good and my sister was really happy with it and especially the drinks. Bday dessert was different, but VERY yummy for me. We did have a problem with our reservation for this restaurant for the person I spoke to a few days before did not place it in. Robert and Mary gladly took care of it for us and apologized for the mishap. Hannah and Angie were of great service at the concierge desk! Giving us all the info, taking care of or bags and even giving complimentary bday drink cards. The rooms are a tad bit too small for me, but it will do for those that are not spending anytime in the room. The hotel seems to have clean premises and the staff are truly helpful and not rude, something I am not use to here in Miami lol. I would actually use this resort to recommend to my clients if staying in Miami.
TeeOli - Miami Beach, Florida
---
I'll start by saying that SLS was one of the most fun hotels we have stayed in. We usually travel to Miami in February from Pennsylvania. We have stayed in a few hotels on Collins avenue and SLS was the latest. The hotel staff weee all very nice and the hotel itself is very clean. We decided not to splurge on our room and got the base room. While the hotel itself is very nice, the room we stayed in was one of the most smallest rooms we have ever stayed in. Pictures were misleading and room was Very very tight. While we didn't spend much time in our room, it definitely was kind of a shocker to see such a small room. The pool area was great and relaxing, food and drinks were pretty good and we dined at the 4 different restaurants the hotel offers. While we never ventured to the pool parties at Hyde, we very much enjoyed people watching from the pool area and listening to the music. Just wasn't my fiancé's ttpe Of sceane (pool party). I would definetly recommend this hotel for the price and location, but be weary of the room sizeS. It is legeit no joke in how small the standard rooms are. Hotel was close to almost everything and all the staff treated us nicely and made our stay very nice. Would def stay here again but possibly pay more for a bigger room. Prices for drinks and food were par to all south beach hotel prices. I've stayed next door (at Delano) before and it's a bargain compared to the prices you may pay at the Delano for a room.
Mayra Elizabeth V - Miami
---
I cannot stress how much fun we had at this hotel!! The hotel accommodations were impeccable but even more outstanding was the exceptional customer service from the staff there. We are seasoned travelers and this hotel by far had the friendliest and customer service oriented staff I know . Special recognition needs to go to the front desk managers Raymond Lindo and Darian Esmoriz who always greeted us with a smile , openly offered information on all the extra services available and fun things to do !! Their can-do attitude and "how can I help you" always shine through. we used the car service at their suggestion which was wonderful . We had breakfast every morning and the staff always had a smile too. Boba the foods and beverages manager greeted us with a big hello for breakfast and lunch. His dedication and commitment in making sure everything was ok was impressive . The pastries, hamburgers, croquet , pitchers of margaritas were excellent. Giovanni Funez was our waiter for lunch. He was so accommodating and they even provided a champagne toast for us to celebrate graduation. it's a great place for any age. A must place to stay
susyp2010 - Washington DC, District of Columbia
---
As usual the SLS continues to impress me, I stayed in a couple other SLS's specially in Beverly Hills but in south beach the atmosphere was totally different, from check in to check out Angie assisted with every detail ! Making our weekend memorable. Room upgrade on arrival, I check in the Villa 9, totally worth it when my concierge at Amex book true the Hotel Collection. Staff is very friendly, from front to pool to beach.... not talking about the Bazaar, that amazing restaurant will get a separate review... I totally recommend this hotel for a calm stay (except Sunday when the party is on) ! Clean, luxurious, worth my time and every dollar. Thank you SLS South Beach !
---
I travel about 150 nights per year and stay at many top hotels around the world. In an area of town (South Beach) where service-oriented individuals and staff are tough to come by, the SLS has managed to amass an incredible team. Under the leadership and management of Simon, the staff was very responsive, considerate, and friendly. The many examples of the great service by the staff is too long to post, but each time I stay at this hotel I feel like I am their only guest. The hotel is certainly beautiful with great attention to design and ambiance, but the commitment by the management and staff to the guests is exceptional. Too often people are quick to complain, but slow to praise; so this time I decided to post this review to make sure people know that the SLS South Beach is not just a great hotel, but a amazing experience every time. Thank you Simon and staff for an amazing stay at your hotel. - Hooman
HFakki - Los Angeles, California
---