Please select your dates to see prices:
---
SLS Hotel South Beach in Miami Beach, Florida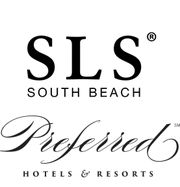 Collins Avenue newcomer SLS Hotel South Beach tops Miami's "It List" for its celeb-studded restaurants and nightlife, the two elements that define the SLS brand. José Andres makes his Miami debut with The Bazaar, and acclaimed sushi chef Katsua Uechi brings a second high-profile restaurant to the mix. Cabanas at the beachfront club Hyde Beach are almost as sultry as the rooms – designer Philippe Starck modeled them like a modern-day boudoir of Louis XV's mistress, with French furniture and mirrored ceilings.
The Atlantic Ocean glitters right out your window, but you might have a tough time deciding whether to leave your sumptuous room. Order room service with champagne for breakfast. Don a Valentino swimsuit and saunter through the halls of this former Art Deco palace. Claim a poolside lounge chair and order a Burning Mango cocktail made with Grey Goose L'Orange vodka, Serrano pepper and mango juice.
Location of SLS Hotel South Beach
SLS Hotel South Beach
1701 Collins Avenue
33139
Miami Beach, Florida
Nearest Airport: PBI
Amenities for SLS Hotel South Beach
General Information
140 Rooms and Suites
On-Site Amenities
Beauty Salon
WiFi
Valet Parking
Outdoor Pool
Lounge
In-Room Amenities
Flat-Screen Televisions
Nearby
Shopping
Art Galleries
Museums
Restaurants
Golf
Nightlife
Beaches
Shopping Mall
Theatres
Monuments
Interests
Cool Pools
Spring Getaways
Reviews for SLS Hotel South Beach
---
Terrible experience - was meant to stay for 5 nights ended up in 1 night as we disliked it so much . Rooms are TINY ( not even space to walk ) with Terrible views and NO BALCONIES . Pool on the weekend is only available for 21+ which did not work out for us as we are a family with teenagers / children - we could not even enjoy the pool in such weather . There is another pool for under 21's to but it was packed and it was all just terrible . If you are a family , it's not recommended AT ALL
Aliasof - Johannesburg, South Africa
---
My fiancé and I recently visited for our anniversary, everything was amazing. Huge thanks to Angie and the rest of the SLS staff for giving us special attention even though the hotel was quite busy during our stay. We will have SLS at the top of our list when visiting South Beach again.😎
---
Roniel, PJ, & Tyler were accommodating and made our beach day PERFECT! Thank you SLS! Will definitely be back soon. Those cucumber watermelon margaritas are absolutely delicious, refreshing in the hot sun!
---
So firstly location was great, on the beach and we felt in the middle of all the things awe wanted to see/do. We were confused before we got there about the pool party access but basically you get free access all day any day (can go in and out as you please) but there is only a small space of seats for people who haven't purchased a table or cabana ... but we didn't see this as a problem. You can here the music clearly from the guest pool anyway so could just lay there if you just want the music and not the dancing. All the staff we encountered were friendly and informative! No complaints there. The food and drink here is pricey but all very good! We tried some tapas from bazar and some sushi from the pool menu which was great ... it's obviously your choice whether you eat and drink here so this may not apply to everybody. The rooms were very clean and done up nicely but they really are small. There's no wardrobe (just a few hangers)... the mini bar is the same size as the hanging space. So for 2 people with large luggage cases we did feel a little cramped. BUT the beds were so comfy and seen as we were just in the room to sleep and wash etc we didn't mind the size so much for our 3 night stay. There drivers service is within a 2 mile radius and when ever we asked about it we basically got told they couldn't drive us for one reason or another, a little disappointing but wasn't the end of the world. You can hire there little electric scooters for an hour for free which is cool. The pool is well heated which I loved! You do have to walk trough the hotel restaurant to get there but again that didn't bother us, might not be great for the diners but generally the restaurant inside is empty during the day as people choose to eat outside and by the evening you don't generally use the pool. All in all we were pleased we stayed here and glad we can tick it off our list. But next time we will try somewhere else maybe!
LJPAJF - London, United Kingdom
---
Check is very slow. They need to get on this. I waited over 20 minutes just to speak to someone. No welcome drink. Grueling process. Room was small. Nothing special. Service just meh. It sits in stark contrast to the good service provided by Faena or One Hotel. Location great, but not amazing.
Brendan D - New York City, New York
---