Please select your dates to see prices:
---
Trump National Doral Miami in Miami, Florida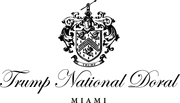 The crown jewels of Trump National Doral Miami are its golf courses, 90 holes of PGA-worthy turf that include The Blue Monster, Greg Norman's Great White and Raymond Floyd's gold course. Trump acquired the Doral property in 2012 and has since given it a $250 million facelift. Rooms were renovated in a warm neutral palette with mahogany and gold leaf Spanish Revival details, and luxe cabanas flank the new Royal Palm Pool. There are 800 acres and almost as many rooms at Trump National Doral, making the resort a city in itself.
Pick up a croissant and coffee at the French-style pastry shop. Take a morning stroll through acres of manicured grounds and bask in the Florida sun. Indulge in a hydrating cocoon spa treatment, which starts with olive grain exfoliation and ends with a shea butter wrap. Share a porterhouse for two and a fine bottle of Napa cabernet.
Location of Trump National Doral Miami
Trump National Doral Miami
4400 NW 87th Avenue
33178
Miami, Florida
Nearest Airport: MIA
Amenities for Trump National Doral Miami
693 Rooms & Suites
Aromatic Pillow Selection
Private Balcony or Lanai
Italian Bed Linens by Bellino
Imported Granite Countertops & Marble Flooring
Marble Bathrooms
Deep-soaking Tubs & Rain Shower
Children's Amenities
Pet Amenities
Limosine Service
4 On-property Golf Courses (90 holes)
Personal Trainers
Golf Academy
Pilates
Yoga
Tennis
Volleyball
Basketball
Dance Lessons
Soccer
Fishing
Sailing
Kids Pool
Water Splash Park
Babysitting
Wedding Planning
Event Planning
Reviews for Trump National Doral Miami
---
My wife and I stayed at Trump National in Doral about three weeks ago. We really loved our experience. The check-in was easy, the room was perfectly acceptable. Bathroom was well appointed and roomy. The bathrobe was really comfortable. We played golf three days in a row and really enjoyed the courses. We didn't play the Blue Monster but did play the other three courses. They were all in great shape. The starter was really nice as were all the employees we came in contact with. Loved the GPS features on the golf carts. We ate breakfast every morning at BLT and it was really good and they make really good espresso. The valet guys were great and fast. I asked one of the valet guys coming back from some shopping about how long it would take to get to downtown--Brickell area. He said normally about 20 to 30 minutes. Then while we were in our room the valet manager called me to advise there was a traffic event and we might need to allow more time to make our dinner. Now that is good service. Are lunch at champions grill everyday after golf. Food was good, service was great. Driving range was good and they had nice practice area for chipping and sand as well as a putting green. We would stay again for certain and the location really worked for us. We will take our tennis rackets the next time as they had impeccable looking clay courts. The service was great all the way around.
wmartin222 - Fort Mill, South Carolina
---
Forced to stay at a Trump property(long story) and not happy. The staff, however, are exceptional. Everyone I encountered seemed genuinely happy to greet me and be of assistance. While all were great, Ana Eijo was stellar. She brought sunshine to everyone she encountered. She offered hospitality in all her interactions. She is professional and kind. Concerning the hotel. The rooms are nice but not the best I have been in. The bathrooms need storage space and towel racks. The spa was ok. I did have an amazing massage by Carolina. But the facility and amenities are average. The shops are ridiculous. Only very high priced items with Trump plastered all over them.
cre8Louisville - Louisville, KY
---
Over two days, I called 305-592-2000 or 800-713-6725 five times trying to get On-site reservations. Due to understaffing, no one is available to answer so calls roll to Off-site reservations where questions such as mine (can we mitigate the cost of cancelling a reservation 48 hours in advance) cannot be answered. Twice transferred to the wrong department and once left on hold 16 minutes before I hung up, I was told at opening time, lunch and late afternoon, it was a "busy" time. For $360/night, it was disappointing service.
AlabamaM2014 - Steele, Alabama
---
Top notch in every way! Arrival was great, check-in was smooth, room as awesome, golf was one of the best golfing experiences I have ever had, the pro shop was big, restaurant and breakfast was great! Check-out was perfect. I've stayed here before and had no complaints then, definitely no complaints now.
---
You'd never know the peace and quiet you can find at the Trump Doral FL resort. It's the perfect great weather golf spot you're looking for. Away from the tanning crowds and beaches, it's what you want for golf. The Villa concept is great but probably hard to maintain in the rainy season. The views of the course are exceptional from any of the rooms. Prices are high in season and for a reason. Rooms are great big and very comfortable for older and younger guests. Plenty of restaurants and staff. Staff seem genuinely glad to be there. Uniforms are exceptionally modern and look sharp. Ana, was a staff member who was serving food one night and then lunch the next day. She was happy to be working at Trump it seems and had a happy manner. Bravo on professionalism. Many of the staff had the same and were very sweet. The U.S chamber of Commerce event was there and many of the board Members made comments on professionalism.
groovygirl954 - Fort Lauderdale, Florida
---