Please select your dates to see prices:
---
Trump National Doral Miami in Miami, Florida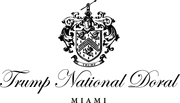 The crown jewels of Trump National Doral Miami are its golf courses, 90 holes of PGA-worthy turf that include The Blue Monster, Greg Norman's Great White and Raymond Floyd's gold course. Trump acquired the Doral property in 2012 and has since given it a $250 million facelift. Rooms were renovated in a warm neutral palette with mahogany and gold leaf Spanish Revival details, and luxe cabanas flank the new Royal Palm Pool. There are 800 acres and almost as many rooms at Trump National Doral, making the resort a city in itself.
Pick up a croissant and coffee at the French-style pastry shop. Take a morning stroll through acres of manicured grounds and bask in the Florida sun. Indulge in a hydrating cocoon spa treatment, which starts with olive grain exfoliation and ends with a shea butter wrap. Share a porterhouse for two and a fine bottle of Napa cabernet.
Location of Trump National Doral Miami
Trump National Doral Miami
4400 NW 87th Avenue
33178
Miami, Florida
Nearest Airport: MIA
Amenities for Trump National Doral Miami
693 Rooms & Suites
Aromatic Pillow Selection
Private Balcony or Lanai
Italian Bed Linens by Bellino
Imported Granite Countertops & Marble Flooring
Marble Bathrooms
Deep-soaking Tubs & Rain Shower
Children's Amenities
Pet Amenities
Limosine Service
4 On-property Golf Courses (90 holes)
Personal Trainers
Golf Academy
Pilates
Yoga
Tennis
Volleyball
Basketball
Dance Lessons
Soccer
Fishing
Sailing
Kids Pool
Water Splash Park
Babysitting
Wedding Planning
Event Planning
Reviews for Trump National Doral Miami
---
Stayed here for one night but would most definitely return. Pool area very nice and spacious m, lobby and restaurant was beautiful with nice views of the golf course. Rooms to a great standard and the beds are extremely comfortable. Would return to this hotel again
---
While on vacation in Miami, my husband golfed at Trump Doral. Unfortunately, the weather did not cooperate and he left after 9 holes. He had rented clubs for the day and accidentally left his wallet in the bag. The next day he realized it and got superb customer care from Mr. George Hill, of Loss Prevention, who went out of his way to help and eventually met up with my husband at 6pm. Mr. Hill and Mr. Robert Munoz in the rental club section, searched the bags until they located my husband's wallet and averted a vacation crisis. Thank you for going above and beyond, he was truly grateful.
23smith23 - Roxbury, New Jersey
---
The guestroom was clean, well-maintained and the bed was amazingly comfortable. Was there for a conference, and the food service in the meeting area was well above average - thank you Ana Eijo for taking great care of our table! Pool area service was also a high point - attentive without being pushy. Grounds looked very well maintained, and every staff member I met was courteous and professional. Well done!
bobbyblue247 - Seattle, Washington
---
Partially satisfied of the service quality, Parking staff members were not friendly, was waiting 20 mins for the transportation cart to go to the room, self parking attendant at the entrance was acting like I owe him, other bad experience was restaurant, made three request for the hot tea (took 30 mins to get it) and overall feeling was like staff was ignoring us, even my wife complained about it, looked like there was no importance of us, as guests; was waiting for a check forever; took another 15 mins waiting for the pool guy to have 3 chaise-longue toweled; I wish the pool was opened late evenings and not only till 7. Front desk were friendly and checkin process took only a minute. Other than that we like the facility, room is fresh and bed is super comfortable, we like the decor, patio is amazing and great to have a few drinks after the sunset, pool is superb, water temperature is just right and pool area is super nice and btw iguana lives on one of the palm in the pool ares, good luck finding it.
wiiooo - Sarasota, Florida
---
Kudos to the team. They do an excellent job from cleaning and maintenance of the rooms to the restaurant offerings. Front desk team is very kind and efficient. the pool team was so attentive. Thank you to everyone...You all offer a genuine hospitality!
---