Please select your dates to see prices:
---
Trump National Doral Miami in Miami, Florida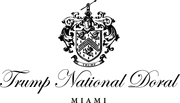 The crown jewels of Trump National Doral Miami are its golf courses, 90 holes of PGA-worthy turf that include The Blue Monster, Greg Norman's Great White and Raymond Floyd's gold course. Trump acquired the Doral property in 2012 and has since given it a $250 million facelift. Rooms were renovated in a warm neutral palette with mahogany and gold leaf Spanish Revival details, and luxe cabanas flank the new Royal Palm Pool. There are 800 acres and almost as many rooms at Trump National Doral, making the resort a city in itself.
Pick up a croissant and coffee at the French-style pastry shop. Take a morning stroll through acres of manicured grounds and bask in the Florida sun. Indulge in a hydrating cocoon spa treatment, which starts with olive grain exfoliation and ends with a shea butter wrap. Share a porterhouse for two and a fine bottle of Napa cabernet.
Location of Trump National Doral Miami
Trump National Doral Miami
4400 NW 87th Avenue
33178
Miami, Florida
Nearest Airport: MIA
Amenities for Trump National Doral Miami
693 Rooms & Suites
Aromatic Pillow Selection
Private Balcony or Lanai
Italian Bed Linens by Bellino
Imported Granite Countertops & Marble Flooring
Marble Bathrooms
Deep-soaking Tubs & Rain Shower
Children's Amenities
Pet Amenities
Limosine Service
4 On-property Golf Courses (90 holes)
Personal Trainers
Golf Academy
Pilates
Yoga
Tennis
Volleyball
Basketball
Dance Lessons
Soccer
Fishing
Sailing
Kids Pool
Water Splash Park
Babysitting
Wedding Planning
Event Planning
Reviews for Trump National Doral Miami
---
Stayed there for a long weekend. Place exceeded all expectations despite crazy shooter in the lobby. The staff handled the situation extremely well. Golf courses were very good and well maintained. Not too pricey with a golf package. The staff is friendly and attentive. Will be back soon!
cmloveiv - Charleston, West Virginia
---
Gorgeous hotel. The room is awesome, loved the soft bathrobe and coffee maker. The one complaint is that the villas are a little hike, and I was in heels and it was rainy. I saw some long golf carts but they weren't available (not enough) or offered upon check in so the walk was nasty.
IslaBonita700 - Tampa, Florida
---
Me and my friend stayed here one night and ate in the restaurant. It was the best steak ever!!!! The staff was excellent, very nice and helpful!! I will definitely stay here again ! Thank you!! Debbie/Myrtle Beach,SC. Most beautiful resort!
Debbie K - Myrtle Beach, South Carolina
---
We had an unexpected overnight trip to Miami. Called the hotel to see about room availability for that night, and the Reservation person was extremely helpful and pleasant. The grounds are absolutely fairy-tale beautiful, with every flower and leaf perfectly manicured; the cleanliness of the grounds was unbelievable too ... nothing out of place. From the moment you arrive to the Front Gate you are surrounded by smiling faces and helpful staff; once you enter the Lobby, they have you checked in and taken care of in no time flat. The Room (in the Ben Hogan Villa) actually smelled surprisingly fresh and clean as we walked in (that's always a scary moment ... those smells!), and the bellhop/doorman/staff showed us which switches controlled what, how to unlock the balcony door, and so on. The bathroom was spotless, and enough towels there so we didn't have to reuse wet ones in the morning, or ask for additional ones. The bed was like sleeping on a cloud. No noise whatsoever coming from outside, or the A/C, or any neighbors' showers, or anything ... nice! We also had Dinner at their BLT Restaurant in the Lobby, and the food was superb as was the service. Had Breakfast there the next morning, and it was equally delicious. Check-out was a breeze also. They offer Self-Parking and Valet. We Self-Parked, and they escorted us with one of their Golf Carts, so we weren't inconvenienced at all. I recommend this Hotel highly ... you won't be disappointed. It's actually quite refreshing to feel this pampered. We would definitely stay there again ... and again.
PKH1950 - Sarasota, Florida
---
If you play Golf the this is probably the hotel for you. Its a lovely hotel whether you play Golf or not and is situated about 20 minutes taxi ride from Miami International Airport. I was there as part of a conference but the food and service we had was excellent and my room was beautiful and spacious...............Indeed the bed was bigger than some rooms that I`ve previously stayed in !!!!! There are at least Two pools with lovely facilities and also great Tennis Courts and a Spa. The only negative was that it really is very expensive to stay and eat / drink in the hotel. For example a bottle of water in my room was USD9.00 and a colleague bought two bottles of Red wine at Lunch and the bill was just over USD213 !!!! I can`t speak about meals as we were catered for by the Conference organisers but I can only imagine the cost.
---