Please select your dates to see prices:
---
Starhotels Rosa Grand in Milan, Italy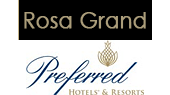 Beauty, history and the vibrant life of Italy give way to the warm embrace and fashionably elegant streets of Milan with your stay at Starhotels Rosa Grand. In the heart of this fabulous city, this Preferred Hotels & Resorts property, part of the Preferred Hotel Group, is sleek and modern, yet classically stylish. Rooms are crafted from rich regal tones, with deep cherry wood accents and a tranquil atmosphere that is both warm and inviting. Plush goose feather down beds embrace you every night in supreme comfort, while beautiful bathrooms present deep soaking tubs for your complete relaxation. Natural light streams through graceful large windows, while views of the cityscape below capture your imagination. With full service and all the modern amenities, you will enjoy the best of both the old and new worlds throughout your stay. Let Starhotels Rosa Grand show you Milan from historic times to the contemporary era, and take you to a place you will never forget.
Tour the city to be fascinated with the art and architecture that Milan has to offer. Visit the Sforzesco Castle, built in the 14th century, stroll through the vast halls of the Museum of Ancient Art, and view the last sculpture ever created by Michelangelo. Take in true greats at Ambrosiana Library and Picture Gallery, where pieces from Rafael to Boticelli will truly captivate you. Be sure to visit the Santa Maria Delle Gracie Church and see Da Vinci's masterpiece, "The Last Supper." Enjoy a peaceful afternoon strolling through the lush grounds of Parco Forlani, and stop in at the Napoleonic Arena or Civic Aquarium of Sempione Park. Take a day to shop at all the luxury Italian brands in the Quadrilatero della Moda, Milan's upscale fashion district, then watch the city's beloved A.C. Milan football team match up at San Siro stadium. Retire for the evening at the hotel, and sit down to an elegant dinner at Roses Restaurant, where Milanese cuisine is taken to new heights. Sip a cocktail or glass of wine at Tar.Tar Bar, then sink into the comforts of your room for a beautiful night at Starhotels Rosa Grand.
Location of Starhotels Rosa Grand
Starhotels Rosa Grand
Piazza Fontana, 3
20122
Milan, Italy
Nearest Airport: LIN
Amenities for Starhotels Rosa Grand
Dining
3 Restaurants
2 Bars
On-Site Amenities
Concierge
Complimentary Newspaper
Laundry Service
Gift Shop
Fitness Center
WiFi
Valet Parking
Car Rental
Lounge
In-Room Amenities
Air Conditioning
Bathrobes
Direct Dial Telephones
In-Room Safes
Mini Bar
Satellite Television
Marble Bathrooms
Flat-Screen Televisions
Luxury Linens
Pillow Menu
Soundproofed Rooms
Work Desks
Business
Business Center/Services
Meeting Rooms
Nearby
Historic Sites
Shopping
Museums
Restaurants
Parks
Theatres
Public Transportation
Interests
City
Culture & Arts
Reviews for Starhotels Rosa Grand
---
The charm of this hotel is that whilst it's a large hotel is nevertheless has the atmosphere of a boutique hotel. Design and renovation (or build?) is bang up to date, rooms are comfortable and well-equipped (I particularly enjoyed the large bathtub!), and public areas are interestingly and excitingly designed. The breakfast buffet is good and the bar is a pleasant space in which to linger. The location is perfect, close to the cathedral, museums and a short walk from La Scala. I would return.
abager - London, United Kingdom
---
I had a 2 week stay at this hotel, 1st week with a group, 2nd solo. I was treated just as graciously and warmly by staff both in the group and on my own. In fact, it was the warmth, kindness, care, and concern of staff that truly singles out this hotel for me! The hotel itself was modern, clean, sophisticated, well located within easy walking distance to the Duomo, metro, and central Milan sites. Excellent in so many aspects. At Sfizio, the hotel restaurant; their bar and lounge; and 'almost anything you would like to eat ' breakfast (eggs, bacon, sausages, breads, fresh fruits, salad veggies, sweets, etc. etc. etc.), the food was very good to excellent. One of my best memories was a special, and superb, dinner 'Cena a 6 mani' prepared by the hotel's chef and chefs from Star Collezione's hotels in Paris and London! Sleeping comfort was excellent! My love for feather pillows was accommodated not only with pillows, but also feather/down filled duvet. ( Many foam options are available.) With excellent Italian cotton bed linens and a very supportive and comfortable mattress, this was a dream bed! Each night, staff turned down the covers and placed the hotel provided slippers (or your own) on a mat alongside your bed. A chocolate heart was waiting for you on the nightstand. Many amenities in the room including a fee-free smart phone for use in your travels, lovely assortment of Italian teas and espresso (with in-room espresso machine and hot water kettle), heated towel racks, etc., just to mention a few. Very special for me was the hotel's fitness center, stocked with the standards: machines, other exercise apparatus, towels, water, hot teas, changing rooms, showers, lounge chairs, lockers, etc. in a clean, modern, well-decorated suite of rooms which was topped off by a superb "Turkish Bath"/steam room --- healthy, relaxing, steamy, one of the best I've experienced! But, the staff made for an exceptional stay! I had a noise issue with an adjoining room. Staff were very understanding, switching my room the next night and following up daily with me. Warm, professional, gracious, helpful, and understanding ( this includes all --- reception, guest services, concierge, restaurant/dining, and support services ), most went beyond ordinary kindness. I felt "at home" for the 2 weeks I was there: welcomed, respected, comfortable, and appreciated! This hotel will definitely be "home" on my return to Milan.
MarciaJN - Oakland, California
---
We initially chose this hotel because of the fabulous location (can walk everywhere). But we continue to return because of the great staff, the accommodations, and the excellent breakfast. Fabio, our concierge, has been most helpful, booking transportation for us (trains, cars, airport pick-up and delivery) and answering all inquiries. We will be returning in May for our 10th visit.
C4alfa - Monroe, Michigan
---
We stayed at this hotel for 4 nights. Great location in center of city. Rooms were very nice and good size. Breakfast was included with it and it was very good. Staff was very helpful. I highly recommend this hotel..
ZZ5577 - Minnetonka, Minnesota
---
Let me begin by saying I was in Milan for both business and pleasure traveling with my husband and a colleague. The wonderful things about the hotel are the location, which is central to just about everything. We upgraded to an executive room for a little more space and it was very nice. Everything that you would expect in a 4 star hotel. The room has what is called a "handy phone" that was free while you were in the hotel. The phone was just like any other with calling privileges in and out of the country, use of google maps and chrome. This was truly wonderful. The Concierge was so helpful, he booked us a city site-seeing trip that was wonderful and a day at Lake Como. The experience was incredible. Now for the not so good; throughout our stay there would be events in the only bar lounge that was in the hotel to which of course we were not a party. There was no where to go except an outdoor seating area in front of the hotel that was designated space for an indoor restaurant. We would be chased out repeatedly by the restaurant if we were there 15 minutes before they opened. The lounge did not have any Chardonnay wine on Sunday so they gave us 2 glasses and we bought our own. Of course the restaurant manager had an issue with us being there. Must say they were not very accommodating with the use of space in the hotel while they charge a $27.00 euro per day for the use of the space. Lastly, the service was great as long as you didn't need anything. Called 3 times for a hair dryer and waited over 8 hours to receive one. Everyone seemed as though they were doing you a favor or you were an inconvenience to even ask them for something. This did not ruin our stay just not as accommodating as the US. Just be patient and try to get along with requesting much. Milan was just beautiful and so much more than I expected.
Kathleen S - Pittsburgh, Pennsylvania
---