Please select your dates to see prices:
---
Port Palace in Monaco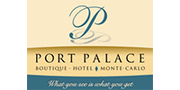 An intimate principality. A history rich with royals and romantic liaisons. Surely there's no better setting for an escape with your beloved. Located in the heart of Monte Carlo, the elegant Port Palace offers contemporary style at the base of the city's legendary casino. At this Preferred Hotels & Resorts Worldwide associate, romance begins in a sleek Deluxe Junior Suite overlooking the Mediterranean Sea. You're also invited to dine at the Restaurant Grand Large and submit to a decadent massage.
Love is an adventure, whether you're tempting Lady Luck at the historic Casino or soaring above the city on a helicopter tour. Search for the perfect gifts for each other at Fontvieille's Saturday flea market, tee off at the Monte Carlo Golf Club, or simply stroll the medieval district and imagine yourselves as royals in the Palais de Monaco. As for day tripping, snuggle up on a 20-minute train ride to Nice and spend an afternoon scene watching and sipping wine at an outdoor café.
Location of Port Palace
Port Palace
7 Avenue John F. Kennedy Monte Carlo
98000
Monaco
Nearest Airport: NCE
Amenities for Port Palace
General Information
50 Guest Rooms
On-Site Amenities
Beauty Salon
Reviews for Port Palace
---
This was our 2nd trip to Monaco and we stayed here to be closer to the port. Perfect spot and stunning views over the port itself from the window (make sure and get the higher floors) this was a Felix room, plenty of space and everything you need. Mini bar expensive and 4 Euro for a coffee pod in the room (bit excessive for a 4 star hotel, you would expect to be free, but it is Monaco) but you will probably not use it anyway. Bed was comfortable, bathroom had a shower and bath and was a great size. Breakfast was brilliant plenty if uncooked and cooked food to choose from and kept my veggie wife fed as well. There is a restaurant on the top floor, not the hotels, were you can find for lunch or dinner. Food is outstanding, but expect to pay 250 at least for a two course meal with drinks, but worth every penny, it's a fish restaurant but they will accommodate where required if you want something else (vegetarian). Staff were pleasant, friendly and very helpful. When we stayed there were marine works going on so a bit noisy, but this didn't bother us as we were out and about and it's very rare that Monaco doesn't have some sort of building or roadworks going on somewhere. Just check if this would annoy you. There is a bar downstairs, but it's more of a breakfast bar were a few drinks are available, we didn't use it so not sure what they stocked. Plenty of food and bars close by to use which are good priced and you can get the taxi boat which is 2 Euro across the port if you don't want to walk and great to float past all the boats. Will definitely stay here again when we come back again. Love Monaco and plenty to do and see and this hotel sets you straight in the middle of everything, so you are not a far walk from anything.
Richard W - Belfast, United Kingdom
---
This wonderful small hotel in the centre of the Monaco should be on every traveller's "MUST DO" list. The rooms are tastefully done and each room gives a magnificent view of the sea and the Yachting Club. Hospitality is brilliant with extremely courteous and efficient staff. Will definitely visit again.
mohancardio - New Delhi, India
---
From start to finish this place made us so welcome. When we arrived we had a lovely bottle of champagne and found our room had been upgraded. The room was gorgeous and looked out over the port, very nice decorated and just couldn't have wanted more. Breakfast was a delight as were the staff.
ExplorerIIYorkshire - York, United Kingdom
---
They park the cars of their guests on the pavement. Pedestrians have no space to cross the pavement and bump unintentionaly into the cars. This behavoir is ridiculous and does certainly not earn the honouring 'Small luxury hotels of the world. Many prepacked and dry products for the breakfast, and not enough fresh products. No manager during the week-end. If there was a category for inattentive service I would give them 5 stars on that scale.
Geschmack2014 - Monaco-Ville, Monaco
---
Stayed here for Valentine's Day and had a brilliant time. Great location opposite hercule harbour. Staff are very friendly and helpful. Room service good, very clean room. As a fussy eater I was very pleased to see a huge selection at buffet breakfast. Can't wait to come back soon and wouldn't want to stay anywhere else :)
roannemolloy - Chepstow, United Kingdom
---