Please select your dates to see prices:
---
InterContinental Moorea Resort & Spa in Moorea, French Polynesia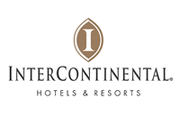 Outlined by a private white sand beach, InterContinental Moorea Resort & Spa is wonderfully exotic. It's tucked between mountains and lagoon from its fabulous location on the South Pacific island of Moorea. Tropical style guest accommodations, which include spacious Lanai Rooms and exclusive Overwater Suite Bungalows, enhance the pervasive tranquility. For even more indulgent moments, savor Polynesian massages, baths adorned with fresh flowers and signature treatments like banana leaf wraps at the Tahitian Spa.
The resort takes full advantage of its pristine setting with a generous offering of recreational activities that include water skiing, parasailing, deep sea fishing, sunset cruises, horseback riding, helicopter tours and more. At the Dive Center you can experience the wonders of lagoon diving, shark and ray feeding and the underwater rose garden. And you're certain to want to participate in Dolphin Quest, in which guests swim freely among these friendly and intelligent mammals.
Location of InterContinental Moorea Resort & Spa
InterContinental Moorea Resort & Spa
Tiahura
98729
Moorea, French Polynesia
Nearest Airport: MOZ
Amenities for InterContinental Moorea Resort & Spa
General Information
144 Guest Rooms, Suites and Bungalows
Handicap Accessible Rooms
Pets Not Permitted
Dining
Poolside Dining
Outdoor Dining
Private Dining
Pool Bar
Swim-Up Bar
Bar
Room Service
Dining Room
Oceanfront Dining
On-Site Amenities
Concierge
Pool
Spa on Property
Housekeeping Service
Laundry Service
Gift Shop
Fitness Center
Theme Nights
Currency Exchange Service
Live Entertainment
Terrace
Multilingual Staff
Valet Parking
Outdoor Pool
Tennis Courts
Gardens
Beach Access
Car Rental
Lounge
Swimming Lagoon
Marine Park
Tennis Court
24-Hour Fitness Center
Infinity Pool
In-Room Amenities
Turndown Service
Air Conditioning
Bathrobes
Hair Dryers
In-Room Safes
Mini Bar
Satellite Television
Iron/Ironing Boards
Luxury Bath Amenities
Private Terraces
Work Desks
Activities
Cultural Classes
Educational Programs
Hiking
Kayaking
Tennis
Water Skiing
Snorkeling
Ecological Excursions
Stargazing
Canoeing
Nature Walks
ATV Tours
Surfing
Wildlife Viewing
Cultural Tours
Four-Wheel Drive Excursions
Sightseeing
Business
Business Center/Services
Business Center
Business Services
Family
Cribs
Babysitting
Arts & Crafts
Nearby
Shopping
Art Galleries
Beach
Beaches
Public Transportation
Interests
Beach
Culture & Arts
Hotels
Reviews for InterContinental Moorea Resort & Spa
---
We stopped by on the way to Bora Bora and are very glad we did! Booked with Ambassador membership upgrade and went for Jr Beach Bungalow to Premium Over Water in room 510! HUGE upgrade! We called months in advance to confirm it and several time by email too - not sure if it helped or not but either ways it's way more than the Premium Beach Bungalow we were expecting. 510 location is perfect - the dock goes down to just about 6 feet so you can ease into snorkeling. It's right at the mouth of the small river that cuts into the resort so it's a great starting point for a lazy river experience. We went to Dick's Sporting Good's and got a cheap $9 inflatable seat, it went through airline security just fine and was well worth it rather than hiking it to the activity center and only getting an hour of any gear. Super cheap so just leave it here on the way back. There was plenty of coral clusters to see and small fish with a few colorful ones. It's not the best snorkeling compared to paid tours but it's free and very fun to just float around. Definitely need to wear water shoes so you don't cut your feet. Privacy is OK, as you can definitely see other room's docks but 510 is still fairly private, you have to lean out to really see other rooms. Can't stress enough about the location for swimming off the dock; other rooms are further out and facing the ocean - it may seem nicer but they're not as the water off the dock is way deep and currents are stronger. Not something you would want to just float and chill in. From 510 swimming into the river and around the island looping back is about 35 mins and an awesome workout. The room itself is pretty nice - old, but nice. Nowhere near as new as Thalasso but spacious and in good shape. A/C blows into the bedroom so living room can be a bit muggy but not a big deal. Watch your head walking to the door - the faux straw roof comes down a bit far!
jaychenkuo - Southern California
---
We stayed at this hotel on a layover for one night on the way to Bora Bora. It was very nice. Great room with access to a beautiful pool. We left at lunchtime and were sorry to go in some ways. It's a very big hotel with a lot of people for breakfast however it seems to cope. Comes highly recommended.
spj709Sydney - Frenchs Forest, Australia
---
Moorea is like a little slice of paradise and the Intercontinental is beautiful. The resort is amazing. You can go for a walk in the morning and see the dolphins or watch the turtles in the turtle sanctuary. Go paddle boarding while your there and find the overwater hammock (and take 1000 pictures). Rooms are beautiful and comfortable and staff were wonderful too.
---
I am completely in love. Everything about this location is perfect. We stayed in a garden pool room with a private pool. The room was clean and the view was out of this world. Let's talk about the people - everyone greeted us with a smile and was happy to help. The concierge made sure that our stay was exactly what we dreamed of.The food is amazing. We had the breakfast buffet each day and there was a lot of variety. We had dinner and lunch at the resort and were not disappointed with anything we tried. The resort itself is big and quiet - sometimes it feels like you're the only one there, but aren't, which is nice. I loved watching the turtles and dolphins! There is a store across the road as well as restaurants close by if you would like to not eat at the resort for each meal. I'm not sure about the reviews that say that the resort needs to be updated, etc. You are going to a Polynesian location. Wear from the water and weather is expected. It adds character and gives you an authentic feel. Roosters and animals roaming freely seems to be an issue as well, but what else did an be expected? One shouldn't travel to not learn about the culture and how other people live. These things are common for these locations and were welcomed by us, and didn't take away from our stay. Maururu, Intercontinental Moorea. We will be back soon!
---
Great Hotel with a variety of room types. We stayed in the over water bungalow suite. Wake up to beautiful sunrise and watch sunsets from the pier. The Polynesian show was great as was the live music night on the outside terrace. One restaurant, buffet and Bar was included in our meal plan so lots of options. Food tasted great. Good service. Only down side was that check in is at 3:00 pm and after a 24+ hour journey we reached at 10:30am and all restaurants were closed and rooms unavailable. Tired and hungry not a good way to start the vacation. They should have at least one food joint open for a snack or similar. Also this was the only resort that didn't welcome us with a garland of fresh flowers and juice. Overall experience was very good.
---